Michael Tatarski reports from Ho Chi Minh City on the failure of Vietnam's "bubble" strategy to protect workers during a Covid-19 resurgence.
For the first 18 months of the global pandemic, Vietnam was among the most successful countries in the world at containing the novel coronavirus. Thanks to strict border closures and aggressive contact tracing and quarantine methods, people nationwide were largely able to live normally, with the exception of a few limited outbreaks.
By late April of this year, Vietnam had recorded just under 4,000 Covid-19 cases in total and 35 deaths. However, a new Delta-fueled outbreak has been catastrophic. As of 13 September, the total number of cases has shot up to 613,375, with 15,279 deaths. New daily cases reached a record high of 16,083 on 26 August.
The outbreak's epicentre is in Ho Chi Minh City, Vietnam's commercial heart, accounting for over 270,000 cases and 11,000 deaths. The city has been under a hard lockdown for nearly two months, and the city's roughly 10 million residents currently aren't allowed to leave their homes except for emergencies, and soldiers have been deployed to collect and distribute food to households.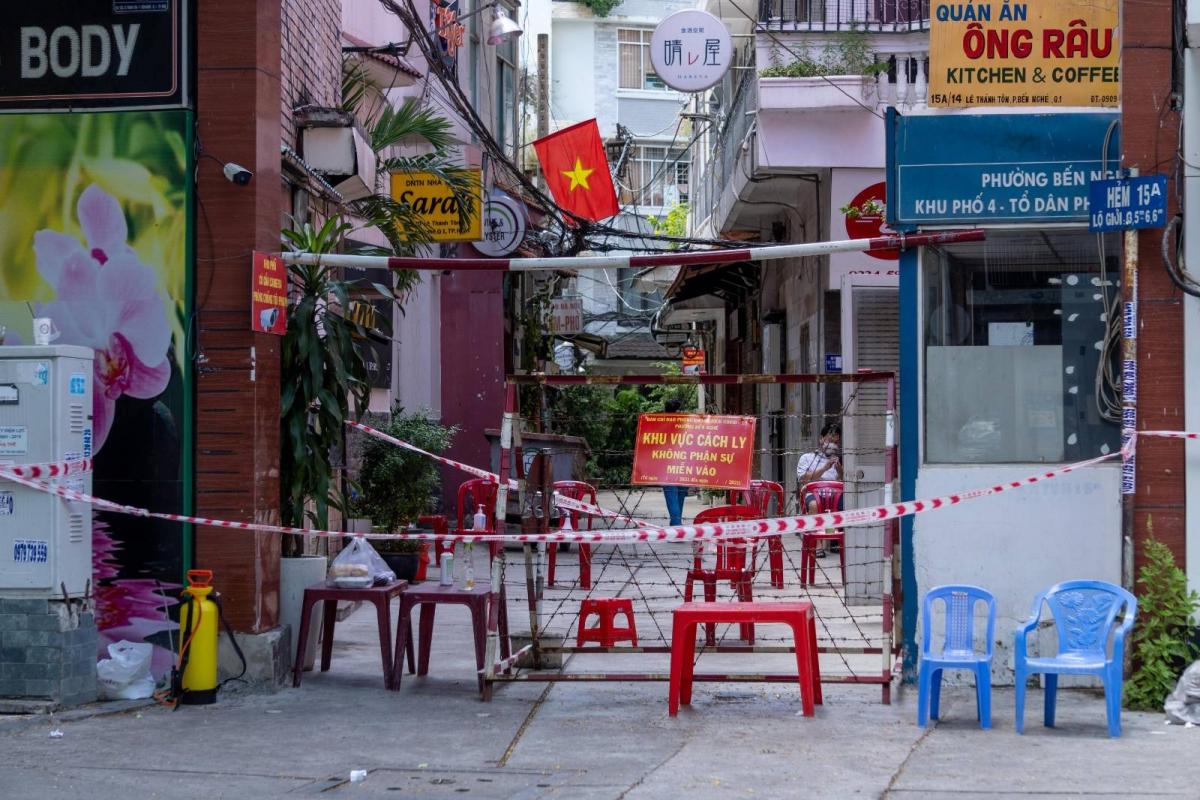 A barricaded alley in Ho Chi Minh City. Photograph Michael Tatarski
The neighbouring, heavily-industrialized province of Binh Duong has recorded 141,765 cases and 1,210 deaths since May, making it the second hardest-hit province in Vietnam.
Provincial governments initially tried to keep their huge manufacturing bases running by giving factories two options: either house and feed workers in the facility full-time in a "bubble,'' or put them up in housing with transportation directly to the factory and nowhere else.
This strategy was intended to keep Covid-19 out of factories that help power Vietnam's export-driven economy, but in many cases it hasn't been successful. Setting up living spaces for hundreds or even thousands of workers is expensive, and such a setting is an ideal breeding ground for the Delta variant.
Intel, which has a factory in Ho Chi Minh City, is reportedly spending over US$6 million per month to maintain production while meeting pandemic regulations.
Many smaller factories simply closed, while larger facilities set up tents and cots in spare warehouse space or motorbike parking garages. In order to maintain some form of social distancing, only a fraction of workers was brought into these bubbles, with the rest sent home.
Even with reduced workforces, hygiene is a challenge, particularly when it comes to toilets and showering facilities. One factory manager who asked to remain anonymous said that, in essence, they had to become a hotel and a restaurant in addition to being a manufacturing facility.
Phat* works in the upholstery department of a furniture factory in Binh Duong that initially pursued the bubble model. The bubble lasted for a few weeks before management decided to shut production down, and Phat hasn't worked since 26 July. There is no timeline for when work may resume.
Binh Duong is now under a strict lockdown until 15 September, though restrictions could be extended if the outbreak doesn't improve.
"For the first two weeks we were at home, we were paid VND170,000 (US$7.40) per day, and now we're paid just VND20,000 (US$0.88) a day," Phat explained in a video call. "It's very difficult, and since I don't live in a red zone, we haven't received any government support."
"Red zones" are areas with particularly high infection rates where residents receive food supplied by the government, since they aren't allowed outside.
"All of the money I make is spent, and we have no savings," Phat said. He has registered through a Facebook group for a bus to return to his home province in the Mekong Delta, where his family could provide a safety net, but he has not been vaccinated and fears catching Covid-19 during the journey.
Travel between provinces in southern Vietnam is heavily restricted, and only vehicles with government approval can move between these areas. The Vietnamese government is now discussing a shift in pandemic strategy from zero-Covid to "living with the virus," but it remains to be seen how this will play out, and regulations beyond 15 September are still being determined.
Low vaccination rates due to a supply shortage are a major reason why this outbreak has become so severe. According to the Ministry of Health, over 90 percent of residents over the age of 18 in Ho Chi Minh City have received at least one shot of a vaccine, and that figure is 74 percent in Binh Duong. Both of those numbers are well above the national average.
Only 20.5 percent of Vietnam's population of 97 million has received at least one vaccine dose, with just 3.9 percent fully vaccinated. The country's limited vaccine supply has been focused on Ho Chi Minh City and Binh Duong, along with Hanoi and other manufacturing hubs, given their population density and economic importance.
Minh* works in the sample department at the same factory as Phat, and he hasn't been working for about one month. He lived in the facility for a week before it was shut down. He is also being paid VND20,000 per day. He lives in a red zone and has received some food from the local government, though "it isn't enough." Thus far, Minh has received chicken and some vegetables, but added that simply obtaining food is his biggest challenge right now.
Minh is from Nghe An Province in north-central Vietnam, around 1,300 kilometres away, so returning to his family isn't an option. Like Phat, he is not vaccinated and finds it difficult to plan for the future.
Phuong*, who works in the factory's warehouse, is also struggling. She has been home for well over a month, barely getting by on VND20,000 per day.
"My neighbourhood doesn't have many Covid-19 cases, so we get one voucher to go to the market each week," she said. "They have some rice and produce that we can keep for a long time, plus some meat."
Although food supply is less of a concern for Phuong, it has been difficult to find women's hygiene products such as sanitary pads, an issue that has plagued locked-down provinces due to inconsistent regulations on what products are considered "essential'' for shipping.
Her biggest concern is rent, which costs VND1.3 million (US$57) per month for a shared room. Her current salary barely covers her half of the rent, leaving little for food.
Vietnam's official trade union, the General Confederation of Labour, has announced a US$44 million support package for workers still in the bubble system, but this won't help Phat, Minh or Phuong, since they are at home.
"I've registered for a bus to return to the Mekong Delta, hopefully early this month," Phuong said. "I will come back if the situation gets better, but we don't know when that will be."
* Names have been changed at the request of the interviewees.