Low pay, poor working conditions and abusive managers are well documented at many Chinese-owned enterprises in Vietnam, as are the strikes and protests staged by workers in response. Joe Buckley examines several recent such protests and suggests that these problems are not just confined to Chinese enterprises but are found across Vietnam, regardless of enterprise ownership.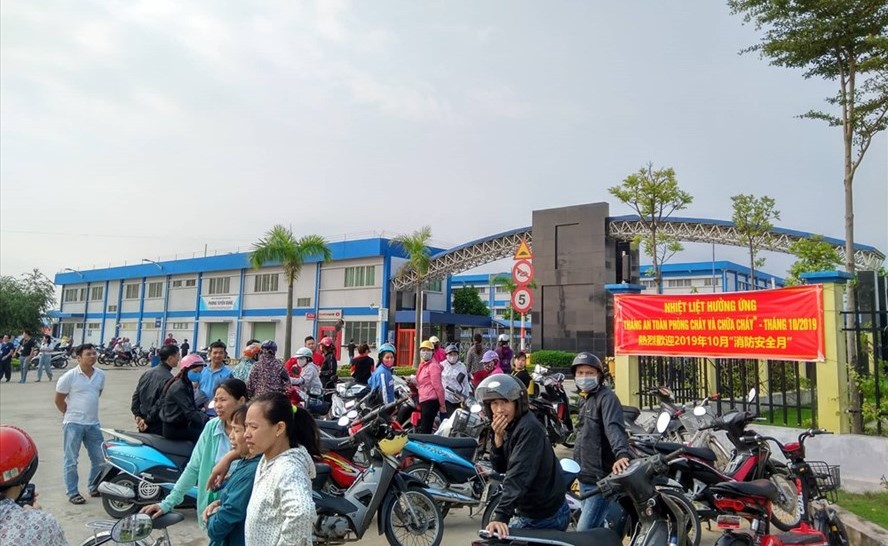 Workers outside the Chinese owned Golden Victory factory in Nam Dinh. Photo: LaoDong
When labour costs started to increase in China in the early 2010s, many Chinese and foreign manufacturers, particularly in the garment and shoe industries, sought to relocate to Southeast Asian countries such as Vietnam in the hope of replicating the low-cost, labour-intensive model of production that had generated huge profits for them over the last two decades or more. Just as in China, however, workers in Vietnam often responded to management exploitation with strikes and collective protests.
In early March 2019, for example, there was a five-day strike at Lu An, a Chinese-Thai garment factory employing around 1,500 workers in An Giang Province, in the Mekong Delta. Workers went on strike on 8 March over working conditions, wages, bonuses, being denied a day off, not receiving any gifts on International Women's Day, and a number of other issues. On the morning of 10 March, the company management met with provincial officials to try and resolve the issues. The company was informed that imposing a production increase without discussing it with the workers went against regulations, but that there was no compulsory regulation on whether workers should be given gifts on International Women's Day. Authorities also said that the way the workers went on strike (a wildcat strike) was wrong, as strikes must be approved by the union.
When staff arrived at the factory on Monday 11 March, they discovered a notice issued by the company regarding the strike. According to the workers, this notice did not resolve anything but simply made vague promises. They refused to return to work and hundreds sat in the canteen, demanding a direct dialogue with the company management. Management refused to meet the workers, stating that everything they had to say had been written on the notice. Around 1,400 workers continued the strike, meaning that only 100 went to work. That afternoon, a number of government and union officials met to try and solve the issue. The result of the meeting was to appeal to the company to try and resolve the strike legally, in a way which was satisfactory to all sides. The meeting noted, for example, that new policies needed to be explained to workers properly and should be agreed with them before implementation, and furthermore, that the managers should not yell at the workers.
By 13 March, almost all workers had returned to work following a meeting between the company management and government agencies, including the provincial trade union. The company agreed to increase production targets gradually rather than impose a sudden increase. Management also said that even though workers do not legally need to be paid for the days they are on strike, they would in this case consider the strike days to be the workers' annual leave. It is important to note however that many companies in Vietnam do in fact pay workers for these days as part of the strike settlement. Regarding other outstanding issues, the company only said it would respond later. One worker told the media that the company had only made general promises but had not said anything concrete. The worker also said that the company was still being very harsh with the workers.
In May 2019, an appeals court in Long An Province, also in the Mekong Delta, made an important ruling regarding a strike that occurred at Giay Hung Nghiep, a Chinese-owned shoe factory back in August 2017. At the end of 2018, a district court had ruled that the company had illegally sacked nine workers for taking part in a half-day strike, which involved 28 workers demanding overtime, long-service payments, and skill bonuses. While noting that the strike had been illegal, the court ruled in favour of the workers, declaring that company's illegal dismissals were much more serious than a half-day strike, and ordered the company to pay substantial compensation. The company appealed, and on 22 May 2019 the Long An provincial court overturned the ruling, stating that the workers had caused serious and substantial damage to the company, and fomented disorder which had threatened the safety of other workers and investors.
In September 2019, construction workers on the Dai Phuoc Lotus project in southern Dong Nai Province went on strike for around a week, demanding three months of wage arrears totalling around two billion Vietnam Dong (US$86,300). The project investor was Vina Dai Phuoc JSC, while the main contractor was China Construction (Southeast Asia) Co., Ltd., a Vietnam-based subsidiary of China's state-owned China State Construction Engineering Corporation (CSCEC). The striking workers however were employed by a Vietnamese subcontractor, Minh Hung Co., Ltd. The workers displayed banners outside the construction site and some workers set up camp outside the gates. On 9 September, local officials organised a meeting with representatives from the workers and the three companies involved. As a result of the meeting, China Construction agreed to advance one billion Dong (US$43,150) to Minh Hung to help them pay workers' salaries.
And just last month, in October 2019, more than 100 workers at Golden Victory, a Chinese-owned shoe factory employing around 7,000 people in northern Vietnam's Nam Dinh Province, were hospitalised after experiencing difficulty breathing, dizziness, and nausea due inhaling toxic substances. The factory temporarily shut down in order to investigate but when workers returned on 23 October, many again began feeling dizzy and nauseous, and 20 were hospitalised. Hundreds of other workers, scared of the same happening to them, left the factory.
From these examples, we can see that just this year Chinese-owned companies have seen their fair share of controversies and labour militancy. But—and this is a big but—these issues are present in many enterprises, regardless of the nationality of the firm. Low wages, long hours, and poor conditions are a common feature in a number of industries, no matter who owns each company. And workers go on strike at many different companies. These are concentrated in foreign-owned enterprises, but not especially in Chinese ones; reports suggest that more strikes occur in Korean and Taiwanese enterprises.
There is certainly strong and long-standing anti-China sentiment in Vietnam. In 2014, tensions over the South China Sea led to factory riots across the country. In 2018, a plan to create three Special Economic Zones, which many citizens interpreted as the government selling the country to China, saw widespread street protests and strikes. And there is concern about the presence of undocumented Chinese workers, especially construction workers, on Chinese-owned construction projects in Vietnam. However, there is little evidence to suggest that working conditions and labour rights Chinese-owned enterprises are substantially different from other foreign-owned businesses in Vietnam.
Joe Buckley is a PhD candidate at London University's School of Oriental and African Studies, and runs the Vietnam Labour Update Newsletter.