Since March, as China tries to control the spread of Covid-19 cases across the country through region-specific measures, truck drivers' health, working conditions, and livelihoods are at risk. China has approximately 20 million truck drivers, responsible for about 70 per cent of the country's freight traffic. 
Delivering essential goods and materials from city to city, truck drivers are at high risk of Covid-19 infection and are a main target for localities trying to prevent and control the virus spread. Truck drivers help keep cities operating, but their well-being while doing so is ignored. 
Truckers are stranded on the highways, forced to sleep, eat, and go to the bathroom in their cabs. In addition to these daily challenges that have arisen because of pandemic prevention measures, China's truck drivers are also faced with vehicle loans, rising fuel costs, fierce competition created by online platforms, and other problems that have been exacerbated by the pandemic economy. Pandemic closures and shutdowns in the manufacturing sector have caused an oversupply of truck drivers, increasing their financial difficulties. In this report, a translation of the original Chinese version published on 3 May of this year, we analyse the confluence of these difficulties. 
Covid prevention and control measures create daily challenges for truck drivers
According to China Labour Bulletin's Work Accident Map, the incidence of truck drivers contracting Covid-19 on the job rose sharply in March and April, with 34 cases in March and more than 14 cases in April. Most of these cases were concentrated in eastern coastal cities, including Zhangzhou, Fujian province and Hangzhou, Zhejiang province. In addition, the map detected that some incidents were happening while truckers were on return trips from Shanghai, the site of China's largest Covid-19 outbreak and a city subject to lengthy district-level lockdowns. Especially in March lockdown phases, food and other supplies into the city became limited, necessitating an influx of drivers to the city.
Aside from the risk of infection, truck drivers face onerous documentation requirements for negative PCR test results. Many areas have implemented local "closed management" policies to protect from outbreaks, but a lack of support for logistics workers has placed truckers in a difficult situation. From the beginning of April, drivers from more than 90 cities travelling among provinces have been required to provide negative PCR test results taken within 48 hours, and green health QR codes on their phones. These health codes have been instituted in China since March 2020 to assess risks based on individuals' movement history. Some localities have even required 24-hour negative PCR certificates. It can take about six to 10 hours to queue for a PCR test, meaning drivers must spend much of their day waiting for results rather than working and earning an income. Sometimes drivers must pay for PCR tests themselves and may be overcharged. One driver in Tangshan, Hebei province, reported that long-haul truckers were charged 4,000 yuan for a PCR test in the city.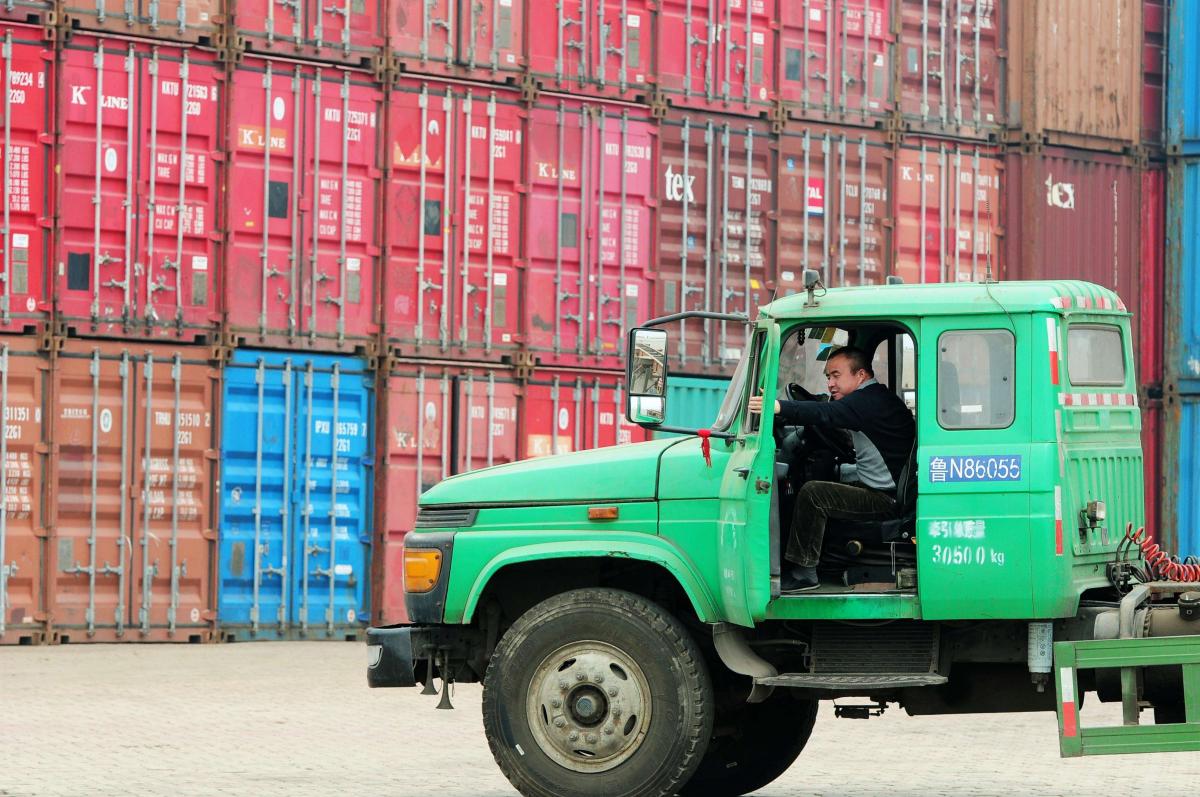 Even with a negative PCR test result, drivers' health QR codes may have a star, meaning they have passed through medium or high-risk areas. The presence of a star on their code means they may not be able to pass through certain areas. According to a survey of 1,801 truck drivers conducted by the China Truck Driver Research Group (CTDRG) and released in late April 2022, 60 per cent of drivers had stars on their health codes at the time of the survey. Stars disappear after 14 days or after a city downgrades from a medium or high-risk area. Since trucks are constantly on the move, drivers face the problem of having one star disappear only as another appears. The problem is so pervasive that some truckers jokingly refer to themselves as "five-star generals." 
For many regions, in addition to a PCR certificate and a green health code, only those with travel permits are admitted. Local policies closing villages and roads to vehicles are strictly enforced. The closure policies mean drivers are stranded on the highway for long periods, resulting in longer delivery times, reduced incomes, and the risk of fresh produce spoiling. Even the drivers' own needs for food and accommodation are unmet. According to CTDRG's survey, about half of truckers were stranded on the road between one and three times in March this year, while 8 per cent were stranded more than ten times in that period. Almost 10 per cent said they had been stranded for seven days or more. 
All over the country, truckers are starving. On March 31, hundreds of truck drivers scheduled to deliver goods to Anshan, Liaoning province, were blocked from exiting the expressway. One driver, surnamed Pan, said permits were required to get off the expressway. Pan was lucky in that the recipient of his delivery could come and pick up the goods. But the rule meant he was stuck on the highway for four days and five nights with only a steamed bun he had bought for five yuan on the expressway.
Around the same time in Shanghai, three drivers delivering potatoes arrived to find the vegetable markets were closed. Their boss arranged for them to wait at a warehouse until the delivery could be made. Once the drivers had eaten their own supplies, they lived off the potatoes. On the twelfth day of being trapped in Shanghai, their boss told them they had to leave the warehouse. Because the highway had been closed by this time, the drivers had to continue to wait for restrictions to be lifted. 
"The pressure of an empty truck is the biggest," said a truck driver during a media interview. When cargo is on board, the owners will generally help drivers deal with pandemic prevention policies and respond to their needs to ensure delivery. But if the truck is empty, no one cares, leaving drivers even more isolated and helpless in the face of the Covid prevention policies. 
Many cities have policies requiring drivers to stay inside their cabins while unloading, and only after leaving the city can they get out. It is common practice to put seals on the doors on both sides of the cab. Any driver found with a broken seal will not be allowed to leave an area. They are forced to eat, drink and sleep in their trucks to be able to continue working and to avoid infecting their families.
The lack of proper lodging and poor food quality also affects the health conditions of truckers. On March 31, a truck driver stranded at a highway rest area died of a seizure in Songyuan, Jilin province. At the time, restaurants in the rest area were not allowed to operate, but other areas were open. The driver lived in his truck and could only buy instant noodles and other supplies at a kiosk. After the incident, local police let the stranded truckers stay in a quarantine hotel. If the truckers did not wish to stay in the quarantine hotel, they had to sign an agreement with the service area stating it had no liability if an accident occurred.
Drivers may conceal PCR test results or evade GPS tracking to avoid problems caused by Covid prevention policies. On March 31, the Liaoning Provincial Public Security Department announced that it had investigated and imposed penalties on close to 100 long-haul truckers who concealed their locations and evaded pandemic prevention inspections. In April, a Shanxi video studio owner was sentenced to a year and a half in prison after being reported for falsifying 621 PCR test results for 252 coal truck drivers.
Since the media have reported on the situation for truck drivers, the government has adjusted its prevention policies. On April 7, the Ministry of Transport held a meeting on coordinating logistics to ensure continuous passage and delivery of essential goods and to guarantee that the pandemic prevention policies were unified across regions. The Ministry emphasised that regions must not make their own ad hoc requirements, which create problems for drivers. Instead, they must establish a unified pass system that is nationally recognised and convenient. The Ministry of Transport also said it would provide truck drivers with meals, toilet facilities, and other essential living services in a timely manner and ensure there are more PCR testing points to serve the needs of truck drivers better. 
On 19 April, the State Council's Joint Prevention and Control Mechanism held a press conference to implement a nationally-recognised and universal PCR testing system for truck drivers, noting that repeated testing of drivers could not be required while it was in effect. Moreover, a special information sharing system would be established for truck drivers, so that drivers passing through medium- and high-risk areas, or stopping in such areas for no more than four hours, would not be penalised with stars on their health code apps. Various locales have also introduced relevant policies, such as the establishment in Shandong of electronic passes; the provision in Hangzhou, Zhejiang province, and Jiangsu province of free meals and PCR testing; and the offering in Hefei, Anhui province, of subsidy payments of 500 yuan per person per day to drivers while in quarantine (plus a vehicle subsidy of 500 yuan per vehicle per day). Guangzhou has also provided a subsidy of 100 yuan per trip for drivers under closed-loop management.
Market competition and economic pressures on truck drivers have gotten worse under the pandemic
The April 2022 survey by CTDRG found that 70 per cent of truck drivers are private owners and labourers. More than 50 per cent of drivers are affiliated with companies, mainly to obtain loans to purchase the trucks, but are still considered self-employed. The survey also found that that almost 36 per cent of self-employed truck drivers had a net income of less than 3,000 yuan in March of this year. The reasons for such low income include lower freight rates, fewer deliveries, higher fuel prices, and increased toll fees.
According to the 2021 Report on the Work and Living Conditions of Truck Drivers Since the First Anniversary of the Pandemic, more than 70 per cent of self-employed truckers cited low freight rates as the most significant difficulty at that time. According to several interviews with truck drivers, oversupply in the truck market is due to zero down payments and no-interest loans for truck purchases, resulting in too many vehicles. Because some factories have closed down during the pandemic or have been slow in returning to work, there has been reduced demand for truck drivers who deliver raw materials or finished products. 
A truck driver surnamed Yang in Tangshan said: 
In the past, you could make money with a truck. But with so many trucks now, the market is oversupplied. With the pandemic, and some areas still not going back to work, production has slowed down. You can't earn a living. All you can do is hold out with your truck.
The rise of online platforms is also an important reason for the lower freight rates. As China Labour Bulletin has reported, with the development of online freight platforms such as Full Truck Alliance, For-U Trucking, and others, drivers looking for online bookings in various regions have been pooled together, creating fierce competition. With the accumulation of transaction data, the platform's algorithm is able to calculate delivery prices by distance, road conditions, and weather, eliminating the previous bargaining space between truckers and shippers. The platform also charges a commission and membership fee for its services.
A trucker surnamed Huang from Shanghai said:
Now freight is all about online orders. Some of the previous premiums have been squeezed down, and the freight rates are getting lower and lower. Previously, we were paid for a round trip, but now it's only a one-way trip. Good jobs for good pay are very difficult to get. Our old customers are now placing orders online, which means we have lost our relationship with them. With the pandemic situation tossed in, you really can't make any money.
On the one hand, freight rates are lower, and on the other, trucking costs are higher. Domestic oil prices have risen five consecutive times this year, with gasoline prices increasing by 1,875 yuan per ton and diesel prices rising by 1,805 yuan per ton. National emission standards have also been updated, forcing drivers in some areas to purchase new vehicles, which can cost up to half a million yuan. Furthermore, one driver pointed out in an interview that truck drivers could save on toll fees before the pandemic by mainly taking national roads to save on tolls. Now, due to pandemic controls and health trip codes not meeting regulations, drivers cannot access national roads, forcing them to stay on highways where they must pay toll fees.
Truckers remain under pressure to make their truck loan payments. According to the CTDRG survey, about 60 per cent of self-employed truck drivers have to pay more than 6,000 yuan in monthly loans, and about 20 per cent have to pay 9,000-12,000 yuan per month. Only 16.3 per cent bought their vehicles outright, while more than 40 per cent took out loans from banks. The loans typically have low down payments, requiring only 30,000-100,000 yuan upfront, but they have relatively short repayment periods, usually two years. This means truckers initially have a monthly repayment plan of 5,000-6,000 yuan for light-duty trucks and 10,000-20,000 yuan for heavy trucks.
A woman surnamed Xie, the wife of a truck driver in Yixing, Jiangsu province, said, "On 28 October last year, we bought a stage 6 emission standard vehicle costing 500,000 yuan. We are not eating or drinking and still have to back a monthly 15,900 yuan loan payment."
On 12 April, the China Banking and Insurance Regulatory Commission issued a notice requiring banks and financial institutions to extend or refinance loans to truck drivers in order to provide relief during the pandemic. While the China Construction Bank and the Agricultural Bank of China have relevant measures to implement the policy, there are many banks where decisions on extension and refinancing are made by local branches, making the national notice challenging to implement. 
What is the role of the trade union in representing truck drivers' interests?
In early April, the Jiangsu Federation of Trade Unions introduced a "care for truck drivers' needs" scheme among the municipal trade unions. Through this program, the union provides virus prevention supplies, basic necessities, convenient food, and access to counselling services to help relieve the pressure of work and life for drivers. 
Nationally, on 20 April, the All-China Federation of Trade Unions (ACFTU) urgently allocated subsidies of 63 million yuan to guide and support local trade unions assisting workers temporarily affected by the pandemic. The relief is especially focused on distressed truck drivers, urban migrant workers, and other special groups in difficulty.
These material and psychological services are beneficial. But resolving the plight of truck drivers still requires improved policies and implementation. Some policies were not thought through comprehensively when they were introduced. For example, the Liaoning Expressway Administration Bureau Anshan Management Office said it had not considered the situation of drivers running out of food when implementing road closures. 
The CTDRG has recommended that pandemic prevention and control policies should be standardised as much as possible, with PCR test results mutually recognised. Truck drivers should be allowed to pass through areas even with health travel codes carrying stars if they have not been exposed while in an area and have negative PCR tests. The CTDRG also urged considering vehicle loan deferments without interest to help drivers and their families. All of these suggestions are worth follow-up by the trade union.
The union could also suggest that drivers be given additional subsidies when they change out their vehicles to meet carbon emissions standards, and that restrictions on internet platform fees be strengthened. 
We suggest that trade unions communicate more with workers, promptly address their needs and challenges, and actively advise the government on policies.