The All-China Federation of Trade Unions (ACFTU) has made truck drivers one of its eight key sectors (八大群体) for organizing. Since the initiative was introduced in 2018, however, China's 30 million truck drivers have seen little improvement in pay or working conditions. 
Drivers work excessively long hours just to earn a subsistence wage. Many drivers have to pay off vehicle loans and cover the cost of fuel, maintenance and insurance before making any profit. They also face arbitrary cuts in haulage rates from online platforms and fines from local traffic police. 
So far, just about the only thing the union has done is to help establish a network of roadside stations where drivers can rest during long journeys. Pressing problems - particularly the constant pressure of fines for moving violations, which can amount to several thousand yuan every year - have been ignored.
When 51-year-old truck driver Jin Deqiang was fined 2,000 yuan because of a positioning system malfunction in April this year, it was too much for him to bear. Jin committed suicide by drinking a bottle of pesticide. In a WeChat group, he said that by taking his own life, he wanted "to say a word for all truck drivers."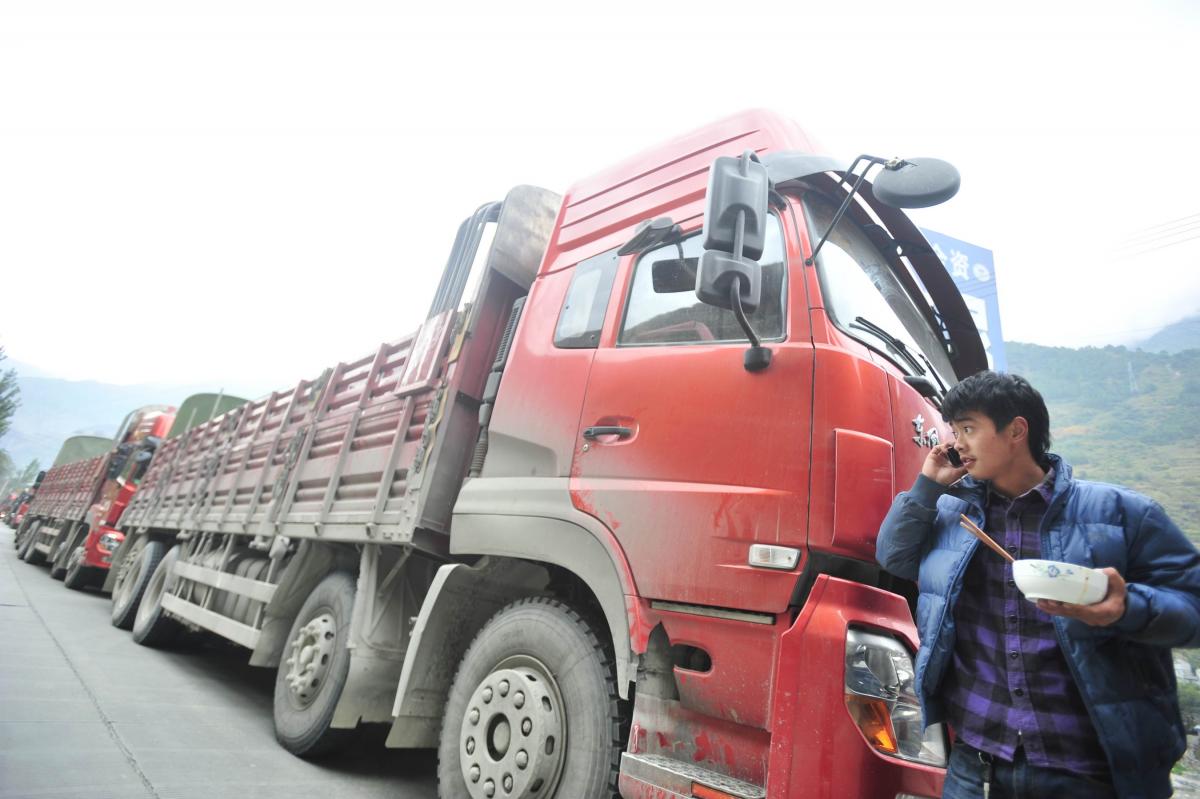 The incident occurred at a highway checkpoint outside of Tangshan, Hebei, and it was reportedly investigated by the local Fengrun district government. However, little information about the investigation has been made public. When China Labour Bulletin staff followed up on the case with several trade union offices immediately after Jin's death, we found bureaucratic inertia and a prevailing tendency to pass the buck. 
An official in the Fengrun district trade union office was unable to provide any details about Jin's case, claiming, "I'm new here" and, "It's not for our department to manage." The officer did confirm, however, that the local trade union office had not been involved in the joint investigation into the tragedy. This is despite the fact that trade unions are supposed to be involved and to protect the legal rights and interests of workers.
Instead, the official suggested that CLB call the local Propaganda Department and the Legislative Affairs Commission, both of which also claimed that Jin's case was not their responsibility. 
The Legislative Affairs Commission representative, citing the investigation, claimed that Jin's case had been resolved. However, several other truck drivers have since reported signal loss or a positioning system malfunction in the same area outside of Tangshan, suggesting the investigation was cursory at best. The official had nothing to say when CLB asked if other truck drivers passing that spot could be fined because of a positioning system malfunction. 
After Jin's death, drivers have continuously complained about the positioning system, yet trade union officials still maintain that it is not their concern, and they have not taken any initiative to solve drivers' complaints.
The only thing the union has been proud of is setting up drivers' stations. These offer a place for drivers to rest, cook and bathe, but they do not offer concrete help in resolving drivers' grievances or complaints. Moreover, the local officials contacted did not even know how many drivers' stations had been set up in their area, nor could they provide any contact information for the stations.
The Hebei Mariners and Construction Workers' Union, which had earlier claimed credit for promoting drivers' stations in the province, simply ignored our inquiry about Jin's case and claimed that the drivers' union was none of their business. "It isn't in the system," an official said before hanging up. 
In a call to the municipal trade union federation in Jin's hometown of Cangzhou, we were told that they tended to only manage unions for larger transport companies and could do little for individual drivers like Jin. Individual drivers should contact their local trade union or the transport bureau, they said. Previously, the municipal trade union had claimed in the local newspaper that they now covered all new industries through a network of 189 associations related to logistics and freight. 
But drivers like Jin clearly don't see unions as offering any true support. If Jin had, he would have turned to the union, rather than leaving his last words in a drivers' WeChat group.
Asked if the municipal union was doing anything to address the multiple issues reported by drivers regarding the mandatory positioning system installed in all trucks, Cangzhou officials also said that was not a decision they could make, and it would require reporting to their superiors.
Jin's case shows how unions have chosen the least direct way of reaching out to workers, liaising with companies rather than drivers themselves. They wait for instructions from above, rather than taking action. Using platforms like WeChat would create a direct line of communication between unions and potential members. Instead, these unions are mired in jurisdictional distinctions and hierarchies.