Thousands of taxi drivers in at least 13 Chinese cities have staged strikes and protests over excessive fees and unfair competition from ride-hailing app services since the beginning of the year.
The biggest protest occurred in Nanjing, with an estimated 13,000 drivers taking part at its height. Caixin reported that the strike, which began on 8 January, was still in force on 12 January. Drivers demanded a reduction in the crippling fees extracted by local government-backed taxi companies.
In Dongguan, around 1,000 drivers have been on strike for three days demanding that taxi companies lower rental fees and take over drivers' insurance payments. They also called on the government to crackdown on ride hailing services such as domestically-owned Didi Kuaidi and foreign competitors like Uber.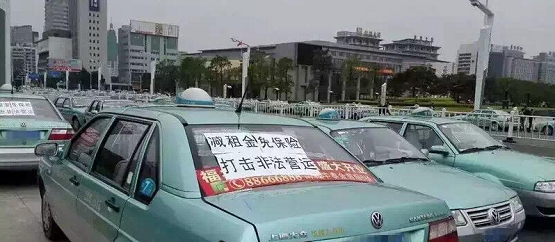 Taxi drivers on strike in Dongguan
Hundreds of drivers in neighbouring Shenzhen had earlier staged a two day strike on the same issue that ended on 6 January when the municipal government agreed to pay drivers a 1,000 yuan monthly subsidy to compensate them for increased competition from drivers using ride-hailing apps. Drivers who returned to work immediately were promised a monthly subsidy of 2,000 yuan.
The failure of many city governments to properly regulate the taxi market, combined with the lack any effective trade union representation for taxi drivers, has often led to drivers' frustrations boiling over into violent actions.
On 11 January, drivers in Nanchang, the provincial capital of Jiangxi, flipped over a car belonging to a ride app driver and faced off against lines of riot police outside the city government building. The confrontation ended with several arrests and injuries. Meanwhile, in Xinyang, Henan, taxi drivers surrounded and assaulted a ride app driver in a coordinated action on 9 January.
At the most fundamental level, all these taxi driver protests are related to local government mismanagement of the industry and long-term exploitation of drivers by cab companies. The recent introduction of ride-hailing apps has only served to exacerbate these long-standing problems.