After nearly a year in detention, labour activist Wu Guijun was back in court on 12 May to listen to yet more witness statements and cross-examination in the third instalment of his long-running trial for "gathering a crowd and disturbing the order of public transportation," an offence which carries a prison term of up to five years.
Wu was arrested after taking part in a demonstration on 23 May 2013 by several hundred employees at Hong Kong-owned furniture maker Diweixin, in protest at their employer's refusal to discuss compensation for a planned closure and relocation of the factory.
The prosecution presented a new witness from Diweixin who claimed that Wu had organized the 23 May protest. Under cross-examination, however, the witness admitted he did not actually know Wu Guijun at that time and could not confirm that he was in fact the protest organizer.
Earlier, witnesses for the defence told the court that rather than inciting and organizing the demonstration as alleged by the prosecution, Wu had actually urged the workers not to take provocative actions, such as blocking traffic, during the 23 May protest.
Once again, the trial was attended by dozens of supporters. Wu's family, friends and co-workers plus local labour activists such as Zhang Zhiru, whose colleague Lin Dong is currently under arrest in Dongguan. After the hearing, Wu's supporters unfurled a banner calling for his release.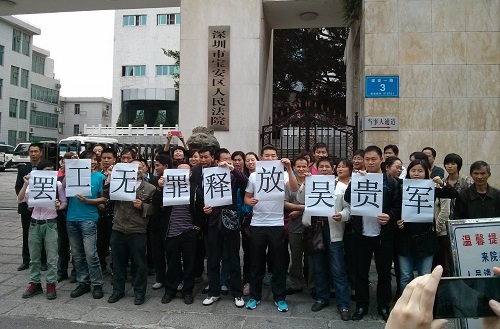 One of his supporters pointed out: "This is an absurd trial. Wu Guijun is innocent. The prosecution has presented no evidence of guilt, and yet Wu has been locked up for a whole year!"