There were at least seven strikes and protests by factory workers in Dongguan in the space of eight days in late May and early June, as manufacturing in the city once known as China's "factory to the world" continues to decline.
The biggest dispute occurred on 30 May when Xinda, a company at one time known as the "Foxconn of the toy industry" closed its doors for good, leaving more than 1,000 workers with months of unpaid wages and social insurance contributions. After many failed attempts to negotiate with management, workers took to the streets, blocking a road and demanding payment. Police arrived on the scene and arrested more than ten workers.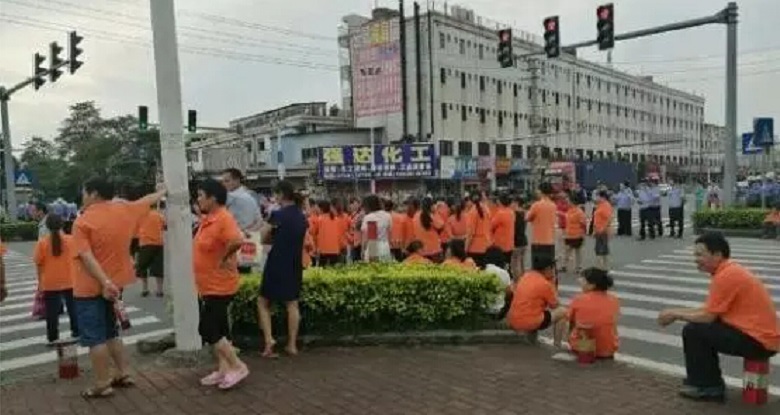 Xinda workers take to the streets in Dongguan
Despite the police intervention, workers have maintained an around-the-clock picket at each of the factory gates, sleeping in shifts and preventing the boss from removing factory equipment and finished goods. Workers have established a Weibo account posting daily updates of their activities.
The factory has posted a notice promising to pay wage arrears quickly, though workers who quit voluntarily are offered priority payment; notices made no mention of unpaid social security.
On the same day as the Xinda protest, hundreds of workers at the Taiwanese-owned Jifu Metallic Products Co. began a two day strike prompted by management's relocation plans. Employees, many of who had worked at Jifu for 15 or 20 years, demanded proper compensation for layoffs. Younger workers were more concerned about many months of unpaid high temperature subsidies and the company's persistent refusal to grant sick leave.
The workers presented management with a list of 14 demands, including the right to directly elect their trade union leadership. The workers stated: "In order to make the union stand on the principles of equality and fairness, we propose that the union chair must not be appointed by the company leaders, but should be elected by the workers."
Management refused to negotiate and called the police when the strike began on 30 May. The following day police arrested more than ten strike leaders. According to workers' reports, those arrested were fired along with many others who took part in the strike. However, workers say they are determined to organize further protests in the future if their demands are not met.
There were five other strikes and protests in Dongguan's electronics, shoe, textile and metals factories over the following week, see CLB's Strike Map for more details.
In many ways the decline of the Xinda toy factory mirrors that of Dongguan as a whole. At its peak in the 2000s, Xinda had more than 10,000 poorly paid and over-worked employees, producing goods for major foreign brands like Mattel and Corgi.
Like Foxconn, Xinda became notorious for its sweatshop conditions after a worker died of poisoning on the job. The company attracted greater criticism for its low pay, long hours and deplorable conditions while producing expensive figurines for the 2012 London Olympics, as revealed in a report by Students and Scholars Against Corporate Misbehaviour (SACOM). One Xinda worker interviewed by Southern Weekend lamented that he would have to paint 4,500 figurines to afford just one toy sold at the Games for £9.50.
After several failed attempts in the 2010s to revamp the once booming company, Xinda is now reportedly facing bankruptcy.