China's taxi drivers and factory workers took the lead in staging strikes and protests across the country in the second quarter of 2015 as threats to their livelihood continued to mount. Construction workers continued their protests over wage arrears but numbers were down slightly compared with earlier in the year.
Overall, China Labour Bulletin's Strike Map recorded 568 strikes and worker protests in the second quarter, bringing the total for this year to around 1,218 incidents, not far off the total for the whole of 2014, which stood at 1,379.
Strikes and protests by taxi drivers and other transportation workers reached an all-time high in May, occurring at a rate of one a day.  Long-standing grievances over cab company charges, government regulation and competition from unlicensed cabs has been exacerbated by the growth of ride hailing apps. Of the 70 transport strikes recorded in the quarter, 30 percent (21) were explicitly related to ride hailing services.
Domestically-owned Didi Kuaidi and the American-owned Uber are estimated to already provide passengers with four million trips a day in China, severely denting the earning potential of traditional cab drivers.
Taxi drivers have demanded that local governments take action to ban the apps, and, in some cases, taxi drivers have taken direct action by "fishing" for ride app drivers: Hailing them to a specific location and surrounding them with their cars.  In one case, after several hundred drivers in Tianjin went on strike, they were reportedly told by local transport officials that "if you fish them out, we'll capture them." The dispute subsequently escalated into a strike of more than 1,000 taxi drivers.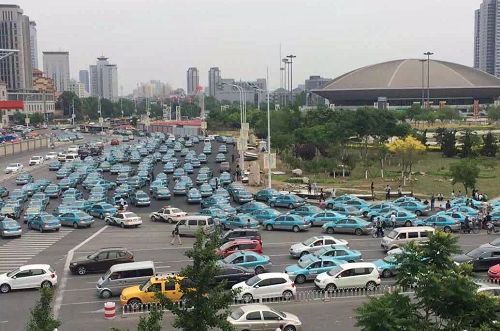 Taxi drivers on strike in Tianjin, 21 May 2015.
App drivers in Guangzhou, Suzhou, and Hangzhou have now responded to these fishing expeditions by rushing to the aid of drivers caught in the net. In a few cases, dozens of app drivers surrounded local government officials who had captured their colleagues and demanded their release.
In the manufacturing sector, the economic slowdown continues to hurt workers with factory closures and wage arrears prompting at total of 192 strikes and protests during the quarter.  Furniture factories have been particularly hard hit. In the manufacturing hub of Dongguan, the Chinese media reported that several furniture factory owners had changed their telephone numbers and skipped town, leaving workers with unpaid wages. While in the eastern city of Kunshan, several thousand workers staged a 20-day strike at American-owned Wanvog furniture in a hard-fought and ultimately successful battle to win layoff compensation.

Protests by construction workers have tapered off following the huge surge in demands for payment of wage arrears prior to the Chinese New Year but they still accounted for around one quarter of all incidents this quarter, indicating that, despite some signs of recovery in the property market, China's construction industry remains beset with numerous and deep-seated problems.
The general trend towards a more even distribution of worker protests across China continued in the second quarter. See map below. The manufacturing heartland of Guangdong only accounted for 15 percent of all strikes and protests in the quarter compared with 23 percent in the same period last year, and 41 percent in the second quarter of 2013.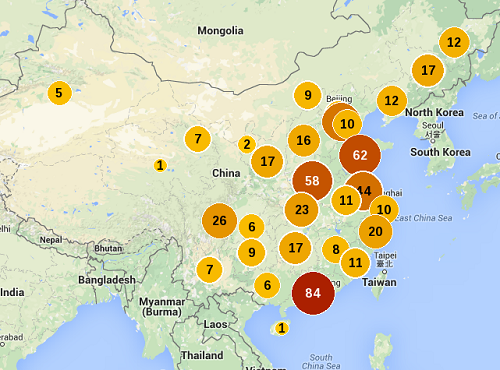 Overall distribution of strikes and worker protests in China during the second quarter of 2015
The central and eastern provinces of Henan and Shandong are quickly catching up with Guangdong, accounting for 10 percent and 11 percent of all protests respectively. However, Guangdong still accounts for 27 percent of incidents in the manufacturing sector; more than double the number of the next highest province.