Local governments in China are struggling to regulate the rapidly evolving transport market as new internet-based services emerge all the time, putting traditional taxi drivers and even drivers with the ride-hailing market-leader Didi Chuxing under intense pressure.
After the government started regulating the main online ride-hailing platform Didi, a lot of drivers decided to obtain proper documentation and even bought new cars. However, intense competition for fares from unregulated cabs has left drivers struggling to make their loan repayments, let alone provide a decent living for their family. Meanwhile, traditional taxi drivers are still burdened by the excessive fees charged by cab companies and they are determined to fight back against new online services poaching their customers.
As noted in CLB's Workers' Movement Report 2015-17, just about the only option these drivers have when their livelihood is threatened is to take strike action. However, such protests are rarely successful and there is clearly a need for China's official trade union to do a better job in representing transport workers in collective bargaining with the cab companies and internet platforms. CLB's Strike Map recorded 23 strikes and protests by taxi, Didi and bus drivers, spread out across the whole of China, in October alone. Two illustrative cases are discussed in more detail below.
Taxi drivers protest new ride app competition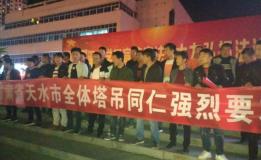 Didi drivers protest illegal cabs in Xiamen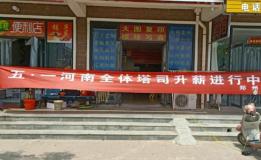 Hundreds of regular Didi drivers in the coastal city of Xiamen went on strike on 24 October in protest against the company's advantageous policy towards drivers who have not yet formally registered. Drivers who had already registered formally claimed that their incomes had declined markedly in the last few months because Didi was giving casual drivers far more orders than regular drivers in an attempt to get them to commit to the company.
Drivers said their daily incomes had fallen to around 200-300 yuan per day, about the same as regular taxi drivers in the city, and that they were now struggling just to get by. An online post of one driver's emotional complaint to customer services about the income drop provoked widespread anger in the driver community and directly led to the 24 October protest.
After police arrived at the site of the protest and dispersed the crowd, the workers elected their own representatives to hold talks with the company, and vowed to continue with their protests until the situation improved.