China's workers face serious systemic challenges to achieving their basic labour rights, but they are not disempowered. Rather, their individual and collective voices are having an effect within a dysfunctional system. Now, more than ever, it is time for the authorities to not only hear the uneasy sound of worker resistance, but to listen to workers' clear demands. This is our main takeaway from a new academic text by Manfred Elfstrom, Workers and Change in China: Resistance, Repression, and Responsiveness (Cambridge University Press: 2021).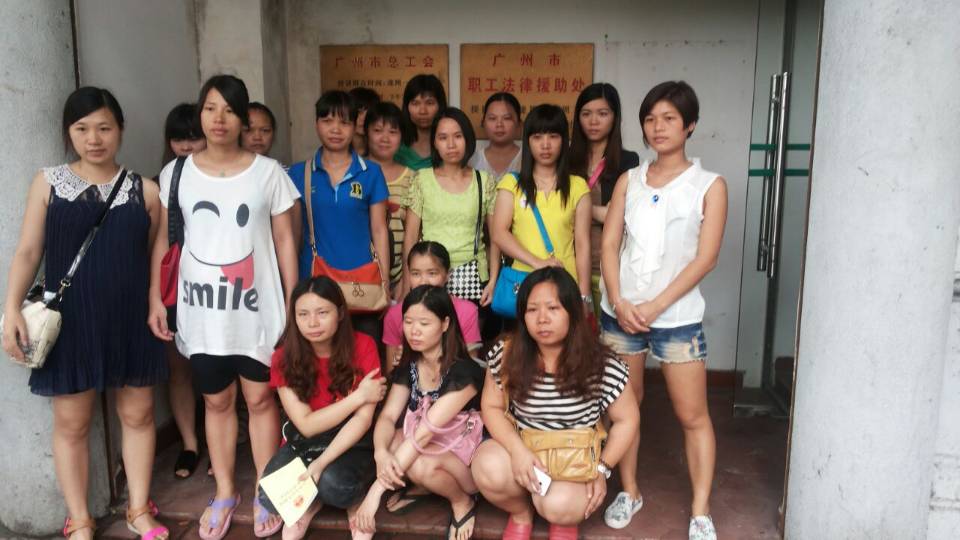 Sacked workers from the Gaoya Jewellery Factory in Guangzhou petitioning the municipal trade union in 2013.
The book analyzes the fundamental relationship between worker protests and government policy in China, and it opens with an illustrative example comparing the strike actions of workers at the Xing Ang and Xing Xiong factories (Taiwanese Stella Corporation) in 2004 and 2015 in Dongguan. In 2004, about 5,000 workers went on strike over basic rights such as wages, working hours, and working conditions. Their protest activities, however, involved raiding the factory and damaging company property. The authorities did not respond immediately to this labour relations issue, but eventually stepped in to detain dozens, and ten workers were criminally charged. Fortunately, strong legal advocacy and media attention (in which CLB played a key role) led to all ten workers being released with reduced sentences or charges dropped altogether. Eleven years later, more than 1,000 workers at the Stella Corp. factories went on strike over employer contributions to the mandatory housing fund, blocking roads and appealing to social media. This time, riot police with K-9 units met the workers, the social media posts were scrubbed from the Chinese internet. However, the employer was pressured to pay the housing fund contributions owed. 
Elfstrom's key question is about the causality and interaction between labour unrest and government policies on a regional level. By categorizing worker actions and demands on one spectrum, and government responses on another, Elfstrom examines the interplay. One strength of Elfstrom's research is his ability to isolate particular variables through his primary research, which includes interviews with government officials - including labour bureau and trade union officials - workers, labour activists, and academics.
Elfstrom selected the Yangtze River Delta in Jiangsu and the Pearl River Delta in Guangdong for a comparison of patterns of worker activism and regional policy responses over time, as the two provinces are the most similar in China in terms of size and economy, but varying numbers of migrant workers. In Jiangsu, worker actions and demands are more reserved, and the government is effective at channeling labour disputes through official mechanisms. In Guangdong, however, workers' actions and demands are more dynamic, and the official policy takes a more repressive style. Of course, this is not to say that either set of government policies are necessarily effective at achieving any of a range of possible goals: directly addressing labour relations issues, eliminating signs of protests and worker resistance to maintain stability, simply currying favour within the official system, etc. 
Another strength of Elfstrom's research is that he directly addresses the sporadic and reactionary nature of governance in China that depends to a large extent on the individual actors working within various constrained systems and exhibiting competing priorities. In an environment with a lack of official transparency and little accountability, these complicated and often personal considerations create systemic issues that inhibit effective governance in China. The bureaucratic nature of the labour relations system, for example, creates strong incentives for officials in one department to pass responsibility to other departments, sending workers through a complex and time-consuming maze, resulting in even the most basic legal rights of workers remaining unremedied. 
Elfstrom's research provides valuable insight into labour relations during a key moment in the history of the workers' movement in China in the mid-2010s. However, as the author notes, it is difficult to draw broad conclusions about the response of the Chinese state as a whole under the leadership of Xi Jinping from such specific research. In particular, it is important to look in more detail at the role of capital in the tripartite labour relationship and not merely focus on the interplay of workers and government. CLB also recommends that labour scholars now look at areas such as the inland province of Henan or rapidly developing regions like Sichuan, which are becoming new centres of labour activism. Elstrom looks mainly at factory workers, but the construction industry and service sector are now more important in terms of labour rights violations and worker resistance. It is possible that similar patterns of resistance, repression and responsiveness will be observed when studying food delivery workers or couriers in Sichuan as with factory workers in Guangdong. But we should not assume that one size fits all.
In conclusion, CLB highly recommends this book for those interested in an academic study of labour relations in China. Elfstrom presents, through careful research and strict methodology, an empowering narrative for workers not only in China, but also in other repressive environments where the power imbalance does not at first seem to be tipped in workers' favour.