After a week-long strike, 200 sanitation workers in Guangzhou's University Town have managed to bring their employer, a local property services provider, to the negotiating table.
The workers are demanding a reasonable severance payment from the company, Guangdian Property Services, after its street cleaning contract for University Town expired on 1 September.
Five democratically-elected workers' representatives and two consultants from a nearby labour rights group, the Panyu Workers' Centre, sat down with three company representatives and 20 government officials on Tuesday 2 September at a meeting chaired by the local government. All the other workers sat outside the conference venue voicing their support. See photo below.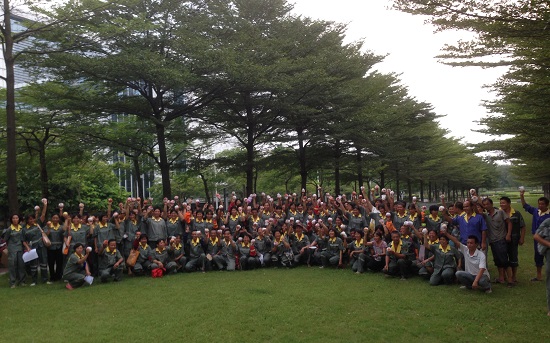 The negotiations stalled initially because the company refused to recognize the legitimacy of the consultants from the Panyu Centre, saying that they were not lawyers.
However, the impasse ended when a government official slammed his hand on the table and ordered the company to stop stalling: "The government is convening today's meeting to settle the dispute between the two parties, Guangdian must come forward and sit down at the table now," he said.
The striking workers also applauded the active intervention of the district trade union federation which joined the meeting and sat alongside the worker representatives and the two consultants. "We are very happy to see the union taking our side," said Wang Naiying, one of the workers' chief representatives.
Not only did the local union federation take the workers' side, a union official even scolded the company representatives for not having a proper enterprise trade union.
"Where is the chair of the enterprise union at Guangdian?" he said. "The union is a workers' union and shouldn't take orders from the management!"
After several hours of tough negotiation, the company proposed a lump-sum compensation package based on a basic salary and the employees' length of service.
"We immediately made a counter-offer but we will discuss the company's offer with the 18 elected representatives as soon as possible," said Zhu Xiaomei, one the consultants from the Panyu Centre. "We very much look forward to the second round of collective bargaining."
The workers have received support from many ordinary members of the public, not just in Guangdong but from all over China. More than 900 university students have signed an open letter supporting the workers' action and many have brought water and food to the striking workers. More than 4,000 yuan has been donated to the strike fund, while a farmer in Beijing even sent 18 cartons of fresh peaches to boost the workers' morale.