More than 200 workers from at least three Walmart stores in China went on strike over the weekend in protest against the company's introduction of a comprehensive working hours system. The workers also called for new trade union elections.
On 1 July, at least 130 workers at Store No. 5782 in Nanchang, Jiangxi, began marching through the store, chanting "Walmart Workers Stand Up!" and "No to the Comprehensive Working Hours System!" Workers had discovered the previous day that the company had unilaterally enforced the new working hours system against their wishes. The workers said management might now use the new system to punish activists by cutting their overtime pay.
In solidarity, some 30 workers at Store No. 2039 in the same city and another 60 employees at Store No.0209 in Chengdu, Sichuan, walked out on 2 July and 4 July respectively.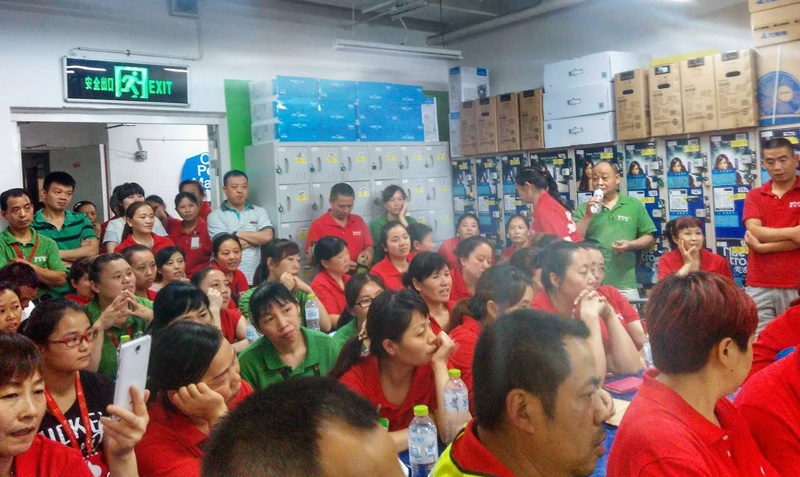 Walmart workers in Chengdu on strike
Workers at all three stores shared similar demands: Getting rid of the unilaterally imposed comprehensive working hours system, separating meal subsidy and full-attendance bonuses from the basic monthly wage, impeachment of the incumbent store trade union presidents, and democratic trade union elections.
Workers' representative Duan Yu from Store No. 5782 in Nanchang said:
We brought our demands to the labour department and the Nanchang Municipal Federation of Trade Unions back in May but received no response. Our store union president is too afraid to challenge management and so the workers were left with no options but to strike.
Trade union committee member Yang Daixin at Store No.0209 in Chengdu said:
Our union president is a senior manager. When Walmart first introduced the comprehensive working hours system during our last staff conference, he didn't dare to show up. I have no doubt that he would be impeached if the workers voted for it today.
Another activist in Store No. 2039, Tu Chunyan, said: "We went out on strike to get our voices heard but we also understand that strike is just a tool, not our ultimate goal."
Tu noted that strike had forced management to change its tune and negotiate with the workers:
The general manager used to be very arrogant, telling us to sue Walmart if we wanted to but after the strike he said that he will take workers' demands to his superiors and asked us to be patient."
While the strike continues at Store No. 0209, workers at both stores in Nanchang went back to work on Monday after management promised on 3 July they would reply to the workers' demands within seven days.
Also on Monday, there were unconfirmed reports of another strike at Walmart Store No. 3422 in the north-eastern city of Harbin.