By Jennifer Cheung
More than half the strikes and worker protests recorded by CLB last month occurred in the service sector, with protests by transport workers being particularly prevalent.
A total of 45 protests were recorded on CLB's strike map in April, about the same level as in March. There were 27 incidents in the service sector and 17 of those were in transport, with taxi and bus drivers protesting against restrictive government policies, rising management charges, excessive work hours and poor remuneration.
In other service industries, around 200 workers at a Jiangsu branch of the Japanese home appliance store Yamada went on strike demanding compensation on 27 April after the store announced it was closing due to sluggish sales. The store had been in operation for just one year and most of workers' contracts were still in effect.
In a rather unusual case, a group of chengguan (城管), the low-level law-enforcement officers tasked with keeping order on city streets, went on strike in Wenzhou, Zhejiang. They blocked the entrance to the government building with their cars, draped with a banner reading "We want to be civil servants." One protestor claimed local government regulations stipulated that they should be part of the civil service system. A local government official told the media that they were studying the workers' demands.
There were also three teachers' strikes in April. Teachers from two counties in Guangdong gathered in front of their government building on 22 and 24 April respectively, protesting against a discriminative pay increase scheme and demanding a proper salary increase. And in Henan, vocational school teachers went on strike against wage arrears.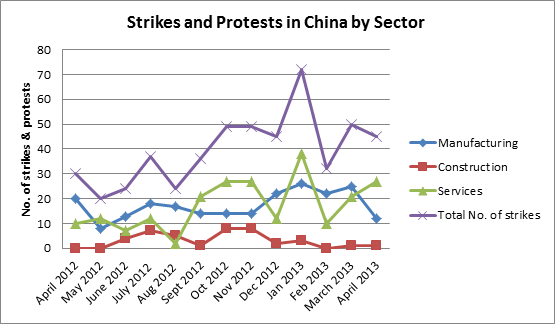 The growth rate of China's manufacturing sector slowed noticeably in April with the HSBC China Manufacturing PMI standing at 50.4 in April, down from 51.6 in March. Analysts warned that China's fragile recovery could impact the labour market. Employment levels in April decreased for the first time in five months, mainly due to the non-replacement of employees who had resigned or retired.
CLB recorded a total of 12 protests in the manufacturing sector last month.
In Tianjin, around 7,000 workers from Motorola went on strike against the low compensation given to them after the factory was sold to Flextronics.
Predominately women workers in a textile factory in Jiangsu protested against a reduction in wages.
Around 200 workers from a paper making factory in Dongguan blocked the road in protest at their infinitely long unpaid leave, which was seen by the workers as the factory's way of dodging the compensation it was supposed to pay upon severance of employment contracts.
In Zhejiang, hundreds of workers at an automotive components plant went on strike demanding the factory compensate a worker who was injured at work.
In Jiangxi, a power generating plant owned by Huaneng Power International went on strike against wage arrears. Workers claimed they had not seen a salary increase in 20 years.
There were also several strikes and protests at state-owned enterprises (SOEs) last month.
In Shanxi, workers from the Yunhe Group, a state-owned textile company, blocked the road and the company gate in protest against management corruption and the selling of state land at below market price.
In Henan, workers from CITIC Heavy Industries took to streets protesting against layoffs.
In Shaanxi, hundreds of workers from the Yanchang oil factory staged a strike against low salaries and wage arrears.
And in Fujian, workers from Nanping Minhang Electronic Components gathered in front of the local government building, holding banners reading "Severely punish corrupt officials", "Give me justice", "Officials shield one another."  The workers were demanding the government address the planned privatization of the SOE, which they said harmed their interests.