The number of strikes and protests by China's shop workers has steadily increased this year as intense competition, both on the high street and online, has forced shopping centres and supermarkets across China to close down.
So far this month, China Labour Bulletin's Strike Map has recorded nine strikes and protests in the retail sector, more than the figure for the whole of March: All of the disputes were related to wage arrears, closures or bankruptcies.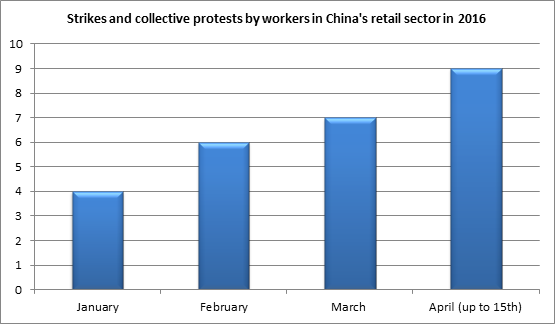 Although the number of incidents is relatively small compared with those in manufacturing, construction and transport, the retail sector is likely to see more disputes in the future as China attempts to move towards an economic growth model based more on consumption and less on exports and infrastructure development.
There are clear signs that consumer demand in China has not yet caught up with the exploding retail supply in both online and in urban shopping centres. In the central city of Wuhan, for example, vast shopping centres are reportedly standing empty because of the huge over supply of large-scale malls in the city centre.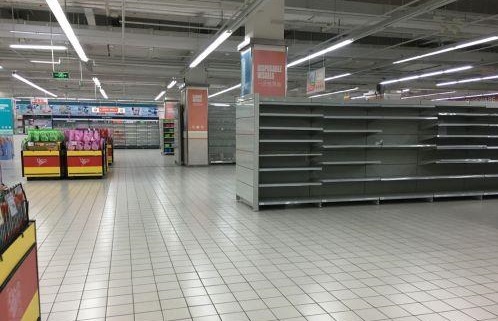 Empty supermarket in Wuhan. Photo: Today's Headlines (今日头条)
Just a week after the report on Wuhan in Today's Headlines, several workers staged a protest outside the city's shuttered SG supermarket on 13 April demanding layoff compensation. Two days earlier on 11 April, employees at a bankrupt online food sales company in Shanghai and workers at shopping centre in Cangzhou, Hebei, separately staged protests over wage arrears.
Of the 40 incidents in the retail sector recorded on the Strike Map in the last six months, 36 were in physical stores, mainly shopping centres, department stores and supermarkets. Workers laid off from smaller stores are unable to stage large-scale protests and were therefore unlikely to get their grievances aired on social media.
The massive surge in the popularity of online shopping in China has clearly put a lot of pressure on traditional shopping centres and supermarkets but many online shopping platforms have failed as well, leaving workers with several months' wages in arrears.
Online shopping companies have been aggressively recruiting sales staff with the promise of relatively high wages but in many cases the market became oversaturated very quickly and the business owners declared bankruptcy or simply disappeared, leaving both staff and creditors out of pocket.