More than 5,000 workers at the Hanzhong Steel Company in the northern province of Shaanxi went out on
strike on 14 February
demanding higher pay. Workers complained that they had to work weekends and holidays and yet their average monthly wage was still just between 1,000 yuan and 1,500 yuan, barely enough to live on.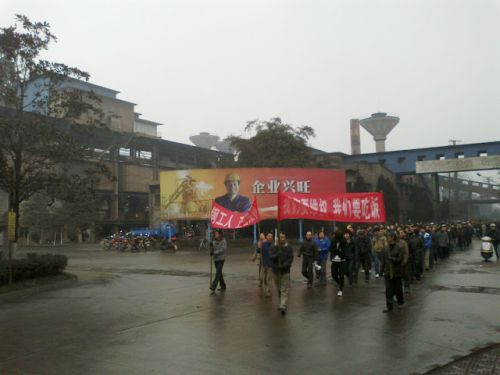 The following day, several thousand strikers staged a demonstration (see photo above) from the plant into the city streets holding banners proclaiming "We want our rights, we want to eat." Scuffles with the local police ensued and around a dozen protestors were reportedly detained.
This follows a
strike last month
involving around 10,000 workers at another steel plant in Chengdu, the provincial capital of Sichuan. Workers at the Pangang steel and vanadium plant went out on strike on 4 January, demanding a 400 yuan increase in their monthly salaries and a 3,000 yuan year-end bonus.
Around 5,000 of the strikers then staged a demonstration on the roads towards the main highway in Qingbaijiang district, north of Chengdu, but they were dispersed by around 1,000 police officers.
As the strike entered a third day on 6 January, the workers intensified their protest by blocking the main gate. After talks between workers, the trade union and management broke down, a large contingent of riot police reportedly fired teargas to disperse the strikers blocking the gates.
Steel prices
have been at a low ebb in China for several months and many steel mills have been operating at a loss. Wages at under-performing, relatively small steel mills like Hanzhong have been kept low for several years while inflation has increased and workers in other local enterprises have seen wages go up.