Around 100 workers at a Taiwanese-invested moulding factory in Shenzhen have successfully concluded a collective bargaining deal with management related to a possible change of ownership at the company.
The agreement, signed on 9 May, guaranteed the workers at Hietech Precision Industry (Shenzhen) Co., Ltd long-service compensation in the event of a change of ownership, the payment of social insurance and housing fund contributions in arrears, as well as high-temperature subsidies.
The employees agreed to give management eight months to pay all the money owed, while management agreed not take any kind of retaliatory action against the employees' bargaining representatives.
Zhang Zhiru, the head of the Chunfeng Labour Dispute Service Centre in Shenzhen, who advised the workers in the bargaining process, said the successful outcome showed exactly why collective bargaining is such an important tool for both workers and management.
The Hietech case shows why labour disputes should be solved through collective bargaining. Solidarity and the spirit of compromise of the workers, the willingness to talk and sincerity of the management, and the active but neutral involvement of the local government, all of these factors contributed to this tripartite success.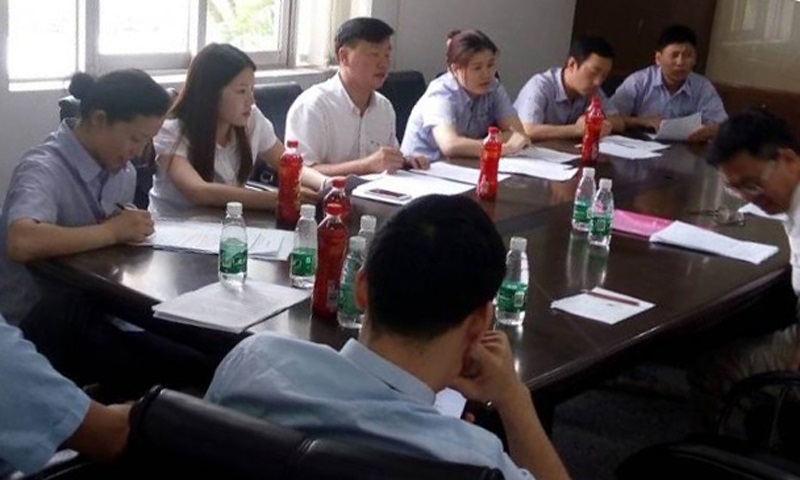 Zhang Zhiru (centre) with Hietech worker representatives during a bargaining session with management
The dispute began last month when workers began to hear rumours about a change of ownership at the factory. Workers, concerned about job security, tried to talk to the boss but failed. They then took things into their own hands and downed tools on 27 April.
Management agreed to some of the workers' demands on 6 May but did so in very vague terms and didn't provide a clear timetable. The majority of the workers rejected the deal and continued the strike.
It was only after workers sought help from the nearby Chunfeng Labour Dispute Service Centre that significant progress was made. The workers elected their own representatives and drafted an agreement. Management agreed in principle to the terms of the agreement and the employees returned to work as sign of good faith.
On 9 May, both parties discussed the proposal for a total of 11 hours, ironing out the detail, and eventually signed the agreement. The entire process was documented on social media.
The Hietch disputes once again illustrates how civil society labour organizations can help resolve disputes that have already escalated into strike action by organizing the workers and helping to present reasonable and constructive demands to management.