The Shenzhen government has pledged to crackdown on workplace safety violators; prosecuting to the full extent of the law business owners and managers responsible for major accidents.
There were 1,361 workplace accidents in Shenzhen in the first five months of this year (a rate of nine every day), leading to 189 deaths and 436 injuries, and causing over 15 million yuan in economic losses, the city's Deputy Mayor Zhang Hu revealed last week.
Most of these accidents were relatively small-scale, although at least 16 people, including three young children, were killed back in December 2013 when a fire destroyed an agricultural wholesale market in the outer suburbs of Shenzhen. It was reported at the time that many of the hydrants at the market were not working when the first fire trucks arrived.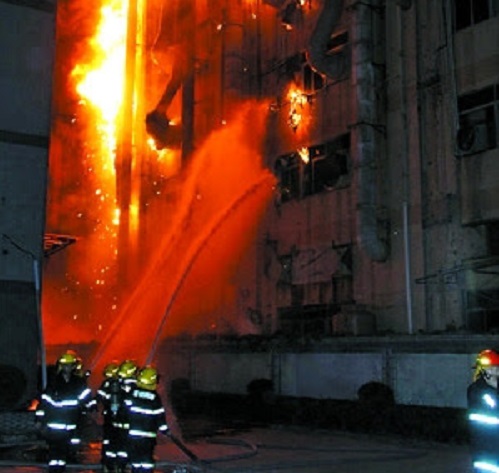 A fire at a Shenzhen electroplating factory in April traps 26 workers. All were eventually rescued. Photo Guangzhou Daily.
Zhang Hu called for more rigorous implementation of the revised Work Safety Law in Shenzhen. The revised law, which went into effect in December 2014, allows for fines of up to 20 million yuan for the companies and individuals culpable but so far there is little evidence that business owners anywhere in China are being convicted or even prosecuted under the new provisions.
There was just one case in late March this year in which an electronics manufacturer in Beijing was ordered to pay 800,000 yuan and the owner fined 40 percent of his annual income (as prescribed by the new law) after three workers died from poisoning while cleaning the plant's waste water system.
In two very similar cases however there have been no reported fines or sanctions thus far. In these cases,  three people were killed and four hospitalized from methane poisoning after attempting to save a worker who had fallen into a methane storage tank in Fujian, and in Yunnan, four workers died and eight were injured after inhaling toxic fumes whilst cleaning a sugar factory storage tank.
Thus far it seems the new law has had little impact on workplace safety in China. In the seven months since the law went into effect, China Labour Bulletin has recorded 279 workplace accidents, with more than 580 deaths and 466 injuries. These figures represent only a fraction of the total number of work-related deaths in China, which according to official sources totalled 68,061 last year; however the Workplace Accident Map does give us a useful snapshot of the most common types of accidents in China.
Accidents in the construction industry top the list, accounting for more than a third of the total. In many cases, workers fell to their death from a height due to a lack of, of failed, safety equipment. In other accidents, it was the structural collapse of the building or construction supports that led to the injury or death of workers on site.
Building collapses are also a hazard for factory workers as evidenced by the collapse of a shoe factory in Wenling, Zhejiang, on 4 July which killed 14 workers and injured 33 others. The building was reportedly scheduled for demolition and had been used by the factory illegally.
Although coal mine safety regularly draws international headlines, coal mine accidents accounted for just ten percent of the total in the last seven months. Most accidents were caused by cave-ins, floods and carbon-monoxide poisoning. In mid-April, 21 miners died after being trapped in a flooded mine in Datong, Shanxi. Only three were rescued.
By far the most serious work-related incident in the last seven months was the Yangtze River cruise ship disaster on 1 June in which 442 people died, including nearly all of the 46 crew members. In another incident on the Yangtze, 22 crew members died in a tugboat accident near Shanghai in January, while three more workers died on a boat during a bridge inspection on the river in Hubei in April.