More than 200 migrant workers from Hunan left Shenzhen today after the municipal government finally agreed to compensate them for their occupational lung disease, pneumoconiosis, contracted while working in the city's construction sites back in the 1990s.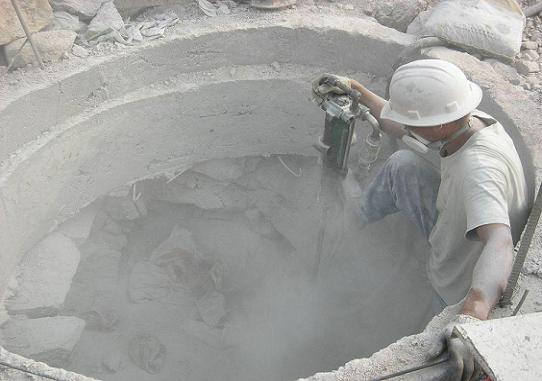 Shenzhen construction worker surrounded by deadly dust
The workers agreed to a provisional arrangement whereby they will receive 2,000 yuan for medical fees and 2,000 yuan for living expenses each month until a final mutually agreed compensation package is worked out. Family members of deceased workers also received 2,000 yuan, to be paid each month until the agreement is finalized.
This group of former construction workers and family members from Sangzhi, Miluo and Leiyang arrived at the Shenzhen Human Resources and Social Security office on 5 November. The workers demanded to be compensated according to the official three-tier scale of pneumoconiosis severity, and without the need to prove a previous employment relationship in Shenzhen.
Most of the workers never signed labour contracts with their employers back in the 1990s when they were working in construction sites in the booming southern Chinese city. This was standard practice at the time and is still commonplace in China's informal construction industry.
When their demands fell on deaf ears, the workers and family members occupied the building until the evening of 7 November when police in riot gear were deployed to break up the protest. As clashes erupted, police used pepper spray and some of the protestors were injured.
Officials agreed to meet the workers the day after the clashes, but insisted that they provide some kind of material evidence of previous employment in Shenzhen in order to be entitled to compensation. Eventually however the municipal officials agreed to the provisional payment of 4,000 yuan per month for those who could not prove previous employment in the city.
The officials promised to come up with a final compensation proposal as soon as next month. Although some of the workers were initially not confident Shenzhen authorities would fulfill their promise once they left, they finally all agreed to end their protest and return home.
According to official figures, pneumoconiosis is the most serious and most common occupational disease in China. The coal mining industry is the probably the single biggest cause of pneumoconiosis among China's workforce, followed by quarrying, rock blasting and grinding, and also the jewellery industry in which workers are often exposed to high levels of silica dust while polishing gemstones.