After three court hearings and more than a year in detention, the Shenzhen Procuratorate has dropped its charges against labour activist Wu Guijun, Wu confirmed today. Wu had earlier been released on bail on 29 May 2014.
Wu was charged with "gathering a crowd and disturbing the order of public transportation" after taking part in a demonstration, with several hundred other employees in May last year at Hong Kong-owned furniture maker Diweixin, in protest at their employer's refusal to discuss compensation for the planned closure and relocation of the factory.
During the trial which opened in February this year the prosecutor consistently failed to produce any evidence that Wu was the organizer of the protest while the defence called several witnesses who testified that Wu had actually been the one calling for calm.
When he was released from Baoan District Detention Centre on 29 May, Wu was greeted by his wife and dozens of supporters including workers' representative Meng Han and labour rights activist Lin Dong, both of whom had recently been released from detention as well.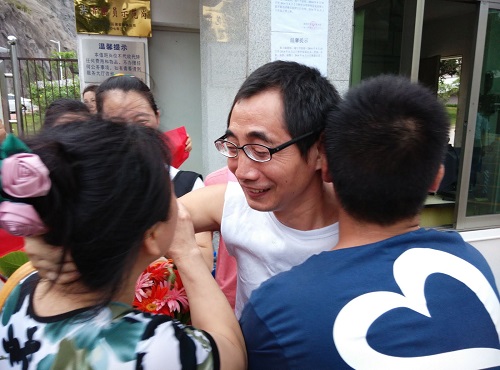 Wu Guijun is greeted by family and supporters on his release from detention.
Wu's wife had waited outside the detention centre in the hot sun for more than four hours after being informed of her husband's pending release. When Wu finally emerged, he hugged his wife and addressed his supporters in the crowd:
I was reading when the guard yelled 'Wu Guijun, you are free to go!' I had a hunch recently that I would be released but I never expected it to be this soon. I have always been at peace because I know that I am innocent and I will get out. What meant the most for me during my time in detention was the spiritual support of my family, friends, and society at large. I didn't do my time in vain!
I would also like to thank my legal team and my co-workers who were brave enough to show up in court and testify on my behalf. Their conscience and courage are admirable and they are the most tangible reason why I am able to stand here today.
I will continue to protect workers' rights in the future. Although my name is definitely on the blacklist and it will be impossible for me to go back and work in a factory again, I have the responsibility to share my own experience with the workers of future generations.
Duan Yi, the veteran labour rights lawyer who represented Wu during the trial, said his example was inspirational:
Nowadays, Chinese workers are trying to resolve their grievances through collective bargaining with the employer. The workers themselves are at the centre of labour disputes and the negotiation process. Labour rights groups, academics, and lawyers should all play supporting roles.