Shanghai increased its statutory minimum wage today by 8.4 percent to reach 2,190 yuan per month, making it the highest monthly minimum wage in the country. The hourly rate increased from 18 yuan to 19 yuan per hour.
This was the city's smallest minimum wage increase in seven years and was accompanied by similarly marginal increases in unemployment, disability and health benefits for workers.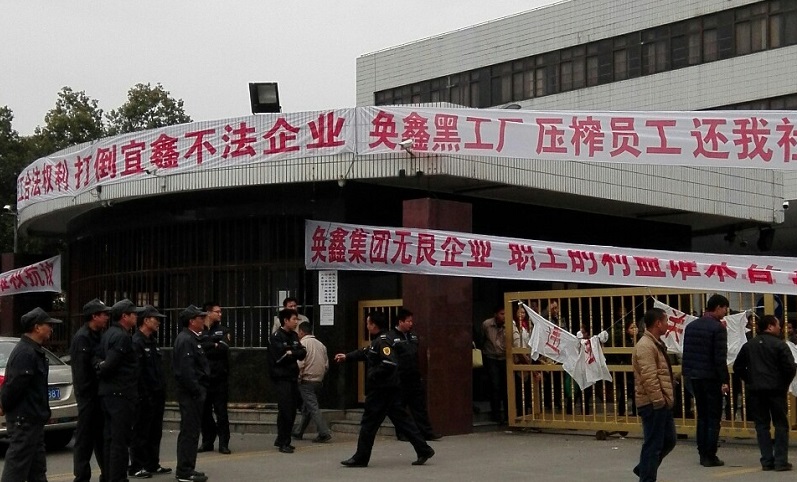 Workers stage protest after being laid off from a Shanghai electronics factory last week
Shanghai's cautious approach to the minimum wage and social welfare benefits etc. came a month after Guangdong took more drastic action in response to the slowing economy and announced a two year freeze on its minimum wage.  The current minimum wage in the provincial capital Guangzhou is 1,895 yuan per month but it falls to just 1,210 in smaller cities in the province. Shenzhen sets its own minimum wage, currently 2,030 yuan per month, but there is no indication it will increase that rate in the near future.
Many other provinces and municipalities in China are likely to announce only a small increase or leave their minimum wage unchanged this year as governments seek to reduce costs for businesses in their area.
At least 12 provinces have already lowered some social insurance contribution rates for employers and employees alike this year, the China Daily reported today. Most reductions were in the relatively low-level contribution fields of unemployment, work-injury and maternity insurance although Shanghai did reduce its pension fund contribution rates by one percent to 20 per cent, bringing it in line with national norms.
Given the pressure many social insurance funds are currently under however it is unlikely that there will be any major reductions in the pension and medical insurance contribution rates in the near term; probably not until the retirement age is increased and more reforms are introduced to the medical benefits system for retirees.