The lockdown continues in Shanghai, with the city reporting 582,000 confirmed Covid-19 cases since 1 March. Residential communities have experienced food shortages, and patients in urgent need of medical services have died from lack of immediate care. Videos of residents protesting, looting supplies and physically clashing with pandemic prevention staff circulate online. 
CLB's Workers' Calls-for-Help Map shows that the rights of frontline workers, who are transporting essential goods and constructing temporary hospitals, are often ignored.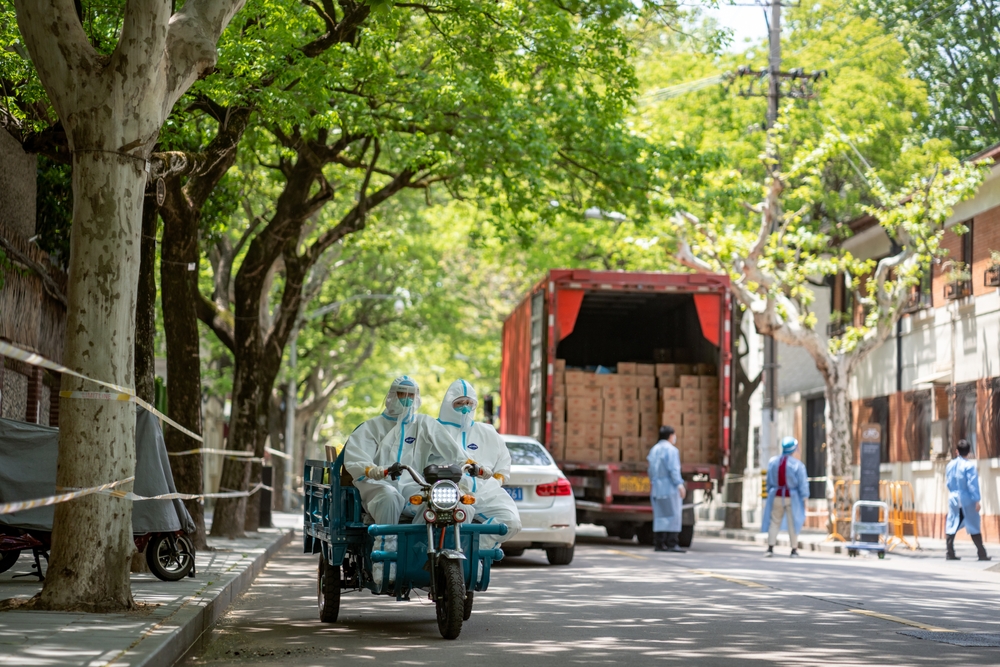 Photograph: Graeme Kennedy / Shutterstock.com
A 4 April Weibo post said that construction workers building temporary hospitals developed cold symptoms. In their living quarters, those with chronic illnesses ran out of their medicine, and workers who injured their hands weren't able to go to the hospital for screening. The post has since been removed from Weibo, but screenshots are still viewable in our Calls-for-Help Map.
Workers who built a hospital in Yangpu district said that many of them tested positive for the virus. One worker said that they requested tests many times from the district government, but no one seemed to care. Instead, the government asked them to leave. "This goes against the policy of dynamic zero-Covid," a worker said. "It's data fraud!"
These workers tried to climb barriers to escape confinement in buildings with poor sanitation. "We're a forgotten corner," a worker said, describing a mountain of rubbish at the door that infected workers and created a stench. Despite workers contacting relevant departments, no one collected the rubbish.
A call for help made on 13 April said that 200 renovation workers in Pudong were trapped. The community did not distribute supplies to them, so workers used kettles to cook noodles and cabbage. 
On 19 April, construction workers at a site in Sunqiao were exposed to Covid-19, but the local government did not organise isolation or any relief. 
Workers responsible for ensuring necessities are available have also fallen ill due to cross-infection in close sleeping quarters. "Everyone slept in the aisles and stairwells, without bathing," an employee of food delivery company Hema said on 7 April. 
Truck drivers and delivery workers have slept on bridges and on the streets, media reported. Truckers travelling to and from Shanghai have been blocked and resorted to stealing vegetables from gardens out of hunger. 
Medical staff at Shanghai No. 2 Rehabilitation Hospital said that managers required them to work even when they had Covid-19 symptoms. A nurse at Putuo District Traditional Chinese Medicine Hospital said that the hospital sent staff who had tested positive out to collect samples. Almost all nurses and doctors in one ward tested positive. 
Through strikes and sit-ins, staff who tested negative forced the hospital to take isolation measures. "Hospital management did nothing," a staff member said, adding that other departments visited their floor in full protective gear. "They managed us remotely through the phone."
Caregivers were misled about the infection rate at Donghai Nursing Hospital. Upon arrival, the workers found that many elderly people had tested positive and medical staff had been sent to isolation. The hospital wanted the workers to sleep in the same rooms as people who had close contact, and threatened them if they objected. When the workers requested Covid-19 tests, the company did not take responsibility, and the police said no one could enter the hospital to deliver them. This online post has also been deleted. 
Migrant workers leaving Shanghai have spread the virus to other areas, including Zhengzhou. Asymptomatic cases circulated in the airport area, and the virus has since spread to primary and secondary schools. 
Current policies of ignoring the needs of workers endanger the public and actually work against strict lockdown policies. 
The state of workers' conditions through lockdowns shows systematic neglect of their rights. Construction, logistics, and care attendants tend not to be employed with formal contracts. Nurses usually have the least power in hospitals, and management often does not take their views seriously. 
Successive pandemic waves and lockdowns are an opportunity for unions to step in to safeguard workers' rights. The government has transferred non-local workers to support pandemic prevention in Shanghai, but then left them to their own devices after they left isolation and began working without proper protection, food, and supplies. So far, trade unions have been conspicuously absent in safeguarding the interests of frontline workers.