More than a week after the massive landslide that inundated a small mining community in rural Shaanxi in the early hours of 12 August, there is little chance that the 56 people still listed as missing are alive. Nine bodies have so far been recovered.
Search and rescue work in the area adjacent to the vanadium mine in Shanyang county, which was operated by the Wuzhou Mining Company, resumed on 20 August after heavy rain and the risk of a second landslide had forced the authorities to suspend operations two days earlier.
So far, less than a tenth of the estimated 1.6 million cubic metres of rock and soil that destroyed 15 workers' dormitories and three residential buildings on the hillside has been cleared away.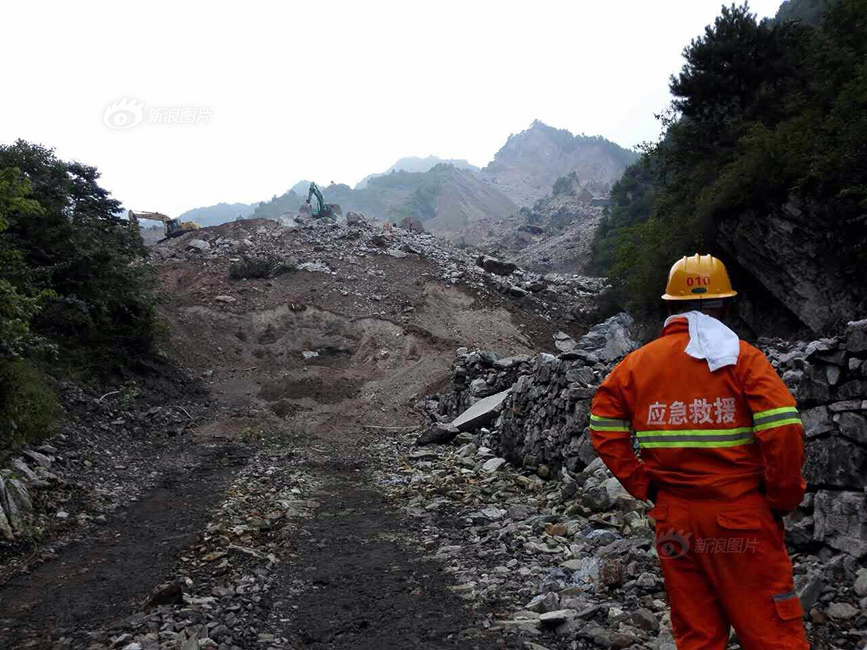 A rescue worker surveys the Shanyang landslide on 12 August 2015. Photo: Sina News.
There was very little chance that any of the workers or their family members who were asleep in those buildings at the time could have survived the landslide. A blogger from the American Geophysical Union noted that: "There is a notable lack of debris from buildings in [photographs from the site] suggesting that the structures were completely buried."
Most of the workers at the Shanyang mine reportedly came from local villages but some came from as far afield as the coastal province of Zhejiang. They could earn around 7,000 yuan a month inside the pit or 5,000 yuan a month working in the opencast mine.
Landslides are a common hazard in China's mountainous areas where mining activity can often degrade already unstable rock formations. Just one week before the Shanyang disaster, for example, six workers were killed in an open cast mine in Chefeng, Inner Mongolia.
Two years ago, on 29 March 2013, 83 workers were killed in a mudslide at gold mine in Tibet. While on 11 January the same year, at least 46 people were killed in a landslide in Yunnan, which local residents claimed was caused by excessive mining in the area.
In August 2011, CLB executive director Han Dongfang talked to Liu Guokui, a villager in a remote mountainous region of Yunnan about the environmental destruction caused by reckless mining operations at the Tongchanghe coal mine near his village. Liu described how explosions at the mine had "thrown rocks up out of the mine shaft" and smashed roofs and furniture in the village houses.
Liu stressed that the constant explosions and excavations by the mining company had made the surrounding region unstable and that the few villagers who remained there lived in constant fear of landslides:
Nobody dares go out now. There is nothing you can do about it because the mountains have an arch-like shape. It is not just a simple slope; there is an incline that ends in a vertical drop. This is a recipe for a landslide disaster, which could be triggered by any kind of vibration.