Sanitation workers arrested for protesting low pay in Liuzhou
Sanitation workers stage six-day strike to protest salary cut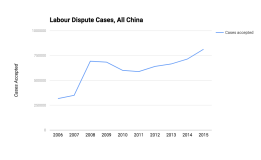 Several hundred sanitation workers began a six-day strike in Shanghai's Changning district on 26 March. The workers, employed by three separate labour agencies, were protesting a cut in working hours, salary, and the lack of any safety equipment.
One of the labour agencies issued a notice informing workers that they would work one hour less each day and that subsidies for morning and night work would be cut. When calculated on a monthly basis, the workers stood to lose 560 yuan or about 19 percent of their 3,000 yuan salary.
Workers from this agency protested in front of the district government on 26 March but when their demands were ignored, the strike spread to the other two agencies. Several workers were injured in the strike and four were arrested and subsequently released. Unconfirmed reports said the agencies eventually agreed to halve the salary cut to 280 yuan per month.