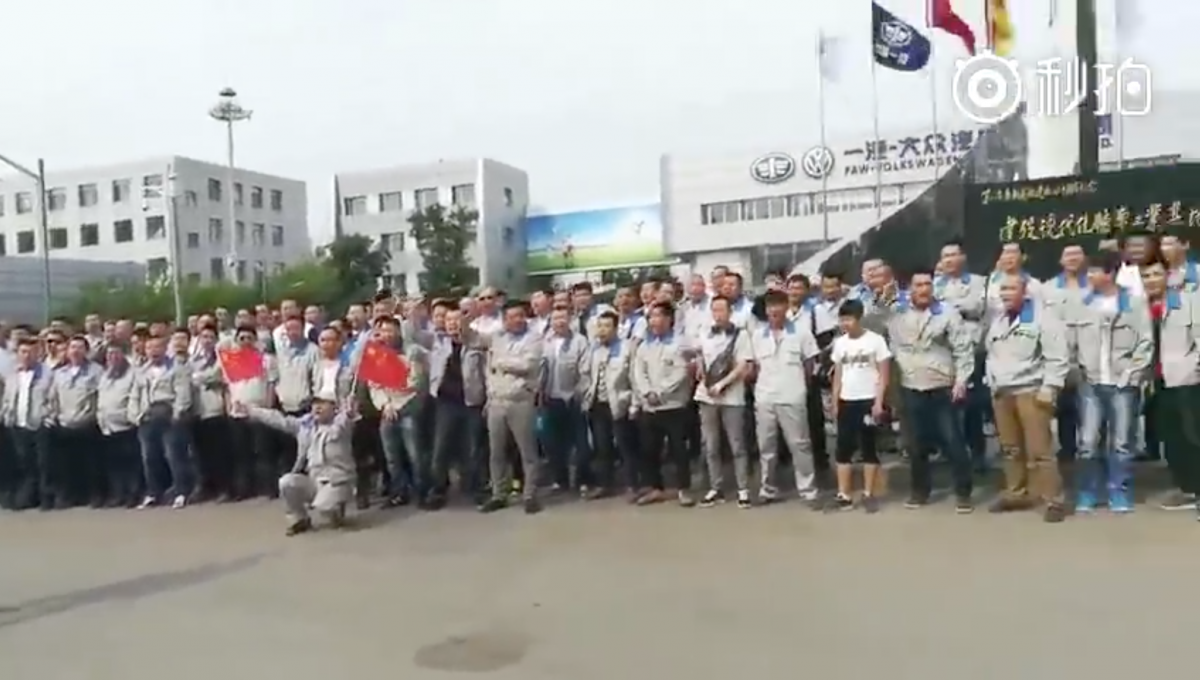 On the first anniversary of the struggle of agency workers at FAW-Volkswagen in Changchun for equal pay for equal work, we call on the Changchun municipal authorities to immediately release worker representative Fu Tianbo and for FAW-Volkswagen to return to the negotiating table.
Fu Tianbo, who led more than a thousand agency workers in their campaign to be paid the same and treated the same as regular employees at FAW-Volkswagen, was detained in May 2017 and has been charged with "gathering a crowd to disrupt public order." He remains in detention awaiting trial.
Volkswagen has so far turned a blind eye to the fate of Fu Tianbo and the other agency workers whose long-standing grievances over pay and working conditions remain unresolved. FAW-Volkswagen must return to the negotiating table and engage in good faith collective bargaining with worker representatives so that a mutually acceptable resolution to the dispute can be arrived at.
China's Labour Contract Law and Volkswagen's own Charter on Temporary Work both recognize the rights of agency employees to equal pay for equal work and it is imperative that Volkswagen and FAW (one of the most profitable car manufacturing companies in China) honour their commitments to their workers.
Signed by:
China Labour Bulletin
Hong Kong Confederation of Trade Unions (HKCTU)
Asia Monitor Resource Centre (AMRC)
Worker Empowerment (WE)
Globalization Monitor (GM)
Students and Scholars Against Corporate Misbehaviour (SACOM)
Labour Education and Service Network (LESN)
Labour Action China (LAC)
Confédération Générale du Travail (CGT) 
Fédération CGT des Travailleurs de la Métallurgie (FTM-CGT)
International Union (UAW)
LabourNet Germany
Paul Paternoga, IG Metall and Social Democratic Party of Germany
立即释放长春一汽大众工人代表符天博,立即重启集体谈判
长春一汽大众派遣工的维权行动届满一周年之际,我们主张长春有关部门立即释放工人代表符天博,同时呼吁一汽大众立即重启与派遣工的集体谈判。
符天博代表上千名同事与一汽大众管理方展开谈判,表达了派遣工对於同工同酬的诉求。2017年5月符天博遭警方逮捕并以涉嫌"聚众扰乱社会秩序"为由持续关押至今。
一年期间大众汽车集团无视工人代表符天博的牢狱之灾,忽视派遣工要求终止长久以来差别待遇的诉求。一个单纯的劳资纠纷无端变成了一起刑事案件。长春一汽大众有限公司应立即回到谈判桌上,拿出诚意与工人代表进行新一轮的集体谈判。透过谈判才能达成各方都能接受的协议,如此才能化解纠纷。
中国《劳动合同法》以及德国《大众汽车集团劳务工作宪章》均具有保障同工同酬的条款。中国第一汽车集团及德国大众汽车集团应立即回应派遣工的诉求,立即履行对职工的责任。
联署:
中国劳工通讯
香港职工会联盟
亚洲专讯资料研究中心
劳动力
全球化监察
大学师生监察无良企业行动
劳工教育及服务网络
中国劳动透视
法国总工会
全美汽车工人联合会
德国劳工网
Paul Paternoga, 德国金属产业工会会员,德国社会民主党员