In this second English-language extract from CLB's report on the workers' movement in China (中国工人运动观察报告2015-2017), published last week, we show how China's workers have become increasingly sophisticated and adept at using social media tools to enhance collective action.  For the Chinese original please see page 13 of the report under the heading  组织工具多样.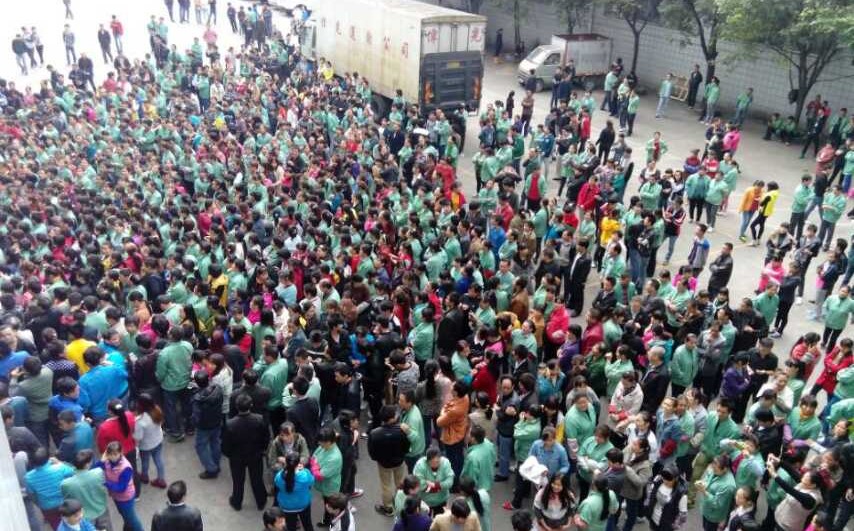 Lide Shoe Factory workers on strike, 6 December 2014
Thanks to the popularisation of the internet and mobile devices, Chinese workers today have access to a broad range of online tools for organising collective action. Workers are no longer limited by traditional family or birthplace ties in establishing solidarity in the workplace. In taking collective action over the last few years, workers have demonstrated their growing tech savviness. Besides having a clear understanding of the peculiarities and functionalities of each social media platform, they also know the importance of the timely and measured dissemination of information. Workers have, with the assistance of these new tools, shown their strength and ability in mobilisation and organising. In order to illustrate how the ability of workers to organize online has evolved and developed over the last decade, we shall examine the examples of the Nanhai Honda auto workers strike in 2010 and the 2014-15 Lide Shoe Factory dispute in Panyu.
During the Nanhai Honda strike of 2010, workers were already familiar with the online tools available for organising purposes. Even before the strike began, workers had set up online groups, using the then popular social media platform QQ, that were based on specific production lines or place of birth. Once the collective action kicked off, they used an array of telecommunications channels like SMS groups and QQ groups to communicate among themselves and call for broader support. However, these groups were completely open to anyone; literally anyone could join and express their opinion. This type of flat-structured forum gave rise to a series of issues: as personal grievances and opposing views accumulated, it became more and more difficult to compile a coherent list of demands. When collective bargaining started, worker representatives presented a list of more than one hundred demands. Although online organising had accomplished the primary role of gathering support, it stopped short of becoming a useful tool that could help facilitate the bargaining process by consolidating demands. 
When the Lide shoe factory workers went on strike in late 2014, their organisational capacity had noticeably improved. By November 2014, the workers had already set up a worker representatives' group on WeChat, the most popular online chat tool at the time with several hundred million users. Separately, there was a real-name Lide bargaining representatives' group, a Lide worker representatives' QQ group, a Lide workers' discussion QQ group, a Lide workers' Sina Weibo microblogging account etc. These online groups were not completely open and played different roles in organising the collective action: some were exclusive to the worker representatives and all had a designated administrator. The representatives proved adept at consolidating workers' demands and further mobilising colleagues. At the same time, they could present their narrative and keep the flow of information going in order to gain broader support from society at large. During their campaign, the workers published a total of 28 "struggle reports" on their Weibo account, all of which were informative but concise, and gained more than ten thousand views each. This social media campaign helped the Lide workers garner more attention and broader support as more and more people learnt the details of their campaign. On one occasion, police interrupted a worker representatives' meeting and detained several people including a staff member of the Panyu Workers' Centre. Workers were quick to publicise the incident on their Weibo account, and after a well-known scholar helped re-post the news, it gained 5,240 re-posts and a total of 1.81 million views. Under the immense pressure of public opinion, the police had no choice but to release the workers the same night.
Another useful case study of how workers use social media in collective action was the 2016 Walmart workers campaign. In the Spring of 2016, many Walmart workers in China, concerned that a new "comprehensive working hours system" would jeopardise their working conditions, staged a series of protests across China. Worker representatives set up a Walmart Chinese Workers Association (WCWA), an online forum that was initially mainly used for sharing successful experiences and giving legal advice to colleagues. However, after the formal implementation of the comprehensive working hours system in May 2016, the number of participants in the forum increased rapidly. An estimated more than 20,000 Walmart employees from all over the country joined the forum, criticizing the company's new working hours system and offering various suggestions for collective action. What distinguished the WCWA from smaller, local networks was its inter-provincial nature, organising colleagues from different Walmart stores across China. It is also worth noting the international solidarity created between Walmart workers in China and the United States. The WCWA and the American workers group OURWalmart connected via teleconferencing and discussed the common issues faced by workers in both countries, and came up with joint strategies to fight back. Members of OURWalmart also shared examples of successful industrial action in the United States with their Chinese colleagues.
Chinese workers are constantly refining their skills and abilities to use online tools in organizing collective action. For example, they will often use homophones or abbreviations in their posts in order to evade censorship. Moreover, worker representatives are increasingly aware of their online duties and responsibilities, patiently collecting opinions and posting measured replies. And thanks to the huge popularity of social media in China, workers can learn from past experiences and avoid repeating past mistakes. Workers share information through Weibo, WeChat, QQ, discuss past cases and successful strategies and learn lessons from failed campaigns. The wide range of online tools now available has not only made collective coordination more efficient, but helped reinforce workers' capacity for mobilisation and organisation. Workers can now share online experiences across huge geographic distances and across industrial sectors, opening a new chapter for Chinese workers' collective action.