Many strikers at the Yue Yuen shoe factory complex in Dongguan to have returned to work after the company made several concessions and the local authorities increased pressure on the workers to accept the deal on the table.
However, several thousand workers are continuing with the strike, the largest in China in recent years, over social insurance payments, which began on 14 April 2014.

Riot police, auxiliary police and militia have been bussed into the Dongguan township of Gaobu where the factories are located. Some are scattered around the factories as scouts but most are stationed at every factory entrance in order to prevent workers from gathering and protesting.

A mid-level manager named Xue said police officers were also stationed inside the factories and were arresting those who dared to continue with the strike. "We have no choice but to go back to work," said Xue. "What can you do if a man with shield, baton and helmet is standing next to you?"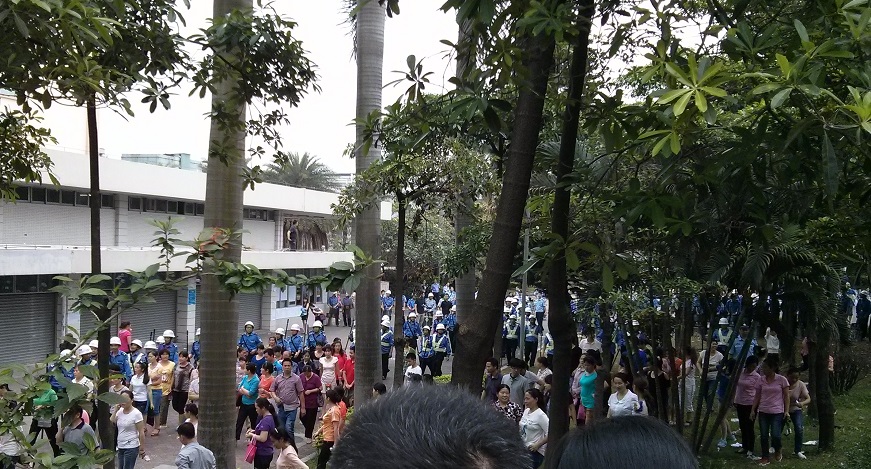 Police and workers inside the Yue Yuen complex today. Photo by CLB.
The workers at one of the factories which make Nike and Jordan sneakers however are still defiant. "I have worked here for 15 years, and I am not going without a proper response," said a 46-year-old female worker from Changde in Hunan. "Many of my co-workers are women: They thought we would be easy to pick on, we are here to prove them wrong."

"The highest ranking Taiwanese manager called us 'spineless mainlanders' and where is he now?" she added.

Another 21-year-old female worker added: "Since the strike started, I only saw him once wearing a baseball cap and sunglasses to avoid being recognized by angry striking workers."
Late in the day, these women heard that the police and company management were dismantling the attendance-recording machine inside the workshops. "They are doing this to force us to be absent from work on Monday, so they can fire us without paying any compensation," one said.
Many workers distrusted the assurances from the government and company that their social insurance benefits would be paid in arrears. "I don't think they are telling the truth. Everyone should be able to check his or her own account to see how much the company has paid and how much each individual has paid in. Why can't we do that?" asked Xue.
Despite reports that trade union had sought to intervene on the workers' behalf. The employees who talked to CLB were not impressed. "I personally have not seen any union staff, although I heard that they have issued a comment, which no one gives damn about." said Xue. "They are now giving us instructions, but where the hell were they when the company violated our rights?! I have worked at Yue Yuen for almost two decades, and I don't even know who our union president is."

As the strikers were being pressured to return to work, local labour activist Zhang Zhiru, who had been detained for two days by state security agents, was released late Thursday night and has now returned home to his family. Zhang's colleague, Lin Dong, however, remains in detention.