Yin Jing was one of the lucky ones: A Beijing appeals court ruled on 5 November that she had been illegally fired because she was pregnant, and ordered her employer to pay her 62,237 yuan in compensation.
Yin had been employed at a Beijing shopping mall since 2009 and had even been promoted to counter manager because of her outstanding performance. But in 2014, soon after she told her supervisor that she was pregnant, she was transferred to another shopping mall way out in the suburbs on the other side of town.
"It takes three hours to get there using public transport. That would be unbearable while pregnant," she told Labour Midday News (劳动午报). When she refused to take up the post she was dismissed for disobeying company directives.
Yin refused to back down and sued her employer for illegal dismissal. Yin was lucky because she had clear documentary evidence in the form of text messages that proved her employer was aware that she was pregnant when they transferred her to another store.
For the court, the evidence was incontrovertible and the law was very clear. Article 27 of the Law on the Protection of Women's Rights and Interests states that:
No entity may, for the reason of matrimony, pregnancy, maternity leave or breast-feeding, decrease a female employee's wage, dismiss her or unilaterally terminate the labour (employment) contract or service agreement, with the exception that the female employee requests to terminate the labour (employment) contract or service agreement.
And Article 29 (3) of the Labour Law clearly states that an employer may not rescind a labour contract of female employees "during pregnancy, childbirth or while nursing."
Despite ample legal protection, most women who are fired when they become pregnant still struggle to defend their rights because, unlike Yin, they cannot produce concrete evidence that they were fired because they were pregnant or simply cannot afford the time and money needed to go to court.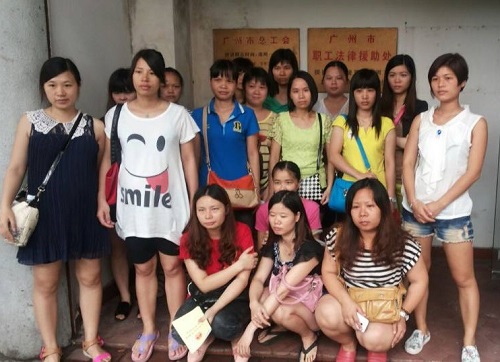 Sacked workers from the Gaoya Jewellery factory take their case to the Guangzhou Federation of Trade Unions.
Employers can very easily appeal rulings against them and prolong the legal process for months, even years, in the hope that the plaintiff will eventually give up or accept a reduced offer.
Moreover, as labour activist Zhu Xiaomei explained, many factory bosses are already very adept at getting around the law and making life difficult for pregnant workers:
"Pregnant women workers face three main problems," Zhu said. "First; factory managers often force them to leave by using tricks like transferring them to positions not suitable for pregnant women, or finding fault with everything they do. Eventually the workers just leave because they can't take it anymore."
Secondly, many pregnant workers only get paid their basic wage because the boss refuses to let them work overtime. Factory workers in Guangdong rely on overtime and bonuses just to get by, Zhu said. No one can survive in the Pearl River Delta on just a basic wage of 1,500 yuan per month.
Finally, women having a second or third child are often denied their statutory 98-days maternity leave by their employer because they cannot obtain a family planning certificate for that additional child.
Many women workers want to take a stand against their employer's intimidation tactics but they lack the time and resources to do so. One middle-aged worker, Xu Yanqing described how:
They started picking holes in everything I did; being harsh to me in order to make me quit so they didn't have to pay any compensation. They only granted me one week's leave. I told them it was impossible to complete the whole maternity process in one week but they just said that was not their concern.  
Xu thought about going to labour arbitration but that could have taken months to complete and even if she was successful, she said, the compensation she would get was unlikely to be more than a few months' salary.
Eventually, Xu decided to accept the three and a half months' salary being offered by the factory and left. "What else could I do? The best thing for workers like me is to get the compensation," she said.
Meanwhile, Foxconn, the world's largest electronics manufacturer has reportedly introduced an expectant mothers' production line at its Shenzhen factories. Pregnant workers do not have to wear uniform; they can set their own work hours and their own production targets. See photo below. However, very few other manufacturers offer such facilities, and even at Foxconn, it is not clear how much the workers on the expectant mothers' production line will actually get paid.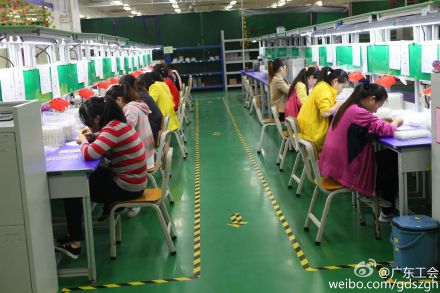 Foxconn's production line for expectant mothers. Photograph from the Guangdong Provincial Trade Union