A group of more than 50 student activists, who are supporting workers dismissed for trying to set up a trade union at Jasic Technology in Shenzhen, have been detained in an early morning police raid on their rented accommodation in the nearby city of Huizhou.
Sources familiar with the incident which occurred at 5.00.am today, said those detained included Lan Zhiwei, Yu Kailong, and Yu Weiye, three workers who had been released on bail from an earlier mass arrest, as well as student activists Yue Xin, Zhan Zhenzhen, and Feng Ge from Beijing University, and several other students from Renmin University and Nanjing University.
Two workers' representatives and Gu Jiayue a student who had approached the All-China Federation of Trade Unions and All-China Women's Federation about the Jasic workers case have also disappeared, the sources said.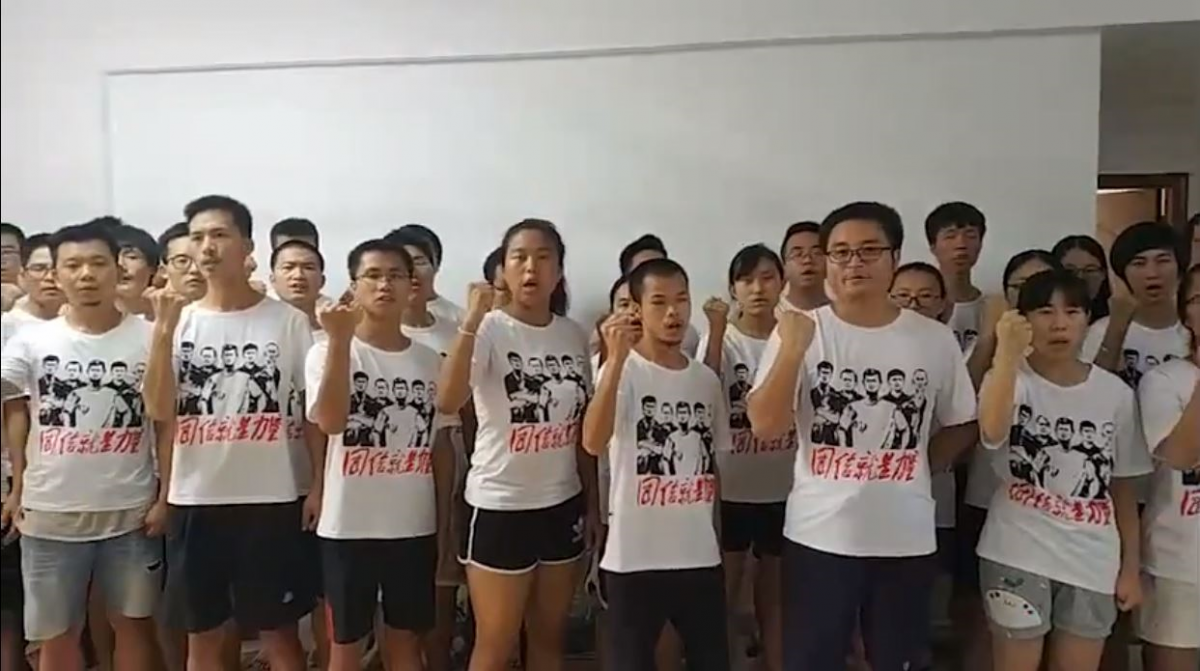 Screen grab from the student's most recent video
The students were part of a growing informal coalition of labour activists, leftist and Maoist groups in China and labour groups overseas who had found a common cause in the Jasic workers' struggle.
The dispute, which began in mid-July, had captured the popular imagination in China and raised many important issues, such the right of workers to a genuine trade union, and the current imbalance of power between labour and capital that has led to massive wealth inequality in China.
The workers at Shenzhen Jasic Technology Co Ltd., a privately-owned manufacturer of industrial welding equipment that is listed on the Shenzhen Stock Exchange, had long-complained of low pay, poor working conditions and abusive management practices.
In May 2018, a group of workers at the factory decided the best way to counter management abuses was to unionise and sought the help of the local Pingshan district trade union federation.
Union officials however reportedly refused to help and instead worked with managers at the Jasic factory to establish an enterprise trade union that specifically excluded the worker activists.
On 16 July, several workers were dismissed and then beaten by thugs. When they tried to enter the factory again on 20 July, the police intervened and the workers were arrested.
Jasic workers and their supporters broadcast the news of the detentions on social media and the detainees were soon released. The activists continued to stage regular protests outside the factory and the police station and this led to another 30 people being detained by Shenzhen police on 27 July for allegedly "picking quarrels."
However, these detentions only generated more support for the workers, with well-known student activist Shen Mengyu playing a leading role in demanding the release of all detainees and putting pressure on the local trade union to intervene. Several of the detainees were released in early August but 14 of them still remain in custody and Shen herself was taken away by persons unknown on 11 August. She is believed to be under house arrest somewhere in Shenzhen.
Maoist organizations and retired Communist Party officials then arrived in Shenzhen and added their voices in support of the workers' struggle. "This is a great awakening moment of workers. They might be small in number but they do not realise what they have achieved. This is a turning point for Chinese workers' resistance," Song Ying, a 67-year-old Maoist from Zhengzhou, told the South China Morning Post.
The coalition of Maoist and student groups is clearly of great concern to the authorities who are now trying to silence their voices both through internet censorship and direct police action.
However, unless the authorities actually address the real issue at stake in the Jasic dispute, which is the lack of a genuine trade union that can represent workers' interests, this kind of protest will only erupt again elsewhere.