A Hangzhou court yesterday ruled that a well-known educational institute in the city had violated a job applicant's right to equal employment and had committed employment discrimination by restricting job applications to men only.
The West Lake District Court further ruled that the respondent, the New Oriental Cooking School should pay the plaintiff, a 23-year-old graduate Huang Rong (pseudonym), 2,000 yuan in damages for mental distress.
Although the compensation amount is considerably less than the 30,000 yuan awarded to another plaintiff in a similar case in Beijing in January this year, the Hangzhou ruling is significant because the award was made by the court, whereas the Beijing case was an out of court settlement.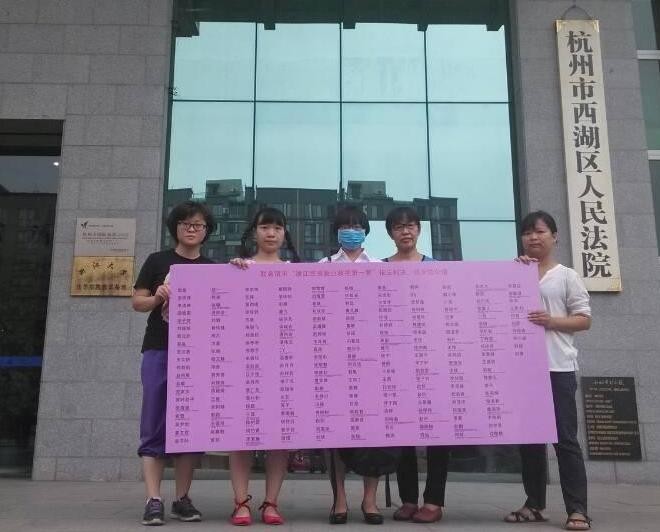 Huang Rong and her supporters outside the West Lake District courthouse in Hangzhou
Huang had applied for a position as a clerk at the New Oriental Cooking School. The job involved working as an executive assistant as well as coming up with ideas for marketing campaigns etc. For Huang, it seemed like the ideal entry-level position after graduating with a degree in social work from Xinyang Normal University in Henan.
It was only after she applied that Huang noticed the job advertisement stipulated that only men could apply. When she called the school to complain she was told the job involved carrying the director's suitcases and as such a man was needed. Huang, who was perfectly capable of carrying luggage, decided to take action.
Inspired by the highly-publicised case in Beijing, Huang decided to file a lawsuit against the school. With the help of an anti-discrimination group in the city, the case was accepted by the courts in July and hailed in the local media as the first gender discrimination case in the province.
For more information about gender discrimination in China see our article on workplace discrimination in the Resource Centre.