Worker unrest related to China's pandemic prevention policy implementation has risen in recent weeks, according to CLB data, particularly in lockdown-weary Shanghai.
CLB recorded 14 Covid-19-related worker protests since March, eight of which occurred in hard-hit Shanghai, which is slowly exiting a three-month city-wide lockdown. Poor working conditions under strict lockdown measures led to protests not only by doctors, nurses, and white-clad pandemic workers, but also factory workers, taxi drivers and others, according to CLB's Strike Map.
Unverified videos circulating on international and domestic social media this week showed dozens of white-clad pandemic workers engaged in street protests, demanding unpaid wages, in the Jingan district of Shanghai. Workers gathered at the Gonghexinlu sub-district government building and also marched through the streets, chanting, "Give us our hard-earned money!"
Social media posts describe the workers as pandemic "volunteers," nicknamed "big whites" for their full-body PPE, though this does not mean their positions are unpaid. Rather, Shanghai health volunteers are paid a subsidy of between 100-200 yuan per day, according to media sources. The authorities sent more than 10,000 health workers to Shanghai from around the country in early April as lockdown measures intensified.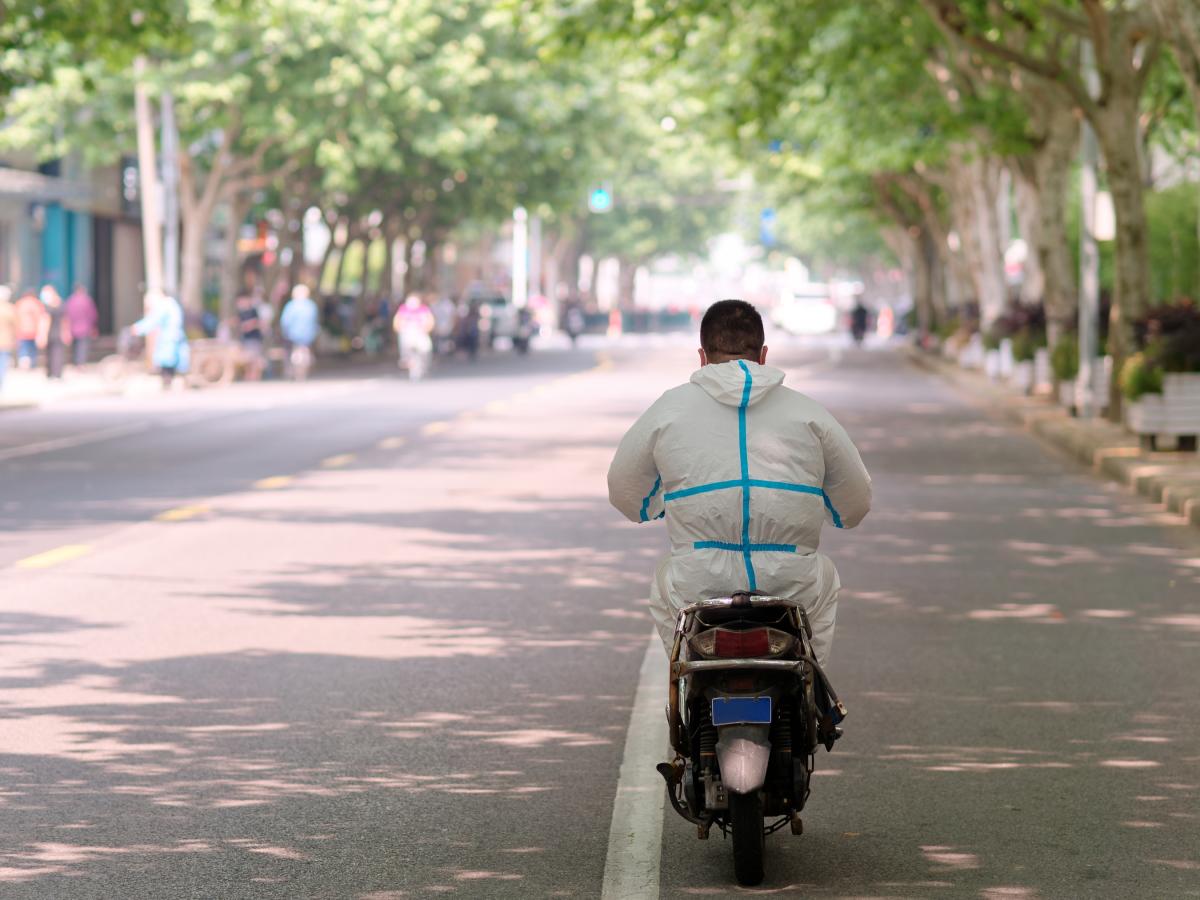 Photograph: atiger / Shutterstock.com
While there is little other information about Tuesday's reported protest by health workers in Shanghai, it is far from the first incident. Late last month, as Shanghai's months-long lockdown eased, white-clad health workers hailing from outside Shanghai clashed with police in blue-clad coveralls.
The protesting workers were reportedly promised the right to quarantine in hotels before returning home, but they were instead told to use temporary fangcang (方舱) hospitals, used for mass isolation of thousands of confirmed and suspected Covid-19 cases.
Videos circulated online showing a man, likely a local official, addressing the angry workers. "Everyone seated here wants to leave this terrible place," the man told workers, who, he said, had worked inside fangcang facilities themselves.
"We are just like you. We can't return to our own homes to be with our families, just like you all. You've come here to make money, and we're here to work - our goal is the same," the man said. He told the workers he would do everything he could to arrange hotel rooms for as many as possible.
Also in Shanghai in late May, a standoff over Covid-19 control lockdowns at a Taiwan-owned electronics factory led to violence between workers and management. Workers at Quanta, an Apple supplier, broke out of their imposed Covid-19 lockdown, in protest against low pay and lack of basic living supplies.
Aside from protests and collective actions, individuals have complained of pandemic-related labour grievances, some of which are collected in CLB's Workers' Calls-for-Help Map. In one incredibly alarming incident, a fangcang worker committed suicide last week in Shanghai after not being paid wages, contracting Covid-19, receiving charges for his own isolation, and then being beaten for challenging the situation. 
At least five separate cases of workers taking to social media for public assistance with obtaining medical supplies have also been recorded in our map. Although not necessarily framed as labour disputes, the lack of resources for frontline workers during harsh lockdowns is certainly a workplace health and safety issue.
In addition to worker unrest, frustration and economic pressure caused by lockdown measures have continued to spark other recent protests in Shanghai and across China.
Hundreds of small business owners in Shanghai took to the streets on Monday demanding rent exemptions from their private landlord at a local clothing market. The stores were scheduled to reopen after three months of lockdowns, though the stores remained shuttered due to the demonstration. Only lessees of state-owned properties, not private landowners, are granted pandemic rent reductions.
And this week, authorities in Zhengzhou, the capital of Henan province, prevented a protest organized by hundreds of customers of a local bank, by turning their and their relatives' mobile health codes red, affecting those even outside the city. The bank customers had been attempting to withdraw money in person from embattled local banks, which had put a freeze on their funds since April, sparking earlier rounds of protests by the depositors.
These types of incidents show that government pandemic relief measures do not go far enough in helping to alleviate the immense financial pressure felt by workers, small business owners and other citizens across China.
In late May, Shanghai announced a series of 50 measures to kickstart the beleaguered economy, though they included little to no assistance for workers or small businesses. The measures included incentives to boost thousands of new car sales in Shanghai, as well as small, one-time payments to companies of 600 yuan for each employee, if they had laid off few or no workers.
Alternatively, former World Bank economist Justin Yifu Lin has advised the central government to provide 1,000 yuan cash handouts to families in locked-down areas, to help boost consumption and assist struggling citizens.
It's not only citizens who are struggling financially. Local governments are reportedly also having difficulty keeping up with the costs of pandemic prevention measures, spelling future trouble for timely payment of wages. And, as other cities, including Beijing, see local outbreaks, the problem is not likely to let up. 
While the Covid-19 pandemic will continue to challenge governments around the world, China's authorities could benefit from listening to the reasonable demands of workers and other ordinary citizens for economic support, and the protection of basic dignity of life in the face of harsh lockdowns and other measures.