On the morning of 12 May 2014, around 500 workers at the Dynacast automotive components factory in Shanghai's Songjiang district downed tools and gathered at the factory entrance in protest at management's arbitrary decision to change its monthly attendance bonus policy. Under the new policy, workers would only get their 200 yuan bonus if they logged a full attendance record for an entire quarter. This was the last straw for many workers long unhappy with the low pay and poor working conditions at the plant.
The strike highlighted many of the most pressing problems in China's factories; low pay, the use of agency labour, and the lack of a trade union or any effective mechanism for dialogue between labour and management. It also showed how easily a relatively a straightforward dispute can descend into chaos and even violence. After hastily arranged talks on 14 May failed to resolve any issues, management called the police, and officers were photographed beating and arresting the workers. In the aftermath of the strike, nearly 400 employees resigned.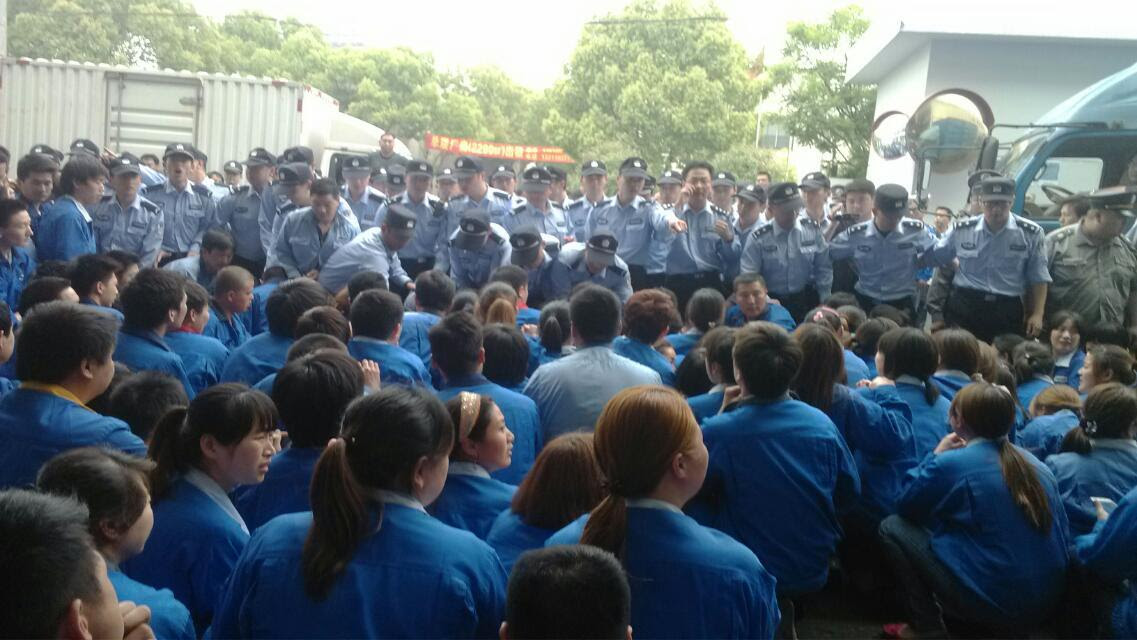 Workers and police face-off at the Dynacast Shanghai factory
Shortly after the strike, Dynacast Shanghai workers Lu Haihua and Xia Hui talked to CLB Director Han Dongfang. While Lu was disenchanted with the outcome of the strike, Xia saw it as an opportunity to "teach Dynacast a lesson" about the importance of treating workers with respect and being willing to engage in good faith dialogue.
Both Lu and Xia agreed however that the conflict over the attendance bonus was the simply the trigger for strike action. Workers at Dynacast, the world's largest supplier of small metal and precision components in the automotive industry, had long-standing grievances over wages and benefits, they said.
Low pay and no proper contracts
Basic pay for production line workers at Dynacast was the Shanghai statutory minimum wage of 1,820 yuan per month. They could earn up to 3,300-3,400 yuan a month on average, inclusive of all overtime pay and subsidies, but only after working 12 hours a day, six days a week. Dynacast Shanghai actually only paid 70 percent of the overtime that workers were entitled to, and to make matters worse, the amount of overtime was often cut back at the insistence of overseas buyers in order to comply with their corporate code of conduct.
Most of the workers did not have an employment contract with the company but were hired instead by labour agencies. The Labour Contract Law stipulates that agency workers should only be hired for positions of a "temporary, auxiliary, or substitute" nature. However, this stipulation is widely ignored. The law was revised in 2013 specifically to clamp down on this abuse of the labour agency system, and the Temporary Provisions on Agency Labour (劳务派遣暂行规定), which came into effect on 1 March 2014, clearly stipulates that employers should limit the proportion of agency workers in the overall workforce to ten percent or below.
At Dynacast Shanghai however, Lu said:
Almost 95 percent of the workers were hired from labour agencies… including some in management… Even our supervisor used to be an agency worker.
Lu himself worked for eight years at Dynacast Shanghai but was never directly employed by the company; instead he was technically employed by two different labour agencies during that time. His job as a shift leader was a permanent position that contributed to the major production tasks of the factory, and was therefore by no means a 'temporary, auxiliary, or substitute' position. However, he admitted that he like many other workers only became aware of the illegality of this arrangement during the strike.
Lu said the workers grievances might have been resolved earlier if there had been a trade union or a proper dispute resolution mechanism in place at Dynacast Shanghai:
The main issue is that there is no trade union. I think workers on every production line complained about the attendance bonus policy but they were not taken seriously.
Workers were forced to take action themselves. And so a group of activists hastily compiled a list of demands including the payment of high-temperature subsidies, full payment of overtime, and above all, signing employment contracts directly with Dynacast Shanghai.
Chaotic bargaining session leads nowhere
However, when these demands were presented to management, Lu said, the workers were reluctant to elect representatives to bargain on their behalf. The use of the labour agency system meant that the workers hardly knew each other and as a result, he said, there was not a lot of trust among the workers:
LU: Everyone was there at the bargaining session. There were several hundred people sitting together… It was very disorganised… The management wanted us to elect representatives, but we did not.
HAN: So it is not necessarily a good thing, even for the management, if there is no trade union, workers' representative, or a bargaining mechanism...It may make management easier, but when there is a conflict, or even a standoff, no one is willing to come forward to be the workers' representatives to bargain with you.
When the talks broke down, management called in the police and 33 workers were arrested and many were beaten. One Dynacast worker wrote on their microblog at the time:
Here I am in the Songjiang plant of Dynacast Shanghai…The management called in 200 police officers; more than 100 of these are just security guards in police uniforms. They arrested and beat up everyone they saw, even after some women workers told them that they were pregnant!
Management eventually responded to two of the workers' nine demands; restoring the monthly attendance bonus and paying high-temperature subsidies but only in the form of deposits into shopping cards issued by the company instead of in cash as demanded by the workers.
The local labour bureau, Lu recalled, was "on the management's side." Although Dynacast Shanghai's misuse of the labour agency system was clearly exposed, labour officials only urged the company to adjust the proportion of agency labour downwards by three percent to 92 percent in two years' time. They even threatened workers saying unless they went back to go back to work, they would be "sent back to the labour agency."
In the aftermath of the strike, around 400 workers resigned, no longer willing to tolerate the low pay and poor working conditions. Lu said he would join them and is planning to go back to his hometown in the neighbouring province of Jiangsu to start a small business. He is reluctant to pursue any legal action against Dynacast Shanghai or organise any more collective action:
Of course I would hope that there could be someone who will defend my rights…But that someone is not going to be me. To be honest, I am just not that confident…and not that driven…I am just disenchanted.
Unbowed and determined
Xia Hui, on the other hand, was not giving up. He was one of the eight worker activists at the centre of the strike who were then targeted by the management and pressured to resign, Xia was the only one who resisted the pressure long enough to be fired:
I was fired for what they called 'serious violations of the company's code of conduct'…Eight of us were forbidden to enter the factory premises for work. They all resigned. I was the only one who got fired because I refused to resign.
Xia said he was willing, at Han's suggestion, to sue Dynacast Shanghai for wrongful dismissal, failure to sign an employment contract etc.  Moreover, he said would contact and try to organise the seven other workers and apply for labour arbitration together. He was not optimistic about the outcome but believed the process in and of itself would be worthwhile:
I will definitely lose the labour arbitration… Frankly speaking, I am not afraid at all. I don't care about the compensation… I will not take a single cent from it. I will spend it all on legal fees… I just want to teach them a lesson.
Xia was a machine operator at the plant, and he too was hired as an agency worker. Unlike Lu and many other co-workers, Xia understood China's labour laws and the role of the trade union in labour relations. He noted that the enterprise trade union at Dynacast, which had "existed in name only," was dissolved after a strike in 2008. Although officials from the local union federation did show up, Xia said, they only talked to the management and ignored the workers – who were more than willing than talk to them. With no trade union to take the lead, no one dared to stand up for their fellow workers, Xia said:
We thought about having our own representatives… But management said that if you were chosen as the representative, you would be regarded as liable for the whole strike…so we asked for an open bargaining session instead… Management had a track record of firing those who dared to speak up.
The interviews with Lu Haihua and Xia Hui were first broadcast on Radio Free Asia's 劳工通讯 in ten episodes in May and June 2014.