Trade unions in Myanmar are fighting to ensure that the labour rights of the hundreds of thousands of workers who have been at the forefront of the Civil Disobedience Movement (CDM) are protected. And they are urging the international brands who purchase goods from supplier factories in Myanmar to do the same.
Some of those brands are signatories to the Freedom of Association (FOA) guidelines for their operations in Myanmar, which are part of the ACT  (Action, Collaboration, Transformation on living wages) initiative founded in 2016 to "transform the way wages and working conditions are set in the global garment, textile and footwear sector."
The Industrial Workers' Federation of Myanmar (IWFM) is determined to hold these signatories to their promise. The union is putting pressure on the German supermarket chain Lidl, an ACT member, to take responsibility for the union busting at Sung Bo, a Korean-owned factory located in Yangon's Hlaing Thar Yar Township. The factory dismissed 135 workers on 21 February after they left work to participate in the CDM.  
Sung Bo initially agreed to reinstate only 65 of the workers, none of whom were union members. IWFM supported the workers through one month of negotiations, and the dismissed workers eventually accepted compensation in lieu of reinstatement, in an amount totalling US$19,407. 
Despite this modest victory, IWFM continues to push ACT members to intervene with suppliers to guarantee workers' contracts during the upheaval of the coup, or ensure workers are compensated in case of dismissal. This would uphold the employer's side of the FOA agreement - not to mention ILO conventions and U.N. business and human rights principles - as workers should not be retaliated against for taking part in political protests.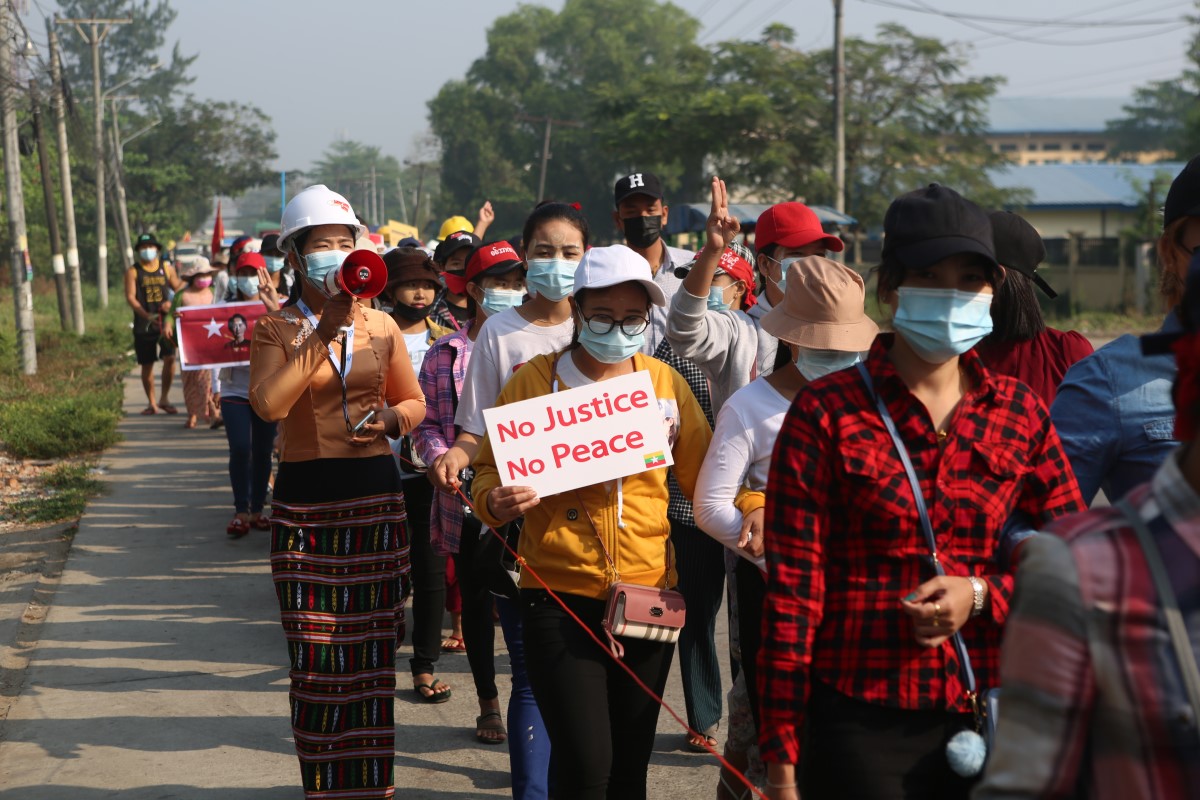 Protesters, mainly garment workers, in Hlaing Thar Yar Township on 28 February. Photograph: Lamin Tun.
The union is also following another case at a Lidl supplier factory in the Myaungtagar industrial zone located in Hmawbi Township outside of Yangon. The Chinese-owned Able Better garment factory produces Livergy brand products sold in Lidl stores - as well as Dunlop and Cordura garments sold by other major retailers.
On 19 February, a worker employed as a Chinese translator was beaten by Able Better managers after negotiations had taken place over the payment of wage arrears. The workers leading the negotiations filed a complaint with the local police station, but the case has been not satisfactorily resolved. This was also not the first time these same managers had beaten workers at the factory, and IWFM wants Lidl to intervene.
During a crisis, workers need strong trade unions in place to continue to represent their interests, and workers across regions need a show of international solidarity to combat common problems. The signatories to ACT, and all global brands that source material from Myanmar, need to do much more to ensure that the workers they depend on are properly protected, and paid on time and in full. Crucially, workers must have the right and the freedom to protest the military coup that has drawn widespread condemnation but so far little concrete response from the international community.
This article is part of an occasional series by CLB designed to foster worker solidarity in the Global South.