Workers Wang Xiaoming and Liu Haiquan are serving ten- and eleven-month prison sentences, respectively, following a dispute arising from their boss refusing to pay their wages. On 4 December 2020, a court in the northeastern province of Liaoning found them guilty of intentional injury, though they claimed they acted to defend themselves against thugs set on them by their employer. 
As part of a group of 14 migrant workers from Chongqing, they had worked for 40 days for Fuxin Honglin Mining Group doing excavation work on a site in Fumeng, Liaoning, starting in mid-May 2020. After signing on other workers, their boss, Liu Yuzhong, refused to pay their wages, even cutting off power to their dormitory. The police in Baijiazi town restored the power supply but left the problem of unpaid wages unresolved.  
On 23 June, their boss Liu arrived at the dormitory accompanied by three men armed with large wooden clubs and offered each worker 3,000 yuan, far less than the shares of the 100,000 yuan lump sum owed to them. Both workers claim that Liu dealt the first blow, picking up a wooden baton and beating them with it. Those Liu had brought with him beat the workers with their clubs and tried to snatch phones off those recording the incident. The workers defended themselves, and three of them incurred injuries. Police officers who arrived on the scene noted the injuries of company representatives but not those suffered by workers. 
On 24 June, Wang was arrested. That same day, the workers went to the local human resources and social security bureau to plead their case. They also went to the local petition office, supervision bureau, and county government offices. The local human resources and social security bureau agreed to pay them the wages owed to them but required the workers to sign away their right to publicise the case details on social media. If they did talk about the case, the agreement stated that the money should be returned. When Liu arrived to collect his wages on 10 July, he was arrested on suspicion of intentional injury. 
In the ensuing trial, which lasted just over an hour, the presiding judges, Zhang Yi and Zhang Yan, repeatedly interrupted and cut off the defence lawyer's attempts to make arguments and the workers' attempts at mitigation. 
Videos and photographs taken by Wang of his co-workers were deleted from his phone following his arrest, a violation of Criminal Law Article 307. The prosecutor presented a CD-ROM that he claimed showed footage of their boss, Liu, being beaten, but it was not played in court, so the defence could not verify its contents. Not only were the workers found guilty and imprisoned, but they and two other defendants had to compensate Liu more than 32,000 yuan. 
This is far from an isolated case. In the construction industry, which is notorious for wage arrears, workers regularly have to deal with intimidation and physical violence when seeking their pay. China Labour Bulletin's Strike Map has recorded 730 protests by construction workers since January 2018, and in at least 50 of those cases (6.9 percent), the workers were beaten by their employers' agents.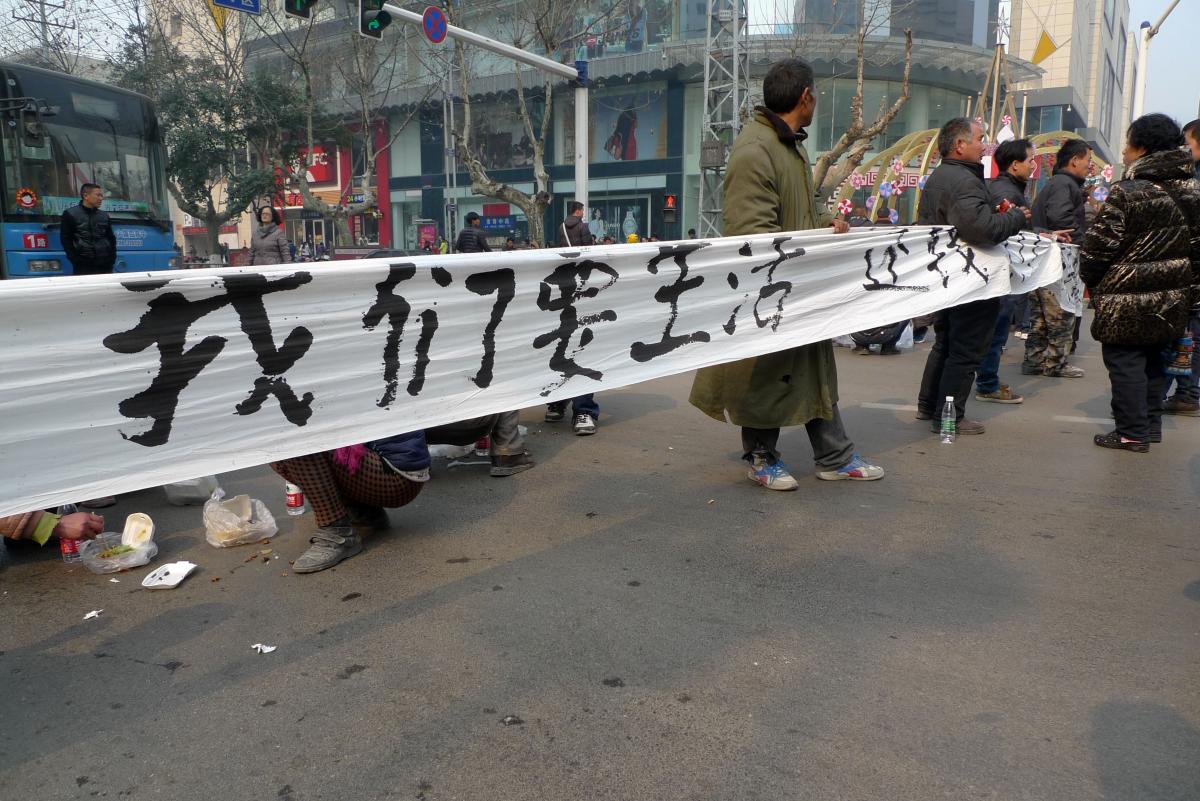 In one of the most notorious incidents in recent years, on 13 December 2014, the mother of one of a group construction workers demanding payment of 29,000 yuan in wage arrears was beaten and killed by a police officer. Forty-seven-year-old Zhou Xiuyun was seized during a scuffle between the workers and security guards. The incident, in which the police officer grabbed her hair and twisted her neck before she collapsed on the ground, was recorded on video and led to a public outcry. 
A group of scholars wrote an open letter to China's paramount leader Xi Jinping following the incident, demanding that more be done to protect the rights of migrant workers claiming wage arrears. 
However, as the Liaoning case makes clear, many companies still feel no hesitation in flouting labour laws in multiple areas. Fuxin Honglin Mining Group failed to sign a contract with their workers, terminated the labour relationship unlawfully, did not pay workers social insurance and violated working hour and rest time stipulations.  
The enforcement of laws designed to protect workers' rights often favours employers rather than workers. Not only do workers face wage insecurity, they also face a court system which can punish them for defending themselves, especially if powerful local interests that can put pressure on judges are involved.
For more stories of workers facing violence, intimidation and injustice after standing up for their rights, please visit our Workers Voices archive, which contains nearly one hundred English-language summaries of Han Dongfang's most important interviews with workers broadcast on Radio Free Asia between 2007 and 2015. You can also download the RFA e-book, Chinese Workers Wronged: An oral history of workers' struggle during the economic rise of China, that contextualizes and analyses the main issues that arise during Han's discussions.