Since 2020, Chongqing-headquartered Zybio has been given multiple labour awards by various levels of China's official union, ​​all while fundamental labour rights violations were brewing. CLB called the district union to investigate. 
On 7 January, a massive protest broke out at the Zybio (Zhongyuan Huiji) medical supply factory in Chongqing that produces Covid-19 antigen test kits. About half of the company's 20,000 workers were set to be terminated after orders for test kits have recently dropped. Workers were still owed some back pay and took to the streets to defend their rights.  
Videos on Twitter show workers blocking roads, confronting police, and trampling over streets littered with iconic plastic test cassettes. Eyewitness accounts describe workers destroying production materials and finished products. Workers were promised a better hourly rate for their back pay, and the conflict has suspended.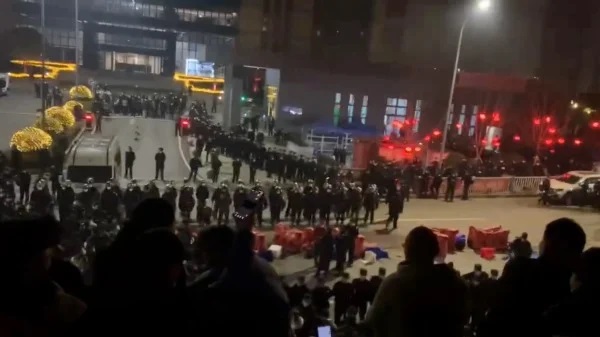 Source: Social media
Zybio workers are unprotected by China's legal framework regarding mass layoffs
According to China's Labour Contract Law, workers are entitled to severance pay at the minimum rate of one month's pay for each year worked at the company (Art. 40). In addition, for layoffs of more than ten percent of the enterprise's workforce, the union or all the employees must be given 30 days' notice, and the enterprise must solicit opinions and submit a plan for the layoffs to the labour bureau (Art. 41). 
These severance negotiations are subject to the agreement of both workers and employers, and workers often push for better packages. In early 2022, for example, workers at Canon's Zhuhai plant successfully negotiated for better benefits than initially proposed. 
However, most of the Zybio workers do not have labour contracts with the company as full-time workers, meaning their labour rights may go wholly unprotected. Some workers were able to show labour contracts through agency hiring, in which they were guaranteed only 17 yuan per hour, much less than orally agreed upon during hiring. 
In 2019, the Chongqing government set new minimum wages, which remained in place throughout the pandemic. For the area of Chongqing at which Zybio is located, the minimum wage for full-time workers was 1,700 yuan per month, and 17 yuan per hour for part-time workers. Earlier this month, Chongqing raised its minimum wage slightly. 
Zybio's pandemic production rise and recent ACFTU labour awards
Zybio is headquartered in Chongqing and produces pharmaceutical devices, including Covid-19 test kits that are approved by the Hong Kong Consumer Council and are exported around the world. 
According to the Zybio website, the company's plant is over 100,000 square metres and has 19 production lines. Each year, the company says it can produce three billion test kits. However, the website reports only 3,300 employees worldwide, a figure which clearly does not include workers on the production lines in Chongqing. 
Founded in 2008, Zybio's business took off in 2020 with the rise in global demand for medical devices. In June 2021, the Zybio party committee was honoured as an "advanced grassroots party organization" by the Chongqing Municipal Party Committee. And between April 2020 and April 2022, the company received numerous awards from various levels of China's official trade union, the All-China Federation of Trade Unions (ACFTU). 

The ACFTU's Labour Day award to Zybio in April 2022. Source: Zybio website.
In October 2021, the chairman of the company was named a "Chongqing model worker" by the municipal union. And in April 2022, the national-level ACFTU commended Zybio with the highest award given by the union, the national 1 May Labour Day award. Zybio was one of 200 enterprises selected nationally, of which only five were from Chongqing. 
Just months after this high-level award, the company went on to violate a large number of vulnerable workers' fundamental rights. The selection and approval criteria for these Labour Day awards must be called into question for not understanding the actual terms of workers' labour agreements and their working conditions. 
The local trade union in Dadukou district, Chongqing, has been active in assisting Zybio to recruit workers, including organising a job fair for select private enterprises. Engaging thousands of workers at Zybio under part-time agency labour relationships is a major oversight for the union in assisting the corporation in such large-scale recruitment efforts without protecting workers' rights. 
A disturbing series of manufacturing protests and the role of the union
In October and November of 2022, worker collective action at Apple's iPhone manufacturer, Foxconn, in Zhengzhou made international headlines as workers first fled the plant and later a new wave of workers protested on factory grounds. 
The same weekend as the Zybio protest in Chongqing, another company in Hangzhou saw about 3,000 workers protesting over wages in arrears, with workers threatening to jump from buildings, according to reports online.
Regarding the Zybio protests, China Labour Bulletin called the Dadukou district trade union to find out whether the union had taken any action to understand workers' grievances or negotiate during the protests. We found that the union did not understand that most of the factory workers were employed hourly, a situation which directly affects their remuneration and job security.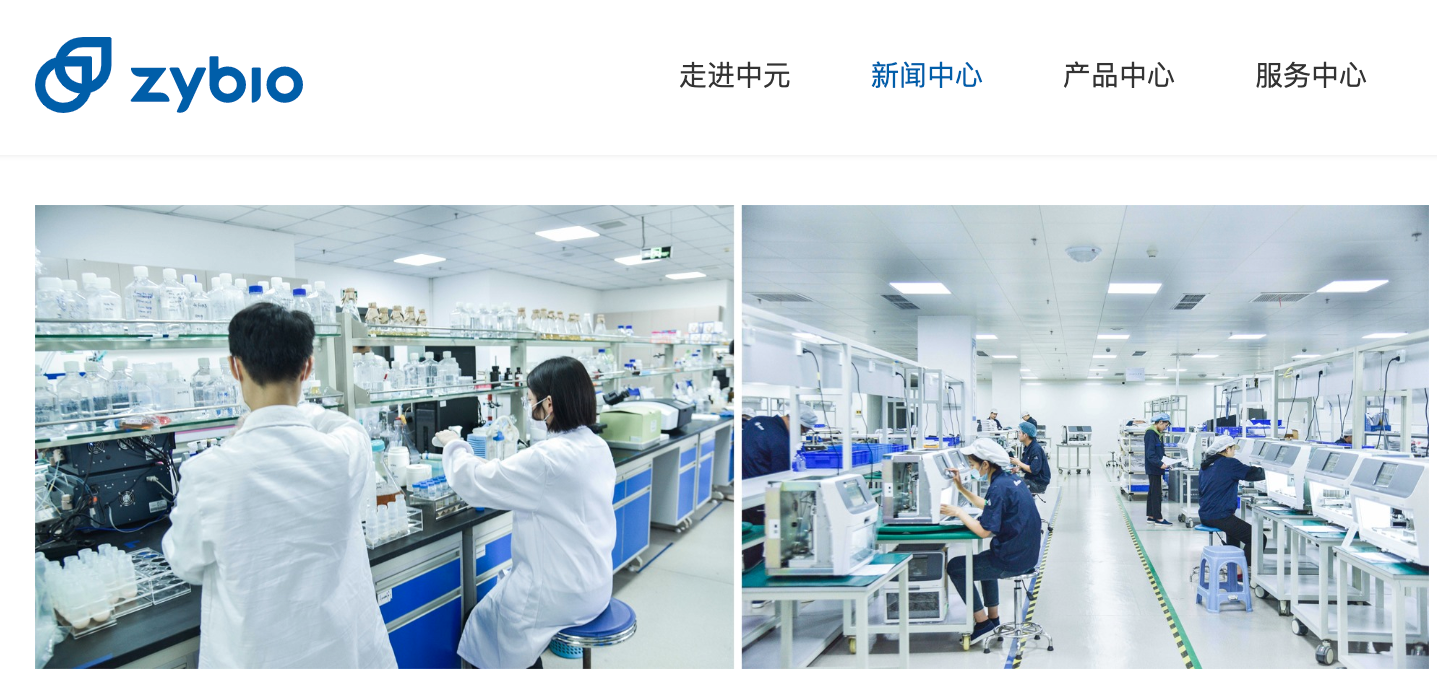 A screenshot from the Zybio website.
We spoke with one union official who went alone to the factory area on 8 January to observe the scene. However, the official did not identify himself to any workers as being from the union when he visited, telling CLB, "I thought it was inappropriate to reveal my identity at that time." The role of the trade union is to represent workers and be their "maternal family," as touted by recent publications from the Dadukou union. 
The union official further admitted that he left it to the district government to coordinate and thus did not want to get involved. CLB has found that this is a common pattern of leaving labour disputes to local governments, the administrative bureaus, and the courts. 
We were also told by a district union official that Zybio has an ACFTU-affiliated enterprise union. But when we called the company, the front desk personnel at first told us that Zybio has no labour union, but then said that they did not have the phone number for the union. If CLB cannot reach the enterprise union, then how much more accessible is the union to Zybio's factory workers? 
Emerging pattern of large-scale worker protests in China
From these large-scale incidents and our phone calls to local union officials in the aftermath of each, China Labour Bulletin is aware that the union does not wish to get involved in these crises. However, the union has an important role to play in prevention of major incidents through overseeing workers' daily conditions and terms of employment, and monitoring the economic situation to understand patterns of layoffs in their respective regions. 
Specifically, it is not difficult to predict the end of the Covid-19 economy of at-home rapid test kits, professional nucleic acid test machines, medical masks, quarantine facilities, and other related enterprises. Local governments and the union should foresee how workers in their jurisdictions will be affected and should be prepared to represent workers' interests. 
Without active negotiation with enterprises or representation of worker interests in advance, it is likely that there will be a rise in large-scale worker protests in China. 
Specifically to the district trade union in Dadukou, Chongqing, CLB urges the union to rectify the labour contract situation between workers and Zybio and to represent workers in the layoff negotiations to ensure the termination conditions are reasonable and workers' rights are protected.
Further CLB Reading: