The suspicious death of Chinese labour activist Li Wangyang on 6 June has triggered a wave of anger and massive demonstrations here in Hong Kong, putting pressure on the Chinese government for a special investigation into his death and the torture he suffered during his 21 years' in prison.
But in mainland China, very few ordinary people have heard of the tragedy of Li Wangyang. Even a Ph.D. student at the China Labour Relations Institute professed ignorance of the case. On Sina Weibo, the name of this former glass factory worker is identified as not suitable for display according to relevant laws and regulations. A letter calling for a thorough investigation of Li's death posted on Weibo by CLB Director Han Dongfang was deleted within 24 hours.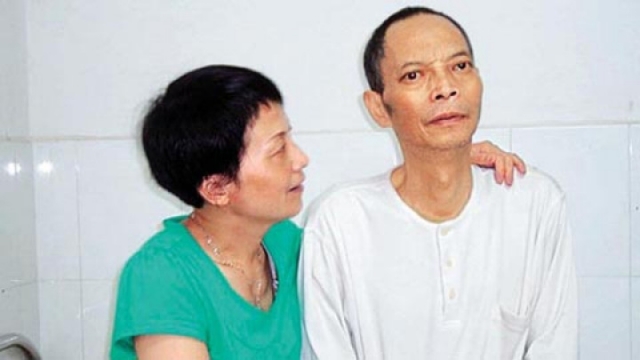 Li Wangyang with his sister. Photograph courtesy of nextmedia.com.
It is important to note that prior to his death, Li Wangyang was not well known in the mainland, Hong Kong, or the international community. And there is a consensus among Chinese intellectuals that many more dissidents like Li Wangyang, who suffered similar repression, have died unnoticed in China. A Beijing-based advocate for Chinese constitutional reform, for example, told CLB that the treatment of dissidents in rural and remote areas in China is much worse and more worrisome than of those in the country's capital, as their ability to get legal help and public attention is extremely limited.
Although Li Wangyang set up an independent trade union federation in his home town of Shaoyang in 1989, several Chinese labour relations professors told CLB that Li's case was more of political issue rather than a focal point of labour relations study. During his last interview, despite having been tortured to the point of deafness and blindness over his decades in prison, Li expressed his optimism that China will have democracy and multi-party elections in the future and stressed once again that his stance over Tiananmen would never change, even at the expense of having his head chopped off.
Mak Yin-ting, chairwoman of the Hong Kong Journalists Association, said during a talk show with Now TV that, in the context of the 18th Party Congress and the recent Bo Xilai saga, Beijing definitely wants to tighten control over its domestic dissidents in order to show to the outside world the country's unity and harmony. And with the Hong Kong Cable TV journalist who conducted the last interview with Li reportedly expressing his guilt of "indirectly killing" him, Beijing seems to have achieved another unexpected goal of imposing "self-censorship" on the Hong Kong media as well, she said.
Although Li's martyrdom showed that the road towards civil society is still long and tough, a Shenzhen-based collective bargaining expert told CLB that the fate of Li Wangyang won't impact on his endeavors. While expressing his indignation, he said he was confident of advocating workers' rights today through collective bargaining as it offered a constructive mechanism to mitigate labour relations and obviously was less risky than promoting independent trade unions in China.