A coal mine fire in the north-eastern province of Heilongjiang has killed 21 miners, with one of 38 miners working underground at the time still missing, according to the official Chinese media.
The fire broke out late on Friday evening, 20 November, at the Xinghua Coal Mine in the city of Jixi, near the Russian border. It is believed the fire started on a coal conveyor belt but the exact cause is still under investigation.
The mine was owned and operated by the troubled Longmay Mining Group, the state-owned conglomerate which reported losses of six billion yuan last year and, in September this year, announced plans to lay off 100,000 employees, about 40 percent of its workforce.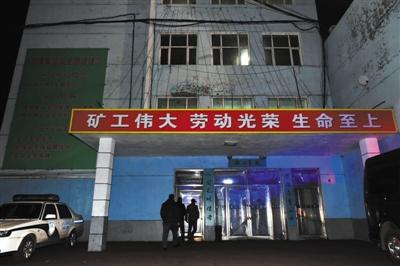 The sign above the entrance to the Xinghua Mine which states "Miners are Great, Labour is Glorious, Life above All."
Heilongjiang has a long history of major coal mine disasters, including the Dongfeng Coal Mine explosion in 2005, which killed 171 miners, and the Chengzihe mine disaster, also in the city of Jixi, which killed 115 miners in 2002.
The Xinghua fire is third mine disaster in the province so far this year. In July, at least four miners were killed in a flood at a coal mine in Hegang, while two workers were killed in another coal mine flood near Qitaihe in June this year.
The overall accident and death rates in China's coal mines have declined steadily from around  6,000 deaths per year a decade ago to just under one thousand last year. However, accidents are still a regular occurrence: China Labour Bulletin's Work Accident Map has recorded 40 coal mine incidents so far this year, a rate of nearly one every week.