A group of 14 sanitation workers in the southern city of Foshan are demanding 1.5 million yuan in compensation for wages in arrears and years of unpaid overtime, holidays, social insurance contributions and other allowances, the Southern Metropolis Daily reported.
The workers are all middle-aged or elderly migrants with little or no pension provision. Most have not been able to save any money and live in small rooms in the city with only basic amenities. They had hoped that after decades of loyal service at the same company, Foshan Guang'an District Service Co. they would have been treated fairly.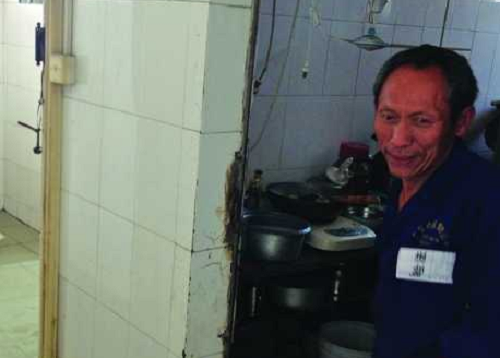 Wei Shouyun photographed by Southern Metropolis Daily.
Instead, they were suddenly laid off at the end of December 2012 without their last month's wages.  As 66-year-old Wei Shouyun said: "After working here for more than ten years; this really is too miserly."
Wei told the Southern Metropolis Daily that throughout his employment at the service company, his monthly pay check only increased when the minimum wage in Foshan was raised. "When I joined the company in 2001, the salary was 500 yuan. It later increased to 600 yuan, 800 yuan and then 950 yuan. Last year it reached 1,100 yuan (the current minimum wage in Foshan)," Wei said.
Wei pointed out that during those 12 years, he, along with his colleagues, had worked 365 days a year without receiving any overtime or paid holidays, not even the high temperature allowance that they were entitled to for working outside in the blistering heat of summer.
The workers got together and sought arbitration. Eventually a hearing was held at the Shiwan township Labour Dispute Arbitration Committee on the morning of 14 May.  During the hearing, the company representative claimed that the workers had voluntarily quit their jobs before completing their final month's work and even suggested that their wages already included overtime, holiday pay and high temperature allowances.
This statement brought howls of derision from the workers present at the hearing.  "You pay us minimum wage. How can that include overtime?" Wei shouted.
After the hearing, the two parties agreed to mediation.  However, if mediation is unsuccessful, the arbitration committee will make a decision on the compensation claim on 31 May.