Two prominent labour activists have been formally detained by the Guangzhou authorities for "gathering a crowd to disturb social order," in what appears to be a coordinated crackdown on labour groups in the city.
The director of the Panyu Workers' Centre, Zeng Feiyang, and activist Zhu Xiaomei were placed under criminal detention in Panyu late on Friday night, family members have confirmed. Zhu Xiaomei has a one-year-old baby girl who has never been separated from her mother.
Three other local activists, He Xiaobo, Peng Jiayong and Deng Xiaoming have also been placed in detention. Several labour activists and workers were released after being questioned by police on Friday, while the fate of at least four others remains unknown as of Monday 7 December..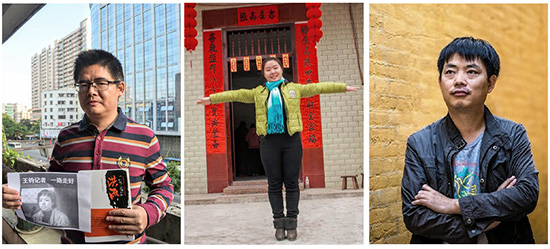 Zeng Feiyang,  Zhu Xiaomei and He Xiaobo
The crackdown comes at a time of escalating labour tension in Guangdong as factories in the traditional manufacturing heartland of the Pearl River Delta close down or relocate, leaving workers with unpaid wages, no redundancy pay or social insurance contributions.
The number of strikes and protests in Guangdong recorded on China Labour Bulletin's Strike Map has more than doubled in the last few months, increasing from 23 incidents in July to 52 in October and 56 in November.
The official trade union, meanwhile, has for the most part, simply stood by, unable to intervene or assist the workers in any way. The labour activists detained in the current crackdown, on the other hand, played a vital role in helping workers resolve their disputes with their employers through collective bargaining, thereby reducing social tension.
In one of the most recent disputes handled by the Panyu Workers' Centre, a group of about 40 local sanitation workers successfully dissolved their contracts with their employment agency, obtained severance pay based on their years of service and signed new contracts with the district's new cleaning contractor.
Zhu Xiaomei had been particularly successful in helping to organize sanitation workers in the Panyu area (see video below) as well as workers in the Lide shoe factory dispute.
Zhu Xiaomei in action during the Guangzhou University Town sanitation workers dispute
All of the labour activists detained or unaccounted for have played a crucial role in the workers' movement in China. By arresting them or preventing them from doing their job, the local authorities will only aggravate tensions in the Pearl River Delta as more and more factories close down and workers demand proper compensation.