In a short series on workers' rights and collective action in India during the coronavirus pandemic, P.K. Anand discusses three key examples of worker organizing and resistance.Earlier articles introduced the Indian Federation of App-based Transport Workers and the All-India Gig Workers Union. Here we look at the Karnataka Garment Workers Union in Bengaluru.   
For the tens of thousands of garment workers in the southern Indian city of Bengaluru and the surrounding state of Karnataka, the pandemic and resultant lockdown presented a series of immediate and serious challenges that were further intensified when the Unlock measures initiated by the Indian government went into effect in June. 
However, the workers were not alone. The Karnataka Garment Workers Union (KOOGU), with around 3,000 members in Bengaluru and the nearby city of Davangere, has played a key role in making sure workers' rights are protected from the onslaught of factory managers seeking to take advantage of the difficulties faced by the workforce.
Among the numerous complaints cited by garment workers during interviews in Bengaluru, the ambiguity or reticence of management with regard to pending wages and social security benefits, and the premature closure of factories without any notice or proper compensation payments to workers were top of the list. Two migrant workers from central states of Chhattisgarh and Odisha, for example, explained how they lost their jobs following a sudden closure of one factory and were left to fend for themselves before finding piece-rate work in smaller units at lower pay. 
Post-lockdown, many workers complained that factory management was forcing them to work one to three hours overtime each day and even forego public holidays in order to make up for lost time and production. Proposed changes to labour laws and regulations that would weaken workers' legal protections was another major cause for concern.
As we reported in June, the failure of many factories to restore transport arrangements for workers when production resumed provoked a determined response from KOOGU and the workers. Most workers live in outlying districts and relied entirely on factory buses to get to and from work. One worker at a protest outside the Arvind factory in the Mysore Road area of southwest Bangalore (see photo below) said:
"What are we supposed to do? We cannot keep begging for food from our neighbours every other day… They told me that Arvind is a great factory and that we should not worry. They promised to take full responsibility and make all necessary arrangements."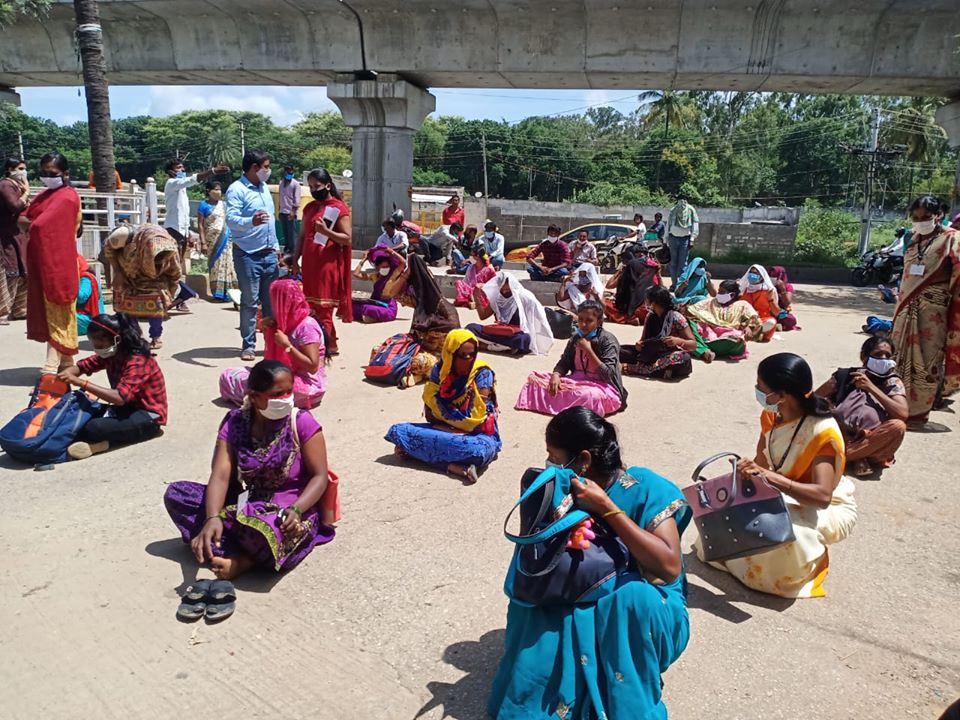 The union's intervention did force some factory managers to backtrack, but the transport issue remains a major cause for concern.
The garment industry in Bengaluru, as in many Asian countries, has a high proportion of women workers. As such, KOOGU has made a determined effort to encourage women to play a leadership role in the union. 
Indeed, many of the factory workers interviewed praised the union for helping them to raise their consciousness, gain a collective voice, and respond more effectively to the frequent abuse and harassment by managers and supervisors. The union is seen by these workers as a sisterhood that can look after its own members, only rarely seeking outside help or intervention. 
Childcare is a critical issue for this workforce that includes many young mothers. Most of the export-orientated garment factories in Bengaluru did comply with the law that mandates the establishment of childcare facilities in factories employing 30 or more women workers, but many factories are now closing them on the grounds of safety and hygiene. This has meant that many workers who could not find day-care for their children had to stay at home. 
The pandemic restrictions also have created particular difficulties for pregnant workers. Workers have genuine concerns that management will use the current situation as an excuse to fire them. KOOGU is aware of the risk and is already preparing to respond politically and legally if pregnant workers are disproportionately dismissed.
KOOGU was founded in 2009 and has grown steadily in membership and impact since then. Until the 2000s, the garment industry in and around Bengaluru was confined to small-scale factories and workshops producing for the domestic market. Workers were unorganized and employment was unstable. With the entry of major brands into southern India in 2001, however, the industry transformed into larger units producing clothing for global markets. Factories subcontracting for international brands were expected to comply with minimum labour standards that factory bosses had previously ignored with impunity.
Major brands including H&M, GAP, Nautica, Vans and Columbia make all the major decisions related to design, style, type of stitching, materials, and - crucially - costs and production timeframes. This has complicated labour relations and raised questions for the workers, such as who is the real boss: the factory or the brand?
The arrival of international brands also opened the door for unionisation, which had always been vigorously resisted by factory bosses. This changed environment has given workers the chance to express their demands and seek redress for their grievances, but many traditional trade unions had been unable to respond to this challenge and opportunity for unionization. It was within this context that KOOGU emerged, initially playing the role of raising awareness of legal rights and helping workers file complaints with the labour department. 
The union's Honorary President Sebastian Devaraj recalled the difficult initial phase in which KOOGU had to contend with information deficits, a lack of experience, general circumspection towards worker associations, and the high-handedness of factory managers. Initially, KOOGU worked in a "fire-fighting mode", dealing with injustices on a case-by-case basis and supporting worker-led protests and strikes for immediate ends. However, the lack of strategic intervention was a glaring omission with fewer worker leaders continuing the union building process beyond discrete struggles. 
Over the past several years, as a result of linking up with international labour solidarity groups, there has been increasing awareness of the garment factories' role in the global value chain. With this new awareness, KOOGU has moved away from fighting fires and begun strategic interventions through the collective bargaining process. The shift has yielded immediate results, as worker representatives began fighting for memoranda of understanding and collective agreements with management that ensure better working conditions. These have included enforceable guarantees of workplaces free from sexual harassment and caste-based discrimination, which are problems rampant in Indian workplaces. 
KOOGU focuses now on long-term, sustainable union building with democratic, collective leadership for bargaining with management. International solidarity is a key component to the new basis for struggle in facing garment factories that are, after all, manufacturing for brands located in the Global North, and largely for customers in that region.
P.K. Anand is a Visiting Researcher at the Institute of Chinese Studies, Delhi. He can be reached by email at anand.p.krishnan@gmail.com and on Twitter at @anandpkrishnan
This article is part of an occasional series commissioned by CLB designed to examine the influence of Chinese capital around the world and foster worker solidarity in the Global South.