In this edition: Catering industry stalls under high operating costs; delivery drivers detained for violating Shanghai's pandemic prevention regulations; construction companies transfer Covid-positive workers to unhygienic facilities; all levels of government urged to hire new graduates; physical examinations lead to insidious employment discrimination
Catering industry suffers under pandemic, leading to widespread closures
China's catering industry has stagnated since 2020. Data from the National Bureau of Statistics show that from January to April 2022, catering revenue nationwide stood at about 1,326 billion yuan, down 5.1 percent year-on-year. National catering revenue in April was almost 260 billion yuan, down 22.7 percent year-on-year. Local lockdowns required that many restaurants suspend indoor dining, which is a major revenue generator. 
The city of Jinan in Shandong province suspended indoor dining for 41 days this spring; Shenyang in Liaoning province suspended indoor dining from 17 March before allowing 50 percent reduced capacity from 25 April; Beijing had suspended indoor dining for 36 days starting 1 May; and Shanghai only just announced it will gradually allow indoor dining after months of lockdowns.
Fixed costs of rent, food supplies and labour led to 300,000 catering companies closing in 2020, with this number rising to one million in 2021. In addition to restaurant closures, many workers in the industry have been laid off, and some migrant workers have left the cities due to high costs of living.
Shanghai police spot-check delivery drivers for violating pandemic prevention regulations
The Shanghai Observer reported that local police conducted a special operation to spot-check delivery drivers' health codes. The investigation led to identification of workers testing positive for Covid-19, and found several businesses hoarding supplies and selling them at a mark-up during shortages under the lockdown. Authorities discovered more than 1,900 unlicensed drivers and ordered drivers who tested positive to be isolated. Platforms were urged to better identify and manage such issues. 
Recent news about logistics platform Huolala being unwilling to pay compensation for destroyed goods has stirred debate on platforms' and drivers' legal responsibilities to customers. A truck in Fujian internally combusted, and one million yuan worth of goods was destroyed in the process. Huolala required the delivery driver to pay 20,000 yuan in compensation, and then sent 200 yuan in coupons to affected customers. Huolala's position is that they only work as an intermediary and do not provide transportation. If goods are damaged or lost, the platform can only help the owner negotiate with the driver. Zhang Guorong of Beijing DHH (Fuzhou) Law Firm said that Huolala may be using unreasonable standards to reduce its liability, violating provisions of China's Civil Code and Consumer Protection Law.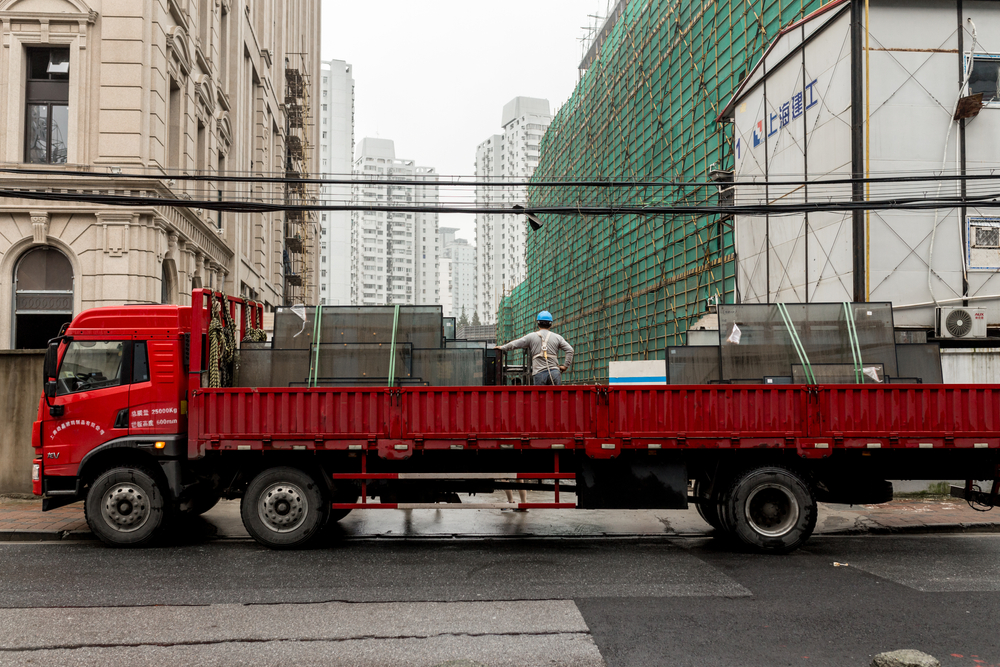 Photograph: BNJ Photo / Shutterstock.com
Construction workers transferred by their company after testing positive for Covid-19
During the recent Covid-19 outbreak in Shanghai, some companies transferred infected workers and their close contacts, which led to the virus further spreading to others. These workers were moved to locations where it was impossible to isolate, and their health and hygiene were not safeguarded. 
On 5 May, the manager of a construction company transferred 46 workers suspected of being infected to a hotel-style apartment without isolation facilities. The virus spread out from that apartment and the police arrested three responsible persons. 
Another construction company in Shanghai also transferred workers, and further failed to report to the health department after learning that construction workers were infected. The workers were placed in temporary dormitories without isolation facilities, leading to the virus spreading. The manager was charged with the crime of obstructing the prevention and treatment of infectious diseases.
Civil service and state-owned enterprises expand recruitment of young graduates
This year, the number of university graduates exceeded 10 million for the first time. These young people face grim employment prospects. CLB published an article earlier this month on a sharp rise in youth unemployment. As the number of graduates continues to increase, they face employment gaps and more intense competition for jobs. 
The 2022 employment report on college students in China by the Mycos Research Institute found that graduates are seeking job stability. Nearly 20 percent of 2021 graduates are pursuing higher education, and the proportion of undergraduates obtaining employment in the civil service has doubled within the last five years. 
To alleviate employment pressure, the civil service will recruit nearly 10,000 new graduates in 2022. The central government, its affiliated institutions and local authorities plan to recruit 116,000 recent graduates. State-owned enterprises will also recruit more graduates. The State Council's State-Owned Assets Supervision and Administration Commission held a video conference requiring that the number of graduates recruited by state-owned enterprises should increase from last year. 
Caixin found that Sinopec, China Mobile and China Telecom are adjusting their recruitment plans and representatives of central enterprises said that there is pressure to recruit more graduates. It is rare to have an additional recruitment push in June, as graduates are usually recruited in the spring and autumn.
Job-seekers are competing for white-collar jobs, eschewing jobs in construction and logistics. One source found that the proportion of workers under the age of 40 in the industry dropped to under 30 percent, and the proportion of workers under the age of 30 is under 10 percent, showing a serious age gap. 
Interviews with workers revealed that young people are reluctant to pursue jobs in the industry due to harsh working conditions, concerns about health and safety, income instability and wage arrears. In Inner Mongolia, the construction industry is mainly occupied by older migrant workers, with only 15 percent of workers engaged in construction and renovation being under 30 years old, whereas 42.7 percent of workers are over 50 years old.
Freight jobs are largely taken up by those born in the 1970s and 1980s. There is a shortage of 10 million truck drivers. The difficulty of long-distance freight operations, obtaining an A2 semi-trailer truck driver's licence, low social status, high work intensity, income decline due to sluggish rates, and difficulty in guaranteeing occupational safety means that those born in the 1990s and 2000s are reluctant to drive trucks.
Physical examinations lead to employment discrimination 
Lanling County People's Hospital in Shandong province required nurses to be either under the age of 30 with a college diploma, or 35 and under with a bachelor's degree. It also required them to be 162cm or above in height and have a low body mass index (BMI) of under 25. After the recruitment notice generated online debate, the local health bureau ordered it revised. Though the hospital no longer requires applicants to provide their height, weight and BMI, they have kept the other criteria. 
Prospective employees also face discrimination if they have medical conditions such as hepatitis B. Despite the law forbidding employers to screen employees for the virus, an investigation conducted by Banyuetan found that there is a whole industry of agencies that charge tens of thousands of yuan for ensuring customers pass different medical examinations required for employment all across the country.