The south-western city of Chongqing is beginning to emerge once again as a centre of worker activism and unrest in China. In the two months leading up to the Lunar New Year Holiday there were at least 19 collective worker protests in the municipality, the same number as in the traditionally more boisterous city of Shenzhen.
Just two weeks ago, several hundred workers laid off from a major machine manufacturer in the city staged a protest on 21 February over company violations of the compensation agreement (See photo below) and on 18 February, golf caddies staged a protest over social security contributions.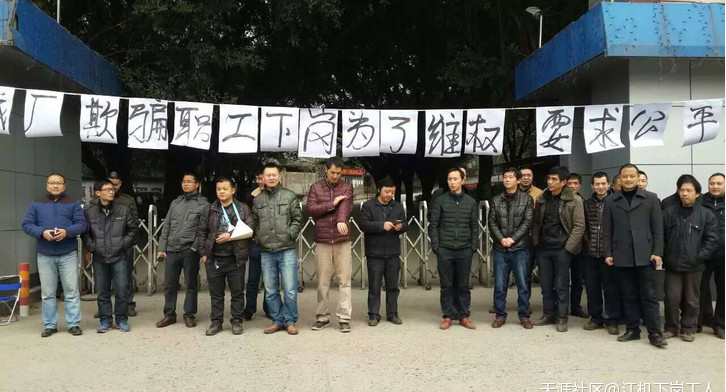 This sudden surge in worker activism represents a remarkable increase over the number of protests in the city last year: China Labour Bulletin's Strike Map recorded just 42 strikes and worker protests in Chongqing for the whole of 2015, compared with 113 in Shenzhen.
It is possible that this new momentum will not continue throughout 2016 but the frustration of workers in Chongqing over wage arrears, low pay and the huge gap between the salaries of managers and ordinary workers is becoming more widespread and palpable.
The per capita disposable income of Chongqing residents in 2015 was just 20,110 yuan, about 8.5 lower than the national average of 21,966 yuan. The statutory minimum wage in Chongqing was raised by 250 yuan on 1 January this year to stand at 1,500 yuan per month in urban areas but this still only represents 75 percent of the minimum wage in Shenzhen and Shanghai.
Low pay has been a reality for Chongqing's workers for decades but workers are now increasingly angry that while their pay has stagnated, the salaries of managers and administrators have shot up, leaving them far behind.
As one long-serving employee at a state-owned enterprise in the city explained: "The salary we got back in 1989 when I first entered the company was only about 30 something yuan a month but at least back then the income gap between normal workers and management was not so huge."
The income gap started to increase in the 1990s and then in the 2000s workers noticed that managers were collecting so-called "grey income," unspecified bonuses and gifts, in addition to their higher salaries.
Today, the veteran worker said the wage gap had grown to an intolerable level: "We ordinary workers are doing much more work than the management and yet they can get paid almost ten times more than us, this is so unfair." The average pay for ordinary workers was between 2,000 to 3,000 yuan per month while management usually got around 12,000 yuan a month, the worker said.
"Our income is not based on our individual workload but rather on the whim of management. We tried to complain once but then we realized that no one from management would listen so we just gave up," he added.
The enterprise trade union was equally useless, the worker said: "They don't even care. They just organize meaningless activities and festivals for workers to attend."
"The trade union officials don't have any real power and they themselves are part of management so how can you expect them to fight for the workers? We wanted to fight for our rights but who can we turn for help?" he added.
Workers from other professions in Chongqing have expressed similar sentiments. A 28-year-old middle school teacher, Xiao Yi, only gets a basic salary of 400 yuan, with an additional 2,000 yuan in so-called "performance pay." Xiao Yi explained that: "The review standard for your 'performance' is quite vague, it has more to do with the management's preference." said Xiao Yi. In many cases, Xiao Yi said, pay levels are determined simply by how long teachers have been employed rather than how much work they do.
Another middle school teacher, Ms Zhi, also complained about the city's salary system. "You cannot motivate teachers when it makes no difference how hard you work," she said.
In addition, Ms Zhi said, there was a huge gap between the salaries of ordinary teachers and those assigned to the city's key middles schools. "Teachers in those schools can get double of our income," she said.
Teachers at one college in Chongqing were frustrated enough to go out on strike in November last year to demand better pay and benefits but generally teachers' strikes in the municipality have been sporadic. The last major outbreak of unrest came in late 2008, when primary and middle school teachers from several rural counties and districts in Chongqing staged a series of strikes demanding higher pay.
The mass protests of 2008 were triggered by the refusal of the local government to implement national laws and regulations that stated teachers should be paid the same as local civil servants. Teachers' wages, in practice, were far lower than those of government officials. For example, a teacher in Yubei district said local teachers earned at best 15,000 yuan a year and at worst little over 6,000 yuan. But civil servants in Yubei were getting more than 10,000 yuan in year-end bonuses alone.
Chongqing was also at that time the epicentre of one of the most important taxi strikes in recent years. Around 9,000 cab drivers went out on strike 3 November 2008 to protest the high fees paid to the cab companies, severe shortages of compressed natural gas, excessive fines by traffic police and expanding numbers of unlicensed cabs.
In both cases the municipal government, headed at the time by the subsequently purged Party leader Bo Xilai, quickly intervened and negotiated a settlement with the drivers and the teachers. See photo below. There is no indication however that the current Chongqing administration is so open to dialogue with disgruntled workers.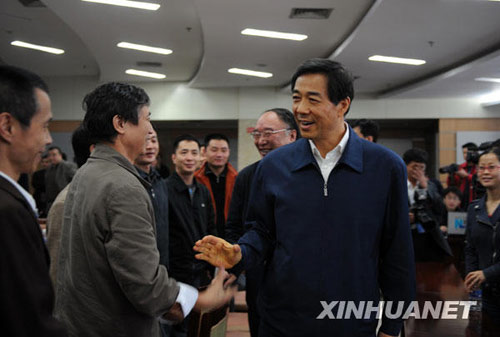 Chongqing Party Secretary Bo Xilai meets with striking taxi drivers on 6 November 2008. Photograph Xinhua
For more information about the teachers and taxi driver strikes of 2008, see CLB's in-depth research report Going it Alone: The Workers' Movement in China (2007-2008).