On 30 September 2014, Xu Lizhi, a young worker at the Foxconn factory complex in Shenzhen, took his own life. Xu was just 24-years-old but had already produced a remarkable body of literary work, including poems, essays, film reviews and commentaries on current events. In his brief two-year tenure as a production line worker at Foxconn, Xu published more than 30 articles in the in-house magazine Foxconn People.
Several of his poems were re-published, along with a touching obituary, in the Shenzhen Evening News on 10 October. These poems and others have now been translated by the Nao Project and published on libcom.org
China Labour Bulletin has in addition asked Lucas Klein, Assistant Professor at the University of Hong Kong's School of Chinese to translate five of Xu's poems that illustrate the struggles, heartache and dreams of migrant workers in Shenzhen but also showcase a tremendous literary talent that deserves a much wider audience.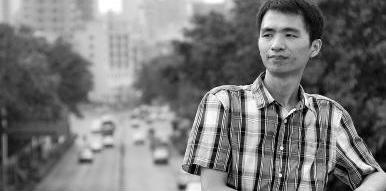 Xu Lizhi (1990-2014)
The five poems selected below are: I Speak of Blood, Heart Buried by Life, Pink, River • Shore, and The Late Repentance.
I Speak of Blood
I speak of blood, because I can't help it
I'd love to talk about flowers in the breeze and the moon in the snow
I'd love to talk about imperial history, about poems in wine
But this reality only lets me speak of blood
blood from a rented room the size of a matchbox
narrow, cramped, with no sight of the sun all year
extruding working guys and girls
stray women in long-distance marriages
sichuan chaps selling mala tang
old ladies from henan manning stands
and me with eyes open all night to write a poem
after running about all day to make a living
I tell you about these people, about us
ants struggling through the swamp of life
drops of blood on the way to work
blood chased by cops or smashed by the machine
by casting off insomnia, disease, downsizes, suicide
each explosive word
in the pearl river delta, in the pit of the stomach of the country
eviscerated by an order slip slicing like a kaishaku blade
I tell you these things
even as I go mute, even as my tongue cracks
to tear open the silence of the age
to speak of blood, of the sky crumbling
I speak of blood, my mouth all crimson
September 17, 2013
「我谈到血」
我谈到血,也是出于无奈
我也想谈谈风花雪月
谈谈前朝的历史,酒中的诗词
可现实让我只能谈到血
血源自火柴盒般的出租屋
这里狭窄,逼仄,终年不见天日
挤压着打工仔打工妹
失足妇女异地丈夫
卖麻辣烫的四川小伙
摆地滩的河南老人
以及白天为生活而奔波
黑夜里睁着眼睛写诗的我
我向你们谈到这些人,谈到我们
一只只在生活的泥沼中挣扎的蚂蚁
一滴滴在打工路上走动的血
被城管追赶或者机台绞碎的血
沿途撒下失眠,疾病,下岗,自杀
一个个爆炸的词汇
在珠三角,在祖国的腹部
被介错刀一样的订单解剖着
我向你们谈到这些
纵然声音喑哑,舌头断裂
也要撕开这时代的沉默
我谈到血,天空破碎
我谈到血,满嘴鲜红
2013年9月17日
Heart Buried by Life
continue to bear it?
eyelids heavy as mountains
his head tries lifting in the night
tear-drenched starlight gushes down
with wind, his frail body always about to shake
moments of youth flee in annoyance
leaving behind a snowstorm, a turbulent tumult
in dreams, the flames he tastes are ice cold
and his ground-off skin a bed of cotton bolls
spread out in the winds of time
intrinsic beliefs unable to find direction
like his heart buried deeper than
the depths of the ocean by life
December 15, 2011
「被生活埋葬的心」
还要不要隐忍下去
眼皮早已沉重如山
他的头试着在黑夜里抬起
沾满泪的星光就瓢泼而下
风一起,他单薄的身躯总要抖几抖
少年时光在懊恼中离去
剩下一场雪,纷纷,纷纷
梦里,他品尝到的火苗都是冰冷的
而磨损的皮肤像一床破绵絮
摊开在岁月的风里
固有的信念再找不到方向
连同他那颗被生活埋葬的
比海洋更深的心
2011年12月15日
Pink
I see a grave, in a village in the city
for such a long, long time
I see her pink tombstone, in pink grass
a pink stream and pink cumulous clouds
I will contract a pink disease
and lie in a pink coffin
and when the lids closes softly
will stare straight at the pink sun and the pink noon sky
crying two silent, pink streams of tears
October 21, 2013
「粉红」
我看中一块墓地,在城中村
已经很久很久了
我看中她粉红的墓碑,粉红的草地
粉红的溪水和粉红的云朵
我将带着一生粉红的疾病
躺进粉红的棺材
当棺材盖缓缓合上
我也将直视正午粉红的天空和粉红的太阳
让两行粉红的泪水,悄悄流淌
2013年10月21日
River • Shore
I stand by the road watching the road
a flow of pedestrians and vehicles coming and going
I stand under a tree, under a bus stop sign
watching the flow of water coming and going
the flow of blood and desire coming and going
I stand by the road watching the flow of them coming and going
on the road they watch the flow of me coming and going
they are in a river, I am on the shore
they are bare and struggling to swim as fast as they can
the sight infects me
I try to decide if I should go into the river too
to struggle with them, to clench my teeth
I try to decide, as the sun sinks beneath the hills
October 6, 2013
「河•岸」
我站在路边看着马路上
流来流去的行人和车辆
我站在树下,在公交站牌下
看着流来流去的水
流来流去的血液和欲望
我站在路边看着流来流去的他们
他们在路上看着流来流去的我
他们在河里,我在岸上
他们光着膀子使劲地游
这情景感染了我
我犹豫着要不要也到河里去
跟他们一起使劲,一起咬牙切齿
我犹豫着,直到日落西山
2013年10月6日
The Late Repentance
every night after eating fast food
I have a habit of
smacking my butt before I go off
until tonight
when about to repeat the same move
I noticed how the scene resembled
my home for so many years
father eating with three sons
and smacking them on the butt to go off
leaving behind a table of scraps
for mother to clean up
alone
November 6, 2013
「迟到的愧疚」

每天在快餐店吃完饭后
我都是习惯性地
拍拍屁股走人
直到今天晚上
当我重复着同样的动作时
突然发现这情景很像
这么多年来在家里
我们父子四个吃完饭后
拍拍屁股走人
留下一桌烂摊子
让母亲一个人
慢慢收拾

2013年11月6日
Lucas Klein's work has appeared in Jacket, Rain Taxi, CLEAR, and PMLA, and from Fordham, Black Widow, and New Directions. His translation of Xi Chuan won the 2013 Lucien Stryk Prize. He is translating Tang dynasty poet Li Shangyin and seminal contemporary poet Mang Ke. To read more, please see his blog on Xi Chuan and Chinese poetry in English translation:  Notes on the Mosquito.