Qin Bin uploads his photo, health certificate and transfers 100 yuan as a deposit to join Ele.me, an online food delivery service. After working for 72 hours as a delivery rider in one of the most fiercely competitive business sectors in China today, he concludes that "the threat of traffic accidents, the rush to get food orders on time, and the humiliation of dealing with dissatisfied customers" makes this job one of the toughest in China.
Luckily, he didn't have to work as a delivery rider any longer than was necessary to complete his undercover mission for the Shanghai municipal trade union federation to document the "the precarious labour conditions, dangerous working environment and lack of social protection" in the city's food delivery service sector.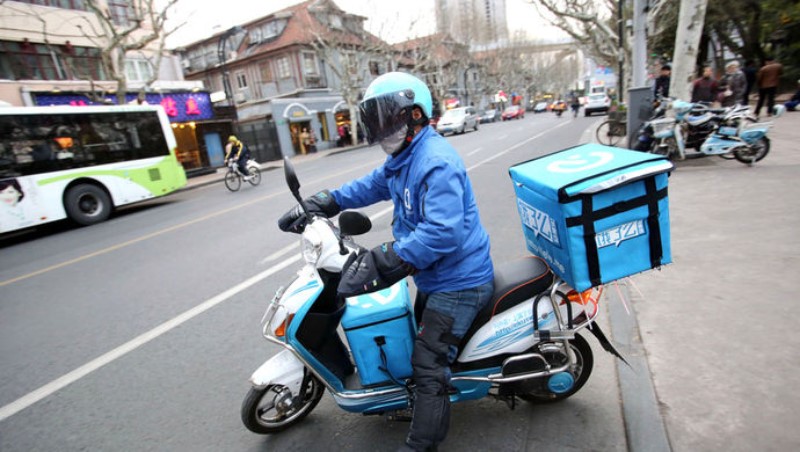 An Ele.me rider sets off in downtown Shanghai.
His report identified three types of food delivery riders: the first is directly employed by the online platform, the second is hired by a labour agency on behalf of the platform, the third are individual contractors with no formal employment relationship to the company.  Although there are 80,000 riders registered as individual contractors, only about 3,000 are active on a daily basis; it's the estimated 16,000 subcontracted riders from labour agencies that do 90 percent of the work, according to Shanghai trade union statistics.
In June 2017, the Shanghai trade union used the data it had collected to set up China's first and, so far, only trade union for online food delivery riders. The union held its first general meeting in November, with about 400 participating members, in the city's Putuo district.
The Shanghai initiative faced several challenges, particularly resistance from the employer Ele.me, but also problems caused by the informal nature of the delivery business.
On one hand "it was difficult to convince the employer to set up a union branch," said Li Xuyuan, vice-president of the Putuo district union. The employer, he said, was hesitant because it did not see how unionisation could help the company's business and wondered if a unionised workforce would cause a heavier burden on a very cost-conscious and competitive business.
On the other hand, local union officials said, it was difficult because most of the delivery riders were not employed directly by the online platform but by agencies that were not based in their jurisdiction. At the same time, workers changed jobs constantly and showed little interest in local union activities.
China Labour Bulletin Executive Director Han Dongfang said the Shanghai trade union's initiative should be applauded but cautioned that a lot more work needs to be done before it can be considered genuine trade union reform.
We can see this as a positive step towards union reform and will be following this initiative closely to see if the delivery riders themselves, regardless of their employment situation, are being truly represented. Because worker representation is a key piece in the puzzle if the union to truly play its role. We would hate to see this project turn into another labour complaints office, that's not what a trade union should focus on.
Han stressed the need for worker representation in bargaining committees to negotiate working conditions, employment contracts and salaries, "only then can disputes be avoided by addressing potential conflicts at the root," he added.
The food delivery business and nearly all new service industries have become a major source of worker unrest over the last three years. An article in the Yangcheng Evening News this week pointed out that Internet, financial and information services are now the "new wage arrears industries." A Guangdong labour arbitration official was quoted in the article as saying that the boom in "Internet plus, e-commerce, and shared economy platforms has brought rampant outsourcing, temporary work and general informalisation."
Shanghai union officials have long been aware of this trend, and in 2015 were already working on establishing a trade union for express delivery drivers across the city. In the Opinion for Advancing Union Reform in Private Enterprises in Shanghai issued in May 2017, plans to increase membership in the informal sector were laid out, with a "focus on the immediate interests of workers themselves, actively pursuing collective negotiations."
Meanwhile, food delivery drivers across China will continue to take a stand against exploitative employers who try to cheat them out of their pay or push them to accept even more hazardous working conditions. This will place more pressure on other district trade unions to follow in Shanghai's footsteps and extend the union presence into the areas it is most needed.