China Labour Bulletin is quoted in the following articles. Copyright remains with the original publisher.
A thousand rescuers work round the clock in attempt to save 153 missing workers

Tania Branigan in Beijing and agencies
Wednesday 31 March 2010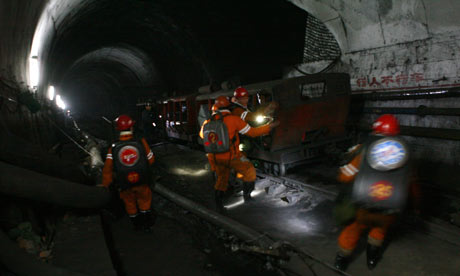 Managers of a Chinese coal mine, where 153 workers are missing after flooding, ignored repeated warnings of water leaks, a government safety body said today.
About 1,000 rescuers have been working round the clock to save those trapped at the Wangjialing mine in northern Shanxi province. There have been no signs of life since Sunday, when the disaster happened.
"My husband is dead. I don't need them to tell me that," Xiao Shihong told China Daily, a state-owned newspaper.
It is thought the mine disaster could be the deadliest since August 2007, when a flood killed 172 miners at a pit in eastern Shandong province.
State media have said that 140,000 cubic metres of water rushed into the pit on Sunday – enough to fill 56 Olympic-sized swimming pools.
The mine was under construction and the state administration of work safety said workers who were tunnelling broke into an old shaft filled with water. But it added that the first warnings of leaks had been given three days earlier.
"Water leaks were found numerous times on underground shafts but still [managers] failed to take action to eliminate the potential risks," it said. "The mine failed to follow the regulations to evacuate workers in time or take effective responsive measures." It added that the shaft was overcrowded because extra crews were sent down as officials tried to speed up construction.
The Beijing News said that the rescue command centre confirmed a water leak had been reported three hours before the flood, but that no action was taken.
China Daily said managers in charge of construction, who had ignored the warnings, had gone missing.
Some of the 108 survivors who escaped or were rescued on Sunday have given graphic accounts of their ordeal. Fan Leisheng told state broadcaster CCTV: "It looked like a tidal wave and I was so scared. I immediately ran away and looked back to see some others hanging behind. I shouted at them to get out. It was unbelievable because I got out from 1,000 metres underground."
The trapped workers are thought to be in nine sections of the mine, which covers about 70 square miles.
China has slashed deaths in mines from a peak of 6,995 in 2002 to 2,631 last year, primarily through a drive to close small private pits, often run illegally. But Sunday's flooding is one of several major disasters at state-run sites recently.
"Blaming small private mines doesn't stand," said Han Dongfang, director of Hong Kong-based China Labour Bulletin. "We propose the setting up of workers' health and safety committees in mines, elected from those working underground, and not letting the management alone make decisions.
"The Chinese government probably doesn't like the idea of independent associations, but you could have a committee working under the official union."
Miner Zhong Nanxiang said: "The victims stuck underground may not be my family but they are like my brothers. Our hearts are filled with anger. But who can we turn to for an answer? The leaders won't talk to us. We are from the lowest level of society. We are the weak ones. You call this the People's Republic of China?"
Angry relatives gathered at the site yesterday, but by today most had been moved away and the main road closed to all but authorised vehicles. Dozens of police officers guarded the mine.
The work safety watchdog's press office referred queries to the provincial authorities, where an employee hung up.
Cao Haisheng, director of Shanxi's provincial foreign office, said no more survivors had been rescued today.
See also:  China hails 'miracle' rescue of more than 100 trapped miners