On 21 June, nearly 2,000 workers at a state-owned shipping container manufacturer in Shenzhen went out on strike over low pay, wage arrears and deteriorating working conditions.
The 13 day strike at CIMC Containers was just one of more than 200 strikes and collective worker protests in the province so far this year: What made this particular dispute noteworthy however was the successful intervention of the provincial and municipal trade union federations.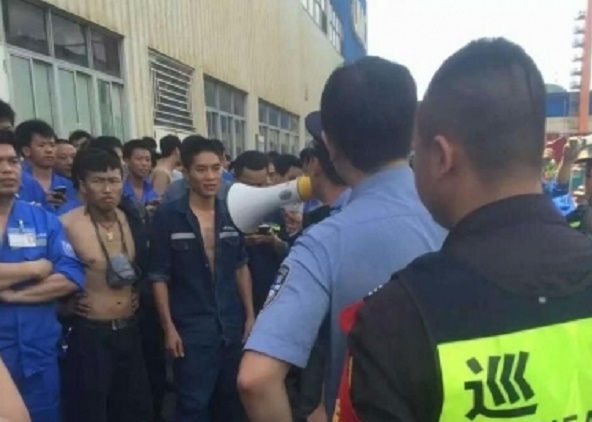 Striking workers at CIMC in Shenzhen confront police
The Guangdong Provincial Trade Union Federation highlighted its own role in the dispute on its website under the headline "Guangdong Trade Union successfully resolves CIMC workers' rights incident." The union essentially acted as mediator in the dispute, meeting with striking workers, liaising with local government departments and the enterprise trade union, and putting pressure on the company to resolve the dispute as quickly as possible.
After numerous rounds of negotiation with various parties, the company eventually offered a range of concessions, including a one-off payment of 4,500 yuan for each worker, and the vast majority of employees agreed to return to work on 4 July.
While it is encouraging that the Guangdong trade union did get involved in the CIMC dispute, rather than just watch from the side-lines, its own report shows that the union is still struggling to really understand the dynamics of labour relations in China. The union seemed determined to get as many parties involved as possible and to seek a consensus rather than just engage in direct collective bargaining with management.
By way of comparison, the Chunfeng Labour Dispute Service Centre, which has considerable experience in collective bargaining, managed to help resolve a ten-day strike at Taiwanese-invested moulding factory in Shenzhen in May this year simply by organizing workers to elect representatives and getting the company to sit down at the bargaining table and negotiate a collective agreement.
The Guangdong trade union has been under increasing pressure from the highest levels of the Communist Party and the government to do a better job in resolving strikes and preventing social unrest from spreading in the province, particularly as the economy slows down and the traditional manufacturing sector contracts.
The union claimed that, as a result of its hard work in resolving disputes, the number of labour-related "mass incidents" in the province had fallen by 41 percent in the first half of this year compared with the same period last year. However, the union's report did not cite any actual numbers.
China Labour Bulletin's Strike Map shows a different picture however with 173 strikes and protests in the first half of this year, compared with 170 in Guangdong in the same period in 2015.