The dates of separate hearings for Zeng Feiyang, Zhu Xiaomei and Tang Huanxing at the Panyu district court have been set between 26 - 28 September. All three are accused of "gathering a crowd to disturb social order" [聚众扰乱社会秩序罪] and face years in prison if convicted. They were initially detained and later formally arrested during a coordinated crackdown on labour activists in December 2015. Another labour activist, Meng Han, was also arrested in December and is yet to have his court date set; prosecutors have sent his case back to police for further investigation.
Zeng Feiyang has been in detention for nine months with limited access to lawyers. Zhu Xiaomei, a nursing mother at the time of her arrest, was released on bail after spending two months in detention. Tang Huanxing spent weeks in police custody in an unknown location before his subsequent release on bail. Meng Han remains in a detention centre in Guangzhou.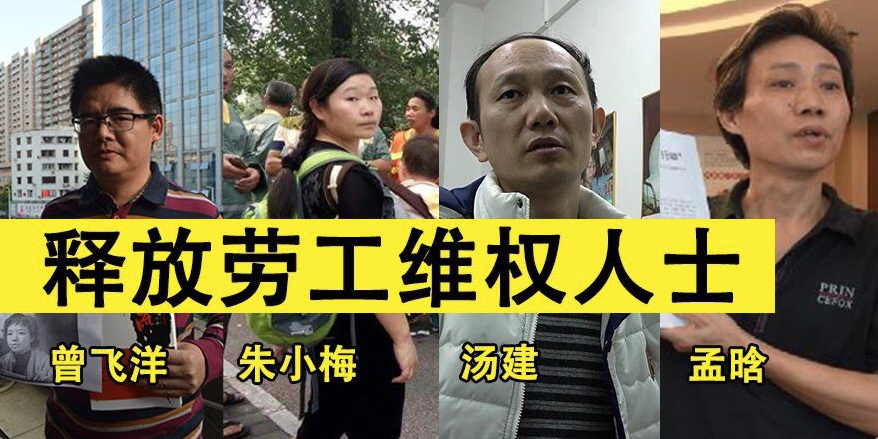 Centre text: "Release Labour Activists!"; Figures from left to right: Zeng Feiyang, Zhu Xiaomei, Tang Jian (Tang Huanxing), Meng Han; Photo Amnesty International
All are former members of the Panyu Workers Service Centre, a labour NGO in Guangdong province. The Centre organized workers to resolve labour disputes through collective bargaining. Prior to the crackdown, the Centre gained a good reputation among workers and on occasion was even able to facilitate tripartite talks between employers, workers and local government officials in more serious disputes. In the Lide shoe factory case for example, Centre staff helped workers win over 100 million yuan in compensation for relocation and unpaid social insurance contributions.
The Lide case was later used by state media to smear the reputation of Centre director Zeng Feiyang and other staff. Lide workers reacted by publicly voicing support for Zeng and his colleagues and refuting state media claims. Zeng Feiyang's mother also attempted to sue state news outlets for defamation of her son's character.
Meng Han has refused to cooperate with authorities attempts to incriminate director Zeng Feiyang. He has faced continual pressure from the authorities and his parents' home has been attacked by unidentified armed thugs.
The labour activists have received numerous expressions of solidarity from inside China and beyond. Supporters include international unions, civil society organizations, scholars and citizens from around the world who have repeatedly called on the authorities to release unconditionally all arrested labour activists in China.