After two years without any adjustment, the minimum wage in the industrial powerhouse of Guangdong will increase by an average of 19 percent on 1 May 2015, the provincial department of human resources and social security announced on 26 February.
The city of Shenzhen had earlier announced that its minimum wage would increase on 1 March to 2,030 yuan per month, the first local minimum wage in China to break the 2,000 yuan per month barrier. The hourly rate for temporary workers in Shenzhen will increase to 18.5 yuan.
In Guangdong's provincial capital, Guangzhou, the minimum wage will increase on 1 May to 1,895 yuan per month and 18.3 yuan per hour. In second tier cities including the manufacturing centre of Dongguan, the monthly minimum wage will go up by 200 yuan from 1,310 yuan to 1,510 yuan per month.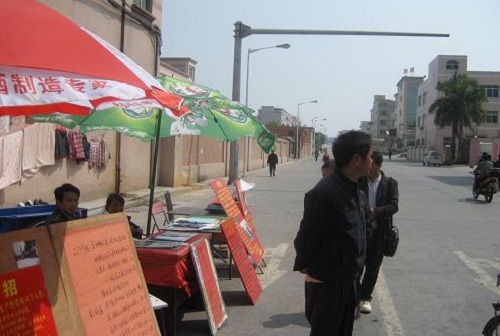 Factory recruiters in the Dongguan township of Chashan
The monthly rate in third tier cities such as Huizhou will increase to 1,350 yuan, while in the lowest ranked cities, including the northern municipality of Shaoguan, the rate will increase to 1,210 yuan per month.
Wage growth in Guangdong was relatively stagnant last year as economic growth slowed to just 7.8 percent, the lowest rate in 25 years, and labour unrest intensified as many businesses closed down, restructured or relocated.
Wage levels in Guangdong were gradually coming into line with other coastal provinces, many of which increased their minimum wage last year, and the provincial government eventually had no choice but to increase its minimum wage as well in order to ensure continued growth and development.
Guangdong Governor Zhu Xiaodan told the provincial People's Congress on 8 February that investment, exports and consumption in the province had all lost momentum and that continued reform and restructuring would be necessary to reverse the slide.
Go to CLB's Resource Centre for more details about wage policies and wage levels in China.