Three days after the State Council demanded local government officials do more to prevent major fires following the horrific blazes in Daxing and Tianjin that killed a total of 29 people, a massive fire broke out in a factory in the eastern port city of Ningbo.
As the fire engulfed the main gate of the China Hookah Arts and Crafts Factory on Monday afternoon (see photo below), one worker emerged from the blaze covered with burns from head to toe and was rushed to hospital for treatment.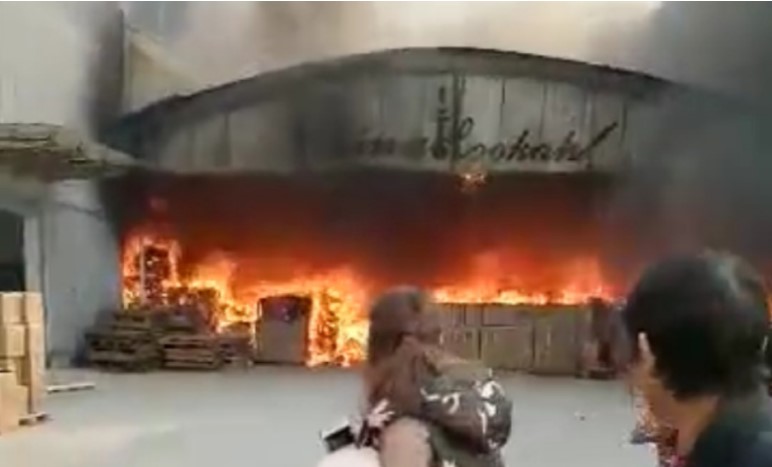 Photo from Weibo
The Ningbo fire was just the latest in a long line of incidents this year. Official statistics list 15,000 workplace fires in the first ten months of 2017, affecting mainly factories, construction sites and storage facilities.
On 20 November, just two days after the Daxing fire in Beijing that killed 19 people, a fire at a warehouse in the southern city of Foshan killed six workers. And on 1 December, the same day as the Tianjin fire that killed ten construction workers who were all sleeping in the high-rise building they were renovating, another fire broke out at a logistics centre in Qingdao, burning 5,000 square metres of warehouses to the ground.
The government's heavy-handed response to fire safety, as exemplified by the forced evictions of thousands of migrant workers from "fire hazards" in Beijing, has been proved time and again to be ineffective.
Business owners routinely ignore or circumvent demands from government officials to fix fire hazards and introduce fire safety measures. A fire at a battery factory in Wuhan on 30 November, for example, led to the arrest of the owner but it was the third fire at the same facility in last two years.
Four of the six workers who died in the Foshan fire on 20 November were living in an illegally constructed shed on site that was made with sponge and other flammable materials. In April of this year the fire department had demanded that the fire hazard be addressed, and even cut power to the site to ensure compliance. In September the fire department ruled that the hazard had been resolved but said the structure should not be used to house workers.
The fire department had also found prior problems at the site of the December Tianjin fire. Three months earlier, tenants had reported that smoke detectors were wrapped in plastic and wires were left exposed. The fire department warned the construction company renovating the site of the dangers caused by the code violations but the warnings fell on deaf ears.
Lack of proper training and a total disregard for fire safety turned one fire into China's greatest workplace tragedy in recent years. During the Tianjin port fire of August 2015, firefighters, mainly in their teens and early twenties, doused water on a facility that was illegally storing hazardous materials leading to several massive explosions that killed 173 people.