The spread of Covid-19 is now rampant in Myanmar, and the daily death toll is rising. Infection rates have increased rapidly since July, and an average of 5,500 new cases have been recorded each day.
Months of repression by the military against the Civil Disobedience Movement (CDM) has resulted in a breakdown of medical services and facilities in Myanmar. The junta exacerbated the epidemic and the death toll by blocking health care supply chains within the country, raiding private oxygen filling stations, and seizing oxygen cylinders. Doctors, nurses and other health workers who took part in the CDM are in hiding. Some healthcare volunteers have reportedly been arrested or killed.
Reports indicate that people are reluctant to go to military-run hospitals, while other hospitals are empty because of the long-running strike against the military regime that seized power in February. For those hospitals that are still operating, human resources are low. 
Despite the surge in Covid-19 cases, garment factories are still operating and forcing workers to continue production as usual without complying with the pandemic guidelines agreed between brands, trade unions and suppliers. Under these guidelines, work stations should be at least two metres apart. Hygiene and disease protection regulations should be properly enforced, and workers with Covid-19 should be allowed to take paid sick leave. 
Covid-19-related fatalities have already been reported in some factories, which, according to reports on the ground, have continued production regardless. Many of these factories are the suppliers of global brands like Zara and C&A.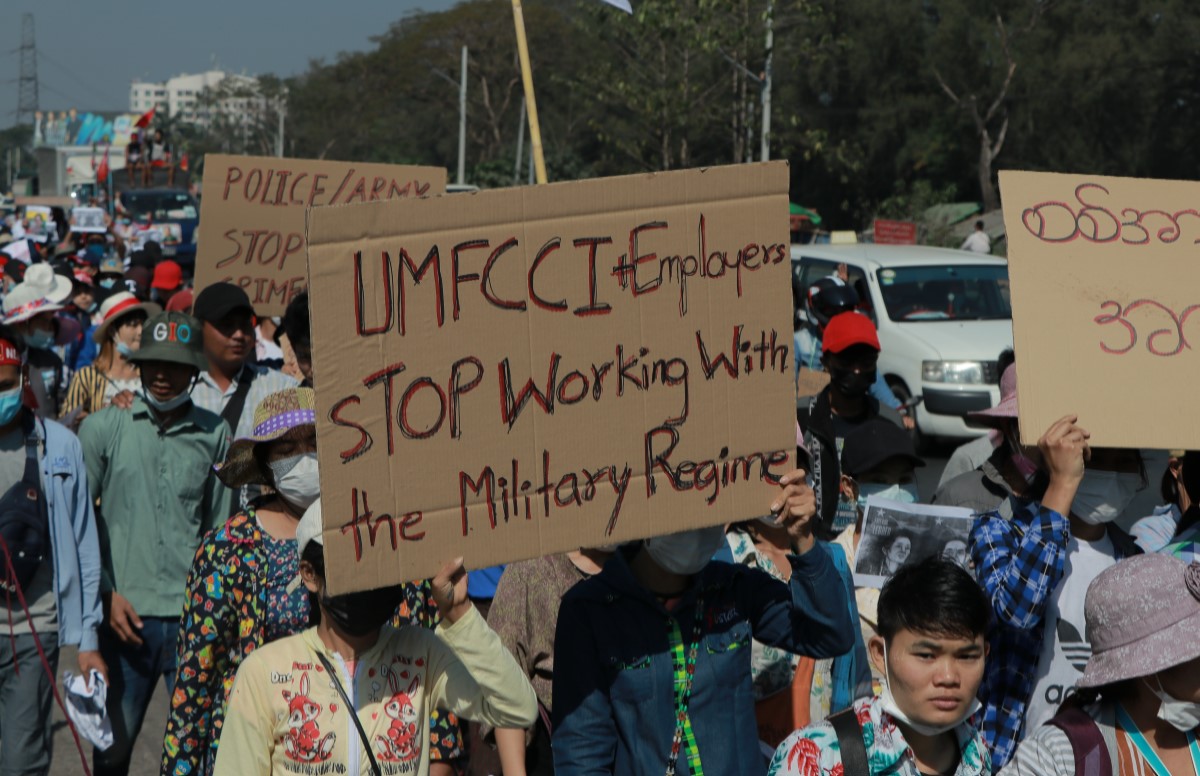 Worker protest following the military coup in February. Photo: Myanmar Labour News.
In factories, workers are crammed together, both when they are working and in rest areas. Masks and hygiene products are also lacking. Hand sanitizers are not provided by factory management, and there is often no soap in the bathrooms. In some cases, there aren't even any wash basins.
Workers face increased risk of contracting the virus inside the factories, particularly as hygiene on the shop floor is poorly maintained. Many factory workers are ill and some have specific Covid-19 symptoms such as loss of smell. A lack of quarantine measures has posed great risk to workers.
Transport to and from the factories is also badly managed. On the occasions that ferries have been arranged to transport workers across Yangon's rivers, the ships are dangerously overloaded.
The picture is very similar to that in neighbouring India during the deadly second wave of the Covid-19 pandemic in May this year.
The Industrial Workers' Federation of Myanmar (IWFM) has asked the global brands sourcing products from Myanmar to ensure that their suppliers are complying with Covid-19 guidelines, and to provide timely reports on Covid-19 infections at the factories. Union President Khaing Zar Aung says IWFM will continue monitoring the situation to ensure workers' health and safety is properly protected.