China's worst workplace fire affected elderly workers who hailed from nearby villages. Xi Jinping personally called for an accident investigation, but preventative measures starting with workers' voices and the official trade union is what is truly needed. 
China's worst workplace fire in nearly a decade killed 38 people after a welding accident set fire to an undergarment factory staffed mostly by elderly women in the city of Anyang, Henan province, on 22 November. 
The incident drew national attention and a response from the country's leader, Xi Jinping. It also highlighted that basic safety measures - functioning fire exits, worksite safety training, and a responsive trade union - are still not in place after years of the same cycle of deadly disasters and official condemnations. 
Fires are a frequent cause of work deaths in China and account for eleven percent of all accidents tracked by CLB's Accident Map, behind structural failures like building collapses, transportation-related accidents and explosions. 
In addition to the factory fire in Anyang, the Accident Map has recorded 100 fires across China in 2022 alone, accounting for 75 deaths and hundreds of injuries. The Anyang fire is an outlier in terms of the number of deaths caused by a fire at a workplace. For comparison, a forest fire in 2019 in Sichuan province took the lives of 27 firefighters and four government officials. And in 2013, before the map's records, a fire in Jilin province took the lives of 119 factory workers.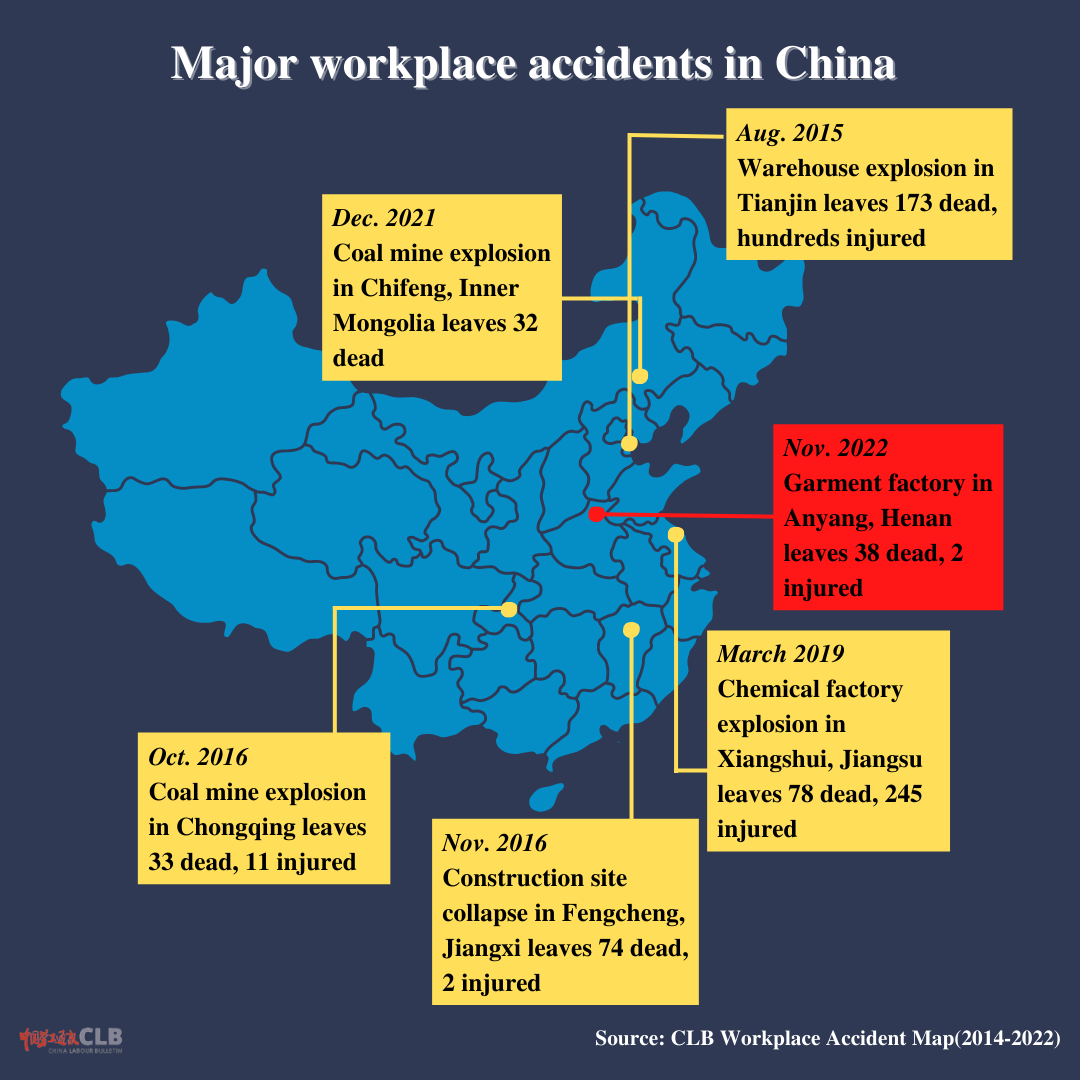 Local, elderly garment workers perished in the fire
The fire was reported last Monday afternoon at 4:22pm after welding equipment set fire to highly flammable cotton material in the ground floor of the warehouse, according to official reports. The blaze quickly consumed the entire two-storey building and was not extinguished until midnight, despite authorities dispatching 63 fire trucks and 240 firefighters to the scene. Some 89 people escaped with their lives, two of them with minor injuries.
The ground floor housed a warehouse operated by Kaixinda Trading Company, and the second floor was rented out by Kaixinda to three separate undergarment workshops. The building was made from corrugated sheet metal, and the second floor was divided by metal sheeting, likely contributing to the difficulty in extinguishing the fire.
The workers were mostly local village residents from Anyang, and many were elderly, according to nearby business owners and surviving family members interviewed by domestic media. 
Photograph: humphery / Shutterstock.com
A couple in their fifties who worked at the factory told the harrowing story of their escape to local news media. The wife was in a workshop on the second floor when workers noticed smoke and flames spreading on the opposite side of the workshop. But a fire exit on their side of the building was blocked on the ground floor by a wall surrounding the factory site, so they could not escape.
She called her husband, who was off duty that day, and told him the factory was on fire and to bring a ladder. He hurried to the factory, but by the time he arrived ten minutes later, she and more than twenty of her coworkers had managed to climb over the wall and escape. 
The husband said the workers made only around 3,000 yuan per month:
We're just like anyone else. We just want to live, and there's no other way.

Fire officially blamed on improper welding licence, pending investigation
An official from Anyang's municipal fire and rescue department blamed the fire on an employee who was operating a welder without a licence. The official also shamed Kaixinda for not holding adequate fire safety training for its employees. 
The scale of the tragedy prompted a statement the very next day from China's leader, Xi Jinping. The statement calls for increasing accident prevention measures and for a full investigation into the cause of the accident. Notably, the statement made no mention of China's official trade union, which is responsible under the Work Safety Law and other legislation for monitoring workplace safety. 
China's State Council announced it would conduct an official investigation into the cause of the fire. 
The chairman of the All-China Federation of Trade Unions, Wang Dongming, supported Xi's initiative by ordering lower-level union officials to increase safety inspections and prevent accidents to protect workers' interests. 
However, when China Labour Bulletin called the Anyang municipal federation of trade unions and spoke with a Ms. Li at the labour and economics work department, we noted that in mid-October, the local township was carrying out a "five entries" political campaign vowing to enter workplaces, villages, communities, schools, and homes to ensure safety. 
CLB asked whether the union had entered the Kaixinda factory to ensure safety there. They had not. 
This incident shows the ineffectiveness of top-down responses to accidents, followed by blaming, shaming and punishing individuals for what is ultimately an institutional problem of lack of proper work safety mechanisms in China. What workers need most of all is a reporting system to protect their own lives and safety through effective, bottom-up union organizing.

Further CLB Reading: